Dowsett chasing more wins and a contract
Freshly minted Commonwealth Games time trial champion Alex Dowsett has a race programme that will give him a chance to win something in the run-in to the World championships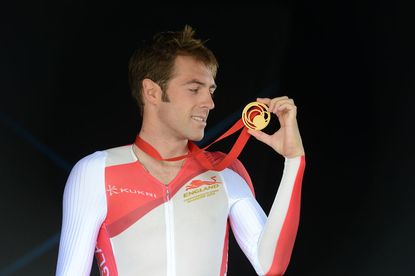 (Image credit: Andy Jones)
Talking to the media in Glasgow Green, Alex Dowsett, wearing Team England kit, seemed more relieved and satisfied than ebullient as you would expect a rider with a gold medal around his neck to be.
Dowsett had just seen off a small, yet world class field of time triallists to become 2014 Commonwealth Games champion, but his mind was already thinking ahead to the remainder of the season.
Dowsett's contract with Movistar expires at the end of the season and the Essex based rider hasn't confirmed who he will be riding with next year. In the meantime, he has a race programme which, in all likelihood, will see him skip the Vuelta and instead focus on races where he feels he could get a result.
The Dutch-Belgian week-long Eneco Tour was one of the races that he and Movistar had targeted as one in which he could be a protected rider and tilt for the general classification. Last year he crashed out in an early stage, damaging his thumb.
"This win here will do my morale a lot of good, obviously Tony Martin isn't here but I've beaten some of the world's best time triallists in Glasgow, so I'd hope to keep that going." He said after his TT win.
In terms of his future, Dowsett couldn't say too much. "Would I be happy to stay at Movistar? Yeah. I like the team, Movistar is a great place to be and everything they said they'd do when we first set out, they've done, they've delivered on it on every account.
At the end of the day it wasn't their fault I got sick before the Tour de France and I've said it many times, but I would have made the same decision over my selection if I had been in their shoes, so, yeah, I really like it at Movistar."
In spite of his win and evident strong form, Dowsett is in no hurry to phone up his Movistar team manager Usebio Unzue and harass him to be put in the Vuelta team. "As it stands, no, I don't think so, I think we're looking more like a run-in that Eneco, Poitou-Charentes and the Tour of Britain.
You have to ask yourself, 'Am I going to do anything in the Vuelta?' Maybe in the time trial, but you've got one or two TT's in the Eneco and a chance to go for the overall, Poitou-Charentes, a TT and a chance to go for the overall, same with the Tour of Britain with a TT on a circuit I've already won on, so those are better options for me. In the end though, the team will make those decisions."
Thank you for reading 10 articles this month* Join now for unlimited access
Enjoy your first month for just £1 / $1 / €1
*Read 5 free articles per month without a subscription
Join now for unlimited access
Try first month for just £1 / $1 / €1