FDJ boss defends Démare as Milan-San Remo cheating accusations resurface
After Tinkoff's Matteo Tosatto provides a written statement saying Arnaud Démare cheated to win Milan-San Remo, FDJ manager Marc Madiot fires back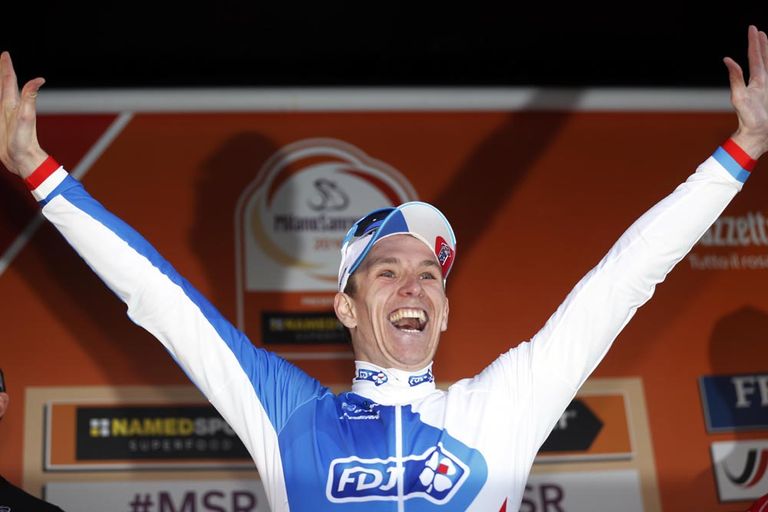 (Image credit: Yuzuru Sunada)
FDJ boss Marc Madiot insists Milan-San Remo winner Arnaud Démare has already proved his innocencem despite new evidence that the Frenchman took a tow from a car in the final stages of the race in March.
Démare was involved in a crash at the foot of the Cipressa climb but fought his way back to the front to beat Ben Swift in a sprint for the line, while pre-race favourite Michael Matthews (Orica-GreeEdge) didn't make it back.
At the time, Démare was accused of holding on to a car up the climb and now Tinkoff veteran Matteo Tosatto has provided evidence to the Italian Cycling Federation saying that the Frenchman was illegally assisted.
But Madiot says the fact that Démare uploaded his race data to the internet proves he did nothing wrong and that the allegations are the result of the fact that people can't get to grips with a French team winning the historic race.
"From the moment the commissioners of the UCI, the recognised arbiters, validate the outcome of the race, it is closed yes," Madiot told cyclingpro.net. "The next day, Arnaud Démare kindly made his Strava data available - I say graciously because he did not have to - that demonstrated that he never rode at 80kph up the Cipressa as the so-called Tosatto seemed to say."
How did Arnaud Démare win Milan-San Remo?
After reports of anti-French feeling in the peloton, Madiot says the French riders have to stick up for themselves more. At the recent Tour de Romandie, FDJ riders were reportedly intimidated by other riders when they took their place at the front of the peloton.
"I think that it belongs to a minority today but the famous insult "Crap French" has existed for a long time," Madiot continued. "Incidentally, I blame French racers for not saying enough about it, for having low profile.
The generation of the [Sandy] Casar or [Pierrick] Fedrigo was not quite virulent, they have become accustomed to hunker down. Perhaps because they did not feel strong enough on the bike...
"After all the revelations about doping over the years, those who speak of a mechanical doping. Today, I say stop! Now it's gone! When a French rider is insulted, he has to go see the commissaires and ask for a sanction. The French have the right, like the others, to do their job in good conditions."