Alessandro Petacchi still hoping to ride with Omega Pharma and Cavendish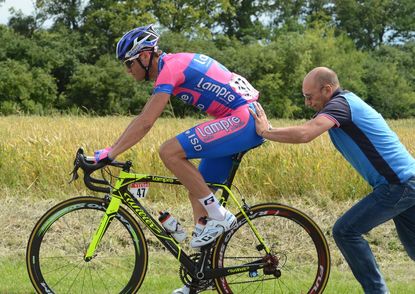 Alessandro Petacchi keeps hope that he will join team Omega Pharma-QuickStep and lead out Mark Cavendish this year. The Italian sprinter plans to visit the UCI, who decided on Tuesday he was unable to return after a short retirement.
"To stop like this just because [the UCI] didn't allow me to do the Giro d'Italia... I don't see the sense in that," Petacchi told Cycling Weekly. "There's this chance and it's only right to try, to try to talk some more with UCI to see if they change their minds."
Petacchi, 39, announced his retirement shortly after competing in the Paris-Roubaix last month. He raced the last three and a half with Italy's team Lampre-Merida and in his career, collected 22 Giro d'Italia and six Tour de France stage wins. In 2010, he won the Tour's green jersey.
He said he lost his motivation to sprint for more wins, but found a new drive in potentially leading out Cavendish only days after announcing his retirement.
"I'd like this because it's something different than I've done so far. I lacked that motivation when I decided to quit. I just didn't have it. I couldn't win what I wanted, I didn't have the right motivation," Petacchi added.
"I thought basta. I'm just that way. I wouldn't like just to continue racing and taking a paycheque for eight months. I thought, I'll do something else with my life, but then this deal came up out of the blue and unexpected. I'm sorry, but that's the truth even if everyone thinks it wasn't that way. Unfortunately the UCI thinks that way, too."
A strict transfer period
The UCI sticks by its rule that forbids transfers mid-season even if Petacchi's case is different. He is a former-pro and asking for a new licence. It decided not to go down a slippery slope and set a precedence for other retirements/transfers.
When Petacchi heard the news, he stopped training. He lost hope. Today, however, 'Ale-Jet' is on his bike again and plans to revisit the issue with the UCI, perhaps in time for the Tour de France.
"Mark Cavendish is not just pack fill. For me, at my age and after many years, I think that it'd be better to do something like [leading him out] than to continue to try my own sprints and risk it. I'd like to do something different," Petacchi added.
"The next step is to go [to UCI's headquarters in Switzerland] to speak to them directly without going through e-mails, etc. They can ask all they want, I'll respond. If they want to try to understand that it's not a transfer, but a new licence, that'd be great."
Related links
Alessandro Petacchi to lead out Mark Cavendish at the Giro?
Alessandro Petacchi retires from professional cycling
Thank you for reading 20 articles this month* Join now for unlimited access
Enjoy your first month for just £1 / $1 / €1
*Read 5 free articles per month without a subscription
Join now for unlimited access
Try first month for just £1 / $1 / €1