Andrey Amador: Costa Rica's Giro d'Italia hero
Costa Rican pro Andrey Amador has become a national hero with his ride into fourth place overall at the 2015 Giro d'Italia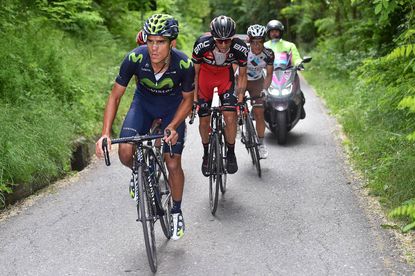 (Image credit: Watson)
Costa Rica made the football World Cup quarter finals in 2014, swimmer Claudia Poll won gold in the 1996 Olympics, but it has never had a cyclist go so well in the Giro d'Italia until Andrey Amador came along.
Amador, the second ever Costa Rican professional cyclist and the first to win a stage in the 2012 Giro, sits fourth overall with one stage remaining into Milan on Sunday.
The support at home, and in Italy, has been nearly as powerful as the many volcanoes erupting in Costa Rica. Fans are putting football aside for a moment and concentrating on Amador.
>>> The Tour de France is looming – but Alberto Contador keeps attacking
"He won the hearts of Costa Ricans with his Tour de France ride in 2011, continuing and finishing second last [at three hours and 54 minutes], but this Giro only adds to the story," Costa Rican journalist Steeven Mora told Cycling Weekly.
"I hope Costa Rica understands the importance of this, the best moment in our cycling history."
Mora sounded a bit tired when he spoke, but that can be excused because he just arrived from Costa Rica on Thursday to follow 28-year-old Amador. He is the only Costa Rican journalist in the Giro's buzzing pressroom. This Giro makes three for him, adding to one Tour de France and the 2008 Olympics that he covered for CR Ciclismo.
Along with Mora, six family members – including mum and dad – travelled from Costa Rica to lend support. This is the biggest moment for them since Amador started cycling with a mountain bike at 10 years old.
"What changed my life?" Amador explained. "The incident in 2011, when I had a gun to my head."
Amador found new motivation after a life-threatening moment in December 2011. Bandits followed, put a gun to his head and took his Movistar team Pinarello bike.
In 2012, the year Canada had its first Grand Tour win with Ryder Hesjedal, Costa Rica had its first stage win thanks to Amador at the Cervinia ski resort. This year, he has pushed for the podium, sitting behind Mikel Landa in third overall.
"He's the worst climber in the top 10 of the Giro, but he has the head to do this," Movistar sports director, José García Acosta explained.
"In this Giro, he's gone to new limits and now has new found faith in himself."
Costa Rica sits south of Mexico, the country that feeds live stage-by-stage coverage daily of Amador via TDN. The small country of five million people, which can be crossed from Atlantic to Pacific in four hours by car, is a natural paradise. The biggest business is tourism and then coffee.
There is a reason Amador climbs as well as he does, volcanoes fill the lush countryside. Right now two or three are active, including the Turriabla at 3340 metres.
"Cycling is not foreign to us," Mora added. "Costa Rica already has a history, since 1965 we've had the Tour of Costa Rica and we had José Adrián Bonilla who rode for Kelme."
Amador was told to go to Spain if he wanted to become a cyclist. He went in 2007 and joined a Spanish amateur team. In 2009, he turned professional with Caisse d'Epargne, the team now known as Movistar.
In 2014, he helped Nairo Quintana become the first Colombian to win the Giro d'Italia, but this year Movistar gave him freedom in the Giro with Quintana going to the Tour. Doing so, it helped Costa Rica erupt with Amador mania.
Video: Show us your scars #3, Bernard Hinault
Thank you for reading 20 articles this month* Join now for unlimited access
Enjoy your first month for just £1 / $1 / €1
*Read 5 free articles per month without a subscription
Join now for unlimited access
Try first month for just £1 / $1 / €1