Giro d'Italia remembers Wouter Weylandt
Riders pay tribute to Wouter Weylandt, who died during the 2011 Giro d'Italia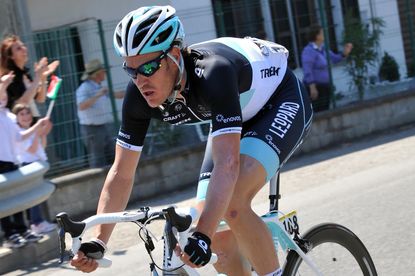 (Image credit: Watson)
The Giro d'Italia departs from Belfast today without back number 108 in memory of Wouter Weylandt. The Belgian cyclist died three years ago on the stage to Rapallo.
After the 2011 Giro d'Italia, organiser RCS Sport decided to remove permanently the number Weylandt wore on his back in that year's race. Since 2012, the Giro's start list no longer features 108.
"His number 108 is no longer in the race, which means he's always in the race," former RCS Sport Managing Director, Michele Acquarone said in 2012.
Astana, who won last year with Vincenzo Nibali, carries the number one. Nibali skipped the race to focus on the Tour de France this season so 2011 winner and team-mate Michele Scarponi wears one.
RCS Sport assigned alphabetically the remaining teams sets of numbers. Lampre's nine riders, instead of 101 to 109, use 100 to 109 in order to set aside 108 for Weylandt.
Weylandt, 26 years old from Ghent, died while descending the Passo del Bocco in the third stage from Reggio Emilia to Rapallo. He clipped a wall, lost control of his bike and crashed on his face. Angel Vicioso won the stage in silence while emergency workers rushed his colleague to the hospital.
The next day, his Leopard-Trek team led an annulled stage to Livorno. It abandoned that night in respect for Weylandt.
In its 96-year history, four riders have died in during the Giro d'Italia. As with Weylandt, the other three were the result of head injuries: Italian Orfeo Ponsin (1952), Spaniard Juan Manuel Santisteban (1976) and Italian Emilio Ravasio (1986).
To remember Weylandt, several cyclists posted a photo of him today. The accompanying text read, "We'll never forget you... Wouter Weylandt. 1984-2011."
https://twitter.com/eliaviviani/statuses/464741607187959808
Thank you for reading 5 articles this month* Join now for unlimited access
Enjoy your first month for just £1 / $1 / €1
*Read 5 free articles per month without a subscription
Join now for unlimited access
Try first month for just £1 / $1 / €1