Watch: Heavy snow on the Gavia throws queen stage of the Giro d'Italia 2019 into question
23cm of snow is expected in the next week as efforts are made to clear the roads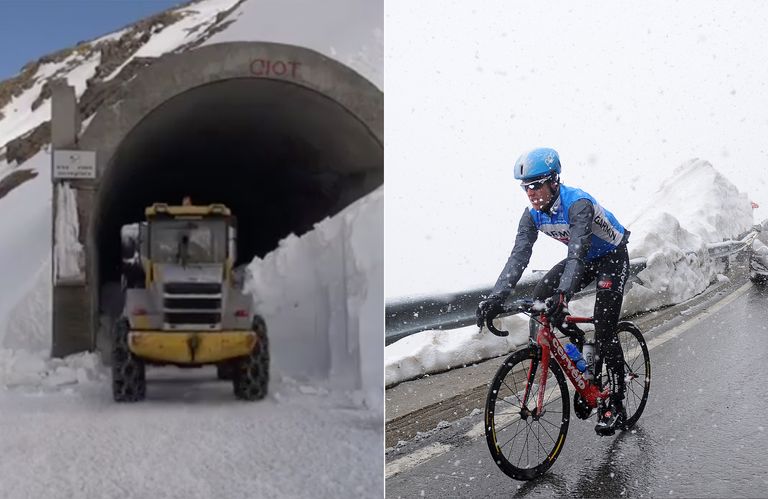 After a week that has featured torrid conditions for the peloton at the Giro d'Italia 2019, questions have been raised as to whether the weather will affect the race's queen stage, the mountainous stage 16 from Lovere to Ponte di Legno.
The stage will feature the highest point of this year's Giro, reaching 2,618m as riders ascend the Gavia. However, video footage released by the Bormio tourist board shows heavy snow that could jeopardise the planned route.
https://www.facebook.com/bormioinfo/videos/583443432145466
Bormio have said "impressive snow walls" are still present on the climb and that they are "working to free the roadway". Worryingly, they also added: "The question remains valid of the real possibility that the Giro d'Italia can pass on the Gavia on May 28".
According to further reports, 23cm of snow is expected over the next week before the queen stage that takes place on May 28, which will hamper efforts to clear the roads.
Should the roads not be cleared in time, the race could instead tackle the Mortirolo climb twice, instead of the solo ascent that was planned for the stage, although this is said to be unlikely due to the extra length that would be added to the route.
Even if the Gavia is cancelled, the route will still see nearly 5km of climbing, with the GC favourites likely to be duking it out for the pink jersey in the final week of racing. Primož Roglič is currently the best placed in the overall classification out of the big hitters.
The Giro has not been able to ascend the Gavia as planned on two occasions in the race's history, in 1961 and 1989, with the peloton memorably climbing the Gavia in 1988 in heavy snow.