Ian Stannard: 'I don't think I deserve my hardman reputation. I just get on with my job'
Speaking exclusively to Cycling Weekly, Team Sky's Ian Stannard talks of his love of hard races and how to beat Quick-Step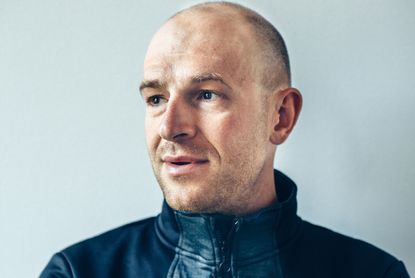 Watching the Tour of Flanders or Paris-Roubaix on television or by the side of the road and it's hard not to be in awe of the riders - thundering along rough cobbled roads at high speed and tearing up steep climb after steep climb, hour after hour.
At the end of both races we see the exhausted riders, empty eyes staring into the distance and dusty faces being washed down by soigneurs, and wonder just how tough these men have to be to compete in such brutal races.
One rider who knows what it's like to be in the front group on the Oude Kwaremont or the Carrefour de l'Arbre is Ian Stannard.
His third place in last year's Paris-Roubaix equalled the best performance by a British rider in the 114 editions of the race, matching the performances of Roger Hammond in 2004 and Barry Hoban in 1972.
With that sort of performance less than 12 months old, and once again heading towards the Tour of Flanders and Paris-Roubaix as a major force to be reckoned with, you might have thought that Stannard would be happy to play the role of the Classics hardman.
>>> Seven things to look out for at the Tour of Flanders
But the down-to-earth Team Sky rider is having none of it, letting out a stifled laugh at the suggestion.
"No, I'm not sure about that. I don't think I deserve that reputation. I just do what I do and get on with my job.
"The bad weather does suit me. I enjoy riding in that weather," Stannard says, before reconsidering.
"Well actually, I don't sit on the bus and think 'Yeah, I'm really looking forward to this, I can't wait to get out there in the rain' but once you get out there and you get racing it doesn't faze me."
No coincidence then that two of Stannard's biggest wins have come in Omloop Het Nieuwsblad, the Belgian season-opener which often provides seriously challenging conditions.
In 2014 Stannard, far from renowned for his explosive power, out-sprinted Greg Van Avermaet at the end of nearly 200km in torrential rain. 12 months later he successfully defended his title in an extraordinary race that saw him emerge victorious despite being outnumbered three-to-one by Etixx - Quick-Step.
Reflecting on that race, Stannard puts his victory more down to the mistakes of the Quick-Step riders than his own tactical nous or pure strength. However, talking about last year's Paris-Roubaix and it is his own mistakes that he concentrates on.
"Everyone in the front group in that race was on the same level, and it just came down to getting that final right and I made a few little mistakes.
>>> The Koppenberg and the defining cobbles, bergs and climbs of the Belgian Classics
"We came off the last cobble section and that's where I really threw all my eggs in. I really went for it there and it only needed for them to hesitate for a little bit longer and I would have been gone.
"I was a bit stuffed after that, so coming into the velodrome I was a bit too far back and I had to go quite deep just to catch up on that last lap and I didn't have the legs to finish it off.
"It was all there it's just about getting it right, and getting that little bit of luck."
Watch: Tour of Flanders 2017 essential guide
Unfortunately for Stannard, luck hasn't been on his side so far this spring.
In E3 Harelbeke he punctured just before the Taaienberg, the cobbled climb where Tom Boonen attacked before Philippe Gilbert went over the top to force the winning move, while in Ghent-Wevelgem he found himself isolated after team-mate Luke Rowe was dropped and Gianni Moscon crashed.
Despite the lack of results, Stannard says that he is happy with his form heading into the most important eight days of his season, and while he will take the lead at Roubaix and Rowe at Flanders, both riders will try and be close to the action in both races.
"It's good to have two leaders in the team," Stannard explains. "It lets us ride off one another.
"When you've got attacks going off the front then having two men there means one of us will always be there, whereas when there's just one of you it can be difficult to pick the right move to go with."
>>> Team Sky happy to back both Ian Stannard and Luke Rowe in cobbled Classics
Less explosive than his Welsh team-mate, Stannard has little doubt as to which of the two cobbled Monuments suits him better.
"Roubaix's the one for me," Stannard says. "My size [6'2" and 83kg] and my kind of riding makes it easier for me whereas Flanders with the smaller bergs isn't ideal. I struggle with the repeated accelerations into them and then getting over the climb as well.
"But at Roubaix it's just harder all day, which suits me a bit more. It's just a steadier power through the whole day. You have to fight and sprint a bit to get into the cobbled sectors but it's not the same as coming into the bergs."
So Roubaix might be the race that Stannard thinks he is most likely to win, but, having turned pro with Belgian team Landbouwkrediet in 2008, he has a fondness for Flanders.
"I love racing in Belgium. The fans are absolutely mad for it.
"Take E3, for example. It's a Friday so everyone should be at work, but the roads are lined with people and all the pubs are open.
"You can smell the beer and the frites and burgers as you're riding through the crowds. It's a really amazing atmosphere that you don't get anywhere else.
"The fans are the best things about racing in Flanders. The racing's awesome but the fans really make it."
Anyone who has been to watch racing in Belgium and has experienced the road-side bars and frites stands that Stannard talks about will also know something about the outstanding knowledge of the fans, and their respect for great riders no matter what their nationality.
At the Tour of Flanders, fans will stand on the major climbs to cheer all the leading riders, before turning their attention to the many big screens around the course, breaking into applause for whoever crosses the line first, whatever the nationality.
But despite their general love of cycling, the Belgian fans still have their favourites, chief among them Tom Boonen and the Quick-Step Floors team.
The Belgian team has named a seriously strong team for the Tour of Flanders, which Stannard believes could influence how the race plays out, potentially playing into his hands.
"Looking at how the races have played out this spring, the winning moves seem to be going from further and further out, like Gilbert's move after the Taaienberg at E3 Harelbeke [with 85km to go].
"I think the moves going further and further away is down to Quick-Step. I mean, look at the strength and depth of that team, they've got a lot of leaders and not many guys to work.
"Each of those leaders wants to go earlier and earlier, as they know that if they don't go earlier than someone else in the team, then they'll have to work for someone else."
>>> Tour of Flanders live TV guide
"Hopefully that'll be the same at Roubaix with a long-range move going clear, and it will be a really hard race like last year. That suits me well."
With nothing but praise for rivals like Tom Boonen ("a genuinely nice guy") and Peter Sagan ("phenomenal, the complete rider") it's hard not to like the amicable Stannard when chatting in the calm surroundings of the Team Sky hotel.
But from the slight smile that creeps onto Stannard's face as he says the words "really hard race", there seems to be another side to him ready to come out at the sharp end of the big Classics.
He may not have the character or like the label of being stereotypical "hardman" for the cobbles, but if we are to judge Ian Stannard purely by his racing, then it's difficult to see him in any other way.
Thank you for reading 20 articles this month* Join now for unlimited access
Enjoy your first month for just £1 / $1 / €1
*Read 5 free articles per month without a subscription
Join now for unlimited access
Try first month for just £1 / $1 / €1