Italian cyclist handed four-year ban for EPO positive
Fabio Taborre, formerly of Androni Giacattoli-Sidermec, is banned until 2019 after testing positive for a blood boosting drug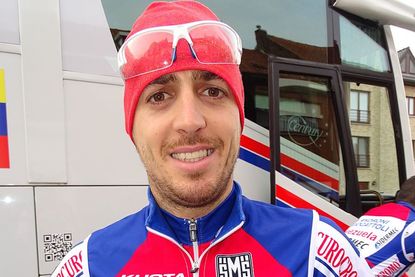 Former Androni Giacattoli-Sidermec rider Fabio Taborre will not be able to return to racing until 2019 after being handed a four year ban for taking a blood booster that 'stimulates the production of EPO'.
The Italian, who failed a test on June 16 last year, was one of two riders on his team to test positive for performance enhancing drugs, along with sprinter Davide Appollonio, leading to the team being the first to be suspended under new UCI rules.
>>> Androni Giocattoli team faces suspension after second positive test
According to a statement on the UCI website: "The Anti-Doping Tribunal found the rider guilty of an anti-doping rule violation (presence of FG-4592) and imposed a 4-year period of ineligibility on the rider.
"In accordance with the Procedural Rules of the Anti-Doping Tribunal, the reasoned decision will shortly be published on the UCI website."
Appollonio was also banned for four years for his failed test, with Androni team manager Gianni Savio undertaking legal action on the pair.
Thank you for reading 20 articles this month* Join now for unlimited access
Enjoy your first month for just £1 / $1 / €1
*Read 5 free articles per month without a subscription
Join now for unlimited access
Try first month for just £1 / $1 / €1