Why Steven Kruijswijk could be the rider to upset the big Giro d'Italia favourites
The Dutchman reflects on the disastrous crash that cost him Giro victory last year, and says he's determined to make amends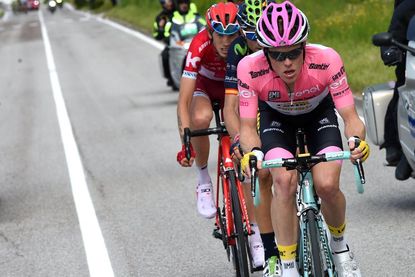 (Image credit: Graham Watson)
The sun's rays cut easily through the thin air in Tenerife where Steven Kruijswijk (LottoNL-Jumbo) prepares to win the 2017 Giro d'Italia.
The fair-skinned ginger Dutchman keeps a bottle of SPF 50 sun block in his back pocket and when he breaks from his altitude training, sprays more on his exposed legs, arms and face. After coming close to winning the 2016 edition of the Italian Grand Tour, he minds every detail during this crucial build up period.
"Sun block? I use a lot, of course, because I get sunburned so quickly," Kruijswijk says. "Everyday, SPF 50. That's the bad thing about being a ginger!"
>>> Giro d'Italia 2017: Latest news and race info
Kruijswijk is passing his final days on Spain's Teide volcano off the coast of western African where Chris Froome often builds for the Tour de France. After the final touches, and sprays of sun block, he will fly to England for the Tour of Yorkshire and Sardinia for redemption in the Giro d'Italia.
The Giro celebrates its 100th edition this May 5 to 28. The route travels from Alghero in Sardinia, to Sicily and from the toe of Italy's boot to the Alps in the north.
Most of cycling's Grand Tour stars will attend, including Nairo Quintana (Movistar), Vincenzo Nibali (Bahrain-Merida), and Brits Geraint Thomas (Sky) and Adam Yates (Orica-Scott).
"My mindset is different than the years before, I'm convinced I can be with the guys who are fighting with the podiums in the Grand Tours," explains 29-year-old Kruijswijk.
"I've seen that my level has been better than ever coming out of the winter. It looks promising."
The Colle dell'Agnello disaster
Those towering Alps crushed the promise of a Kruijswijk Giro victory last May when all looked as rosy as the leader's pink jersey that he wore.
Given the expected win, additional Dutch journalists and VIPs flew to Turin to ready for the party.
Their star led with three minutes and had handled the mountains comfortably so far.
Colombian Esteban Chaves (Orica-Scott) sat second, Alejandro Valverde (Movistar) third at 3-23 and Nibali fourth at 4-43. Only a stage to Risoul, in France, and one to Sant'Anna di Vinadio, back into the Giro's home country, remained. And of course, the final flat parade stage to Turin.
Some of us journalists were looking for lunch in France when the group began the race's highest pass, the Colle dell'Agnello. We had filed pieces about how this was the hardest point in Nibali's career. The Grand Tour champion and pre-race favourite lost time on several stages and his team doctors were examining him to understand why.
When we sat back down in the press room, Kruijswijk was climbing comfortably with the leaders. He topped the 2,744m pass, flanked by snow banks, with Chaves and Nibali.
All that remained was the smaller uphill finish to Risoul.
Then the television flashed images Kruijswijk on his feet, elbow bloody, and adjusting his bike. A replay showed him overshooting a left-hand bend shortly after the pass, smashing into the vertical snow bank and somersaulting to the ground.
He frantically fiddled with his celeste-painted Bianchi bike before setting off and lost more time with a bike change.
He arrived at the Risoul ski resort 4-54 minutes behind stage winner Nibali and collapsed after searching unsuccessfully for his team's hotel. He caught his breath for a few minutes with his head resting on his handlebars. "S**t," he said when he stood up. "I tried to give everything, but... I lost the Giro here."
It was too much. He slipped to third at 1-05 and the next day, with pain coming from his elbow, ribs and back, fell to fourth overall. It was his best Grand Tour result after finishing seventh and eighth in the Giro before, but much less than what he thought was possible ahead of that weekend.
>>> Tom Dumoulin: I can't compete with Nibali and Quintana at 95 per cent
"In my opinion, I was going too wide out of the corner. We were at high speeds," says Kruijswijk. "You can see Nibali and Chaves are already on the edge of the road, and if you are coming in a little faster than them... I couldn't hold it on the road.
"They said a lot about putting pressure on me on the downhill... Of course, it was full racing, but it was more about getting time on the rivals we dropped than putting pressure on me.
"I could follow on the climb. And in the days before too, I could drop them on the climb, so I don't think he was trying to drop me.
"Let's say I would've stayed on and got down the hill OK, I was in such a good position because I knew Nibali would pull with his team-mates in front for the stage win and the podium. At that time, the situation was perfect. I only had to sit on the wheels."
Kruijswijk returned home to the Netherlands. He had been living between there and Girona, Spain, before making the move to Monaco this winter. He spent time with his newly born son, Perre and reflected.
The sun still bright above, he stops for a moment to clarify. "Perre is a Catalonian name," he says. "We wanted something different for him."
Kruijswijk straightens up in his seat. So broad are his shoulders, the Dutch nicknamed him the 'Kleerhanger' or the 'Clothes Hanger'. He returns to the Giro, which had made a "big impression" on him and the team.
"That was the first time I was in that position. I was really close to winning in the end, I looked to be one of the strongest up hills," he continues.
"It was a bit hard to handle the first two weeks home after the Giro, when you thought, 'OK, maybe I could've been there for the biggest win in my career.' This winter, also, I was reminded about it many times and you realise, it was a big chance that slipped by.
"I don't think it was my only chance. I know now that it's possible. We are going to try to do all possible now to be there again."
'The team needed to make a step up'
LottoNL-Jumbo's general manager Richard Plugge shook his head with disbelief when his star arrived in Risoul. The Bianchi bicycle representatives and VIPs left Turin devastated.
The Netherlands sighed collectively as Kruijswijk would have been their first winner in the Giro d'Italia.
Plugge arranged for another team in the Tour de France and for Kruijswijk to lead the Vuelta a España. That ended poorly, too. He crashed into an exposed bollard left neglected in the road, fractured his collarbone and abandoned.
Despite 2016's misfortune, Plugge, Kruijswijk and the team remained upbeat. They began 2017 with confidence.
"Physically there's not a big change, but mentally there is. I'm sure of it," sports director Addy Engels says with his soft voice.
"This is the first time that he was able to compete at that level. Every rider is confident, but if you do that for the first time, that's a big thing. That does a lot to your mental strength.
"We are sure he can compete with the best, he could compete with Nibali for 19 stages, so why not with the other guys? There are more of them in the 2017 Giro, for sure, but he can compete with them.
"Steven's strength is also his high level in the third week and I think the Giro will be decided in those last stages. That gives him confidence. For sure it's going to be more difficult, also because that we're not flying under the radar as an underdog now."
Followers gave most attention to Nibali and Valverde ahead of last year's Giro. Kruijswijk's ride even surprised his team, which lacked support in the high mountains. Over the winter, they beefed up the team around him by hiring Stef Clement and Jurgen Van den Broeck.
"The team needed to make a step up," Engels adds. "I think we did with guys like Clement and Van den Broeck. He needs that support up to the last climb."
"I think it took me a little longer than the other riders to be up there in the classification," explains Kruijswijk. "Still now, I only showed last year to be a potential winner. I need to show it this year again.
"I always believed in myself. I'm not that old, I'm 29, but most of the time you've seen the riders already popping up earlier, four to five years younger. I came later, I began to believe in myself again and it worked out well."
'I don't have to prove anything'
The Giro d'Italia start list this year looks much more competitive with the addition of another Grand Tour star in Quintana.
Four-time Grand Tour winner Nibali stood above the rest on the start last year, while former Vuelta champion Valverde, then 36, appeared an unlikely winner. Ilnur Zakarin, Esteban Chaves, Mikel Landa and Kruijswijk – though talented cyclists – hardly ranked with the Grand Tour greats.
Still, this year will see even more stars line-up for the 100th Giro. Organiser RCS Sport attracted Nibali, Quintana, Thibaut Pinot, Sky's Geraint Thomas and Mikel Landa, Adam Yates and Tom Dumoulin.
Fabio Aru cancelled his plans at the last minute after crashing and injuring his knee. Given the packed start list this year, some critics say that the 2016 edition would have been an 'easy' one to win and that Kruijswijk will be swimming in deeper waters this year.
"Nibali is only one of the six riders who've won all three Grand Tours. Valverde placed on the podium in the Tour. And Chaves. I wouldn't call that an easy field," Kruijswijk says.
"I showed I'm able to handle those guys, also in the mountains. And they showed that they are winners in races. It doesn't matter if five or six stars ride, or 10 or 15... Well, I can show it this year because everyone will be there except for Chris Froome.
"I don't have to prove anything, though. I just want to get the big result that I'm capable of. I know many people are expecting me, otherwise they will call that one year a fluke."
Thank you for reading 20 articles this month* Join now for unlimited access
Enjoy your first month for just £1 / $1 / €1
*Read 5 free articles per month without a subscription
Join now for unlimited access
Try first month for just £1 / $1 / €1