Bradley Wiggins backs Shane Sutton to be re-instated by British Cycling after Rio Olympics
Five-time gold medallist Bradley Wiggins expects Shane Sutton to be cleared of wrong-doing by BC inquiry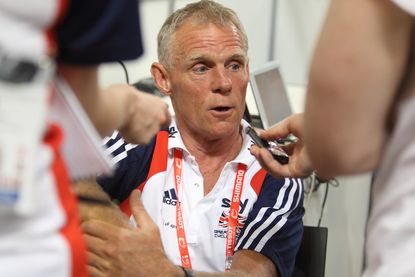 (Image credit: CJ Farquharson)
Having bowed out from the Olympic programme with a fifth gold medal around his neck, Bradley Wiggins has backed his long-time coach and mentor Shane Sutton to return to lead British Cycling after the 2016 Rio Games.
Sutton resigned from the post of technical director at British Cycling three months ago following allegations of sexism and discrimination. Since then, Great Britain has delivered another successful haul of medals on the foundations laid by the straight-talking Australian since he took over from Dave Brailsford in 2014.
Speaking to a small group of journalists the afternoon after his triumph in the team pursuit, enjoying his down time with a cheeseburger from the press canteen, Wiggins backed Sutton to be cleared of wrong-doing by the inquiry set up into the organisation's culture and said that Sutton had told him he wants to come back.
"I spoke to him two weeks ago and he said his life is pretty empty without this. I think he has the right to. Why not?" Wiggins said.
"I think he will be [cleared], yes. I don't see what evidence they can have, other than someone coming in and saying 'he said this to me, he said that'," he added.
"And I think the tone of how some things are said can be skewed quite a bit as well. I don't want to dismiss the claims that have been made by certain people. But at the same time I understand more than anyone that there are two sides to every story."
Wiggins denied he had experienced any of the alleged culture of sexism in British Cycling, saying, "If I'm completely honest I think there's a lot of bitter people that didn't make the grade, got the boot and they have now come out picking holes in things and this, that and the other.
"If my daughter wanted to get into cycling, which she does, she already races with my son, would I be happy for her to go into British Cycling now? And there's a women's academy now. I 100 per cent would be.
"Simply put, if my daughter wanted to get into it, I wouldn't have any problem with her going into British Cycling and getting the same treatment [as] if my son went into the lads' academy."
Straight talker
The scandal around Sutton, who was also alleged to have made derogatory remarks to members of GB's para-cycling squad, ignited a debate about what behaviour is acceptable – and indeed beneficial – in the environment of elite sports performance.
Explaining that he believed members of GB's coaching staff were still seeking support and advice from Sutton in the build-up to the Games, Wiggins said that the Australian's straight-talking mantra was essential to getting the most out of bigger name athletes.
Like Mark Cavendish, Wiggins returned to the fold for the Rio Games after a tremendously successful road career and he pointed to the dangers of surrounding successful, established athletes with 'yes men.'
"Shane was never afraid to tell you what he thought or whether he thought you were f***ing it up. I just think that that becomes more difficult now, when people want to win your respect," he said.
Thank you for reading 10 articles this month* Join now for unlimited access
Enjoy your first month for just £1 / $1 / €1
*Read 5 free articles per month without a subscription
Join now for unlimited access
Try first month for just £1 / $1 / €1
Richard Abraham is an award-winning writer, based in New Zealand. He has reported from major sporting events including the Tour de France and Olympic Games, and is also a part-time travel guide who has delivered luxury cycle tours and events across Europe. In 2019 he was awarded Writer of the Year at the PPA Awards.