Replacement NFTO team require title sponsor in next 10 days or won't go ahead
A major title sponsor pulled out of backing the replacement NFTO team, leaving them days to find the investment to run a 2017 team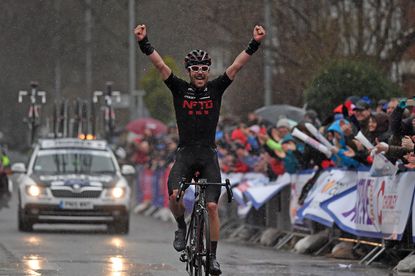 (Image credit: Andy Jones)
The new team that is set to replace British Continental outfit NFTO must find a title sponsor in the next 10 days, otherwise they will not have the finances to run.
NFTO's 2016 DS Tom Barras has organised his own minor sponsors, infrastructure and team cars to create his own team from next season, but a major title sponsor pulled out three weeks ago, leaving them in limbo and facing the distinct possibility of not having a team in 2017.
Barras has told Cycling Weekly that unless a title sponsor comes on board in the next 10 days, offering between £100,000 and £400,000, a team will not be able to race.
Investment of £100,000, however, would not be enough to keep the team operating for a full season; a figure closer to £400,000 would.
Additionally, Barras has assurances from British Cycling that his team would be registered as a UCI Continental squad, the third tier level of the sport that NFTO raced at.
>>> One Pro Cycling to drop down to Continental level due to funding shortfall
"I have everything I need to operate what would be one of the best teams in the country, except enough cash budget to run a team," Barras said.
"I need upwards of £100,00o to make ends meet. But it needs to be sorted now. I need someone to come back to me or approach me within the next 10 days."
If no sponsor is forthcoming, 10 riders and five members of staff would lose their job.
A former rider for NFTO, Barras admits that the odds are stacked against him and the team. "I'm not confident, no," he said.
"I have been talking to huge blue-chip companies with an awful lot to offer. It's proving difficult to find that two-, three-, four-hundred grand we need to run a team.
"It was today [Friday, November 25] when my deadline was to run a UCI team, that was my mark in the sand, what I have been working towards for a couple of months.
"But if a sponsor comes up to me, presents me with a cheque for a hundred grand in December, then I have the links to be able to get us up and running by the first week of January," he said.
Although a proposed new team would be separate in name and sponsorship from NFTO, they would share a similar identity, and many of its riders and staff are to be a continuation from the team that Barras says has a unique offering to sponsors.
"We [NFTO] have set the UK scene on fire," he said. "There aren't many British domestic teams who can go to RideLondon and win it, except us [won by Adam Blythe in 2014]. And there aren't many teams who can go to the Isle of Man [ed - Manx International GP, won by Ian Bibby] and put [Ben] Swift and [Pete] Kennaugh away, except us.
"That's the blue print. Isn't it ridiculous that we can't find a sponsor?"
Thank you for reading 20 articles this month* Join now for unlimited access
Enjoy your first month for just £1 / $1 / €1
*Read 5 free articles per month without a subscription
Join now for unlimited access
Try first month for just £1 / $1 / €1