Spanish team Burgos-BH suspended by UCI after doping scandals
A number of riders from the Pro Continental outfit have been banned in the last year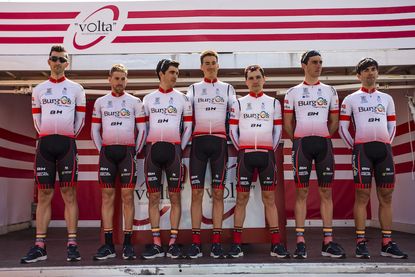 (Image credit: NurPhoto via Getty Images)
Spanish team Burgos-BH has been suspended by the UCI after a number of doping scandals in the last year.
The Professional Continental team has been hit by three positive tests amongst its riders in the last year, sparking action by cycling's governing body.
Burgos will be suspended from racing for 21 days starting in mid-January as punishment.
The team had already suspended itself from racing for three weeks to address its doping issues.
>>> Kazakh rider banned for two years after failing to confirm whereabouts
A statement from the UCI, published on Friday afternoon, said: "The disciplinary commission has decided to suspend the UCI Professional Continental team Burgos-BH for a period of 21 days from January 16 to February 5, 2019 in accordance with article 7.12.1 of the UCI Anti-Doping Rules providing for a 'team suspension'.
"For the duration of its suspension, the team Burgos-BH is suspended from participating in any international event.
"The UCI will not make any further comment on the case."
In the last 12 months, Burgos riders Ibai Salas, David Belda and Igor Merino were banned for doping offences.
Ibai Salas, 27, was banned for four years for an anti-doping rule violation arising from an adverse passport finding.
Last December, David Belda, 35, was also banned for four years by the National Anti-Doping Organisation of Spain after an adverse analytical finding for EPO.
>>> André Cardoso says he'll fight four-year doping ban and prove his innocence
Last month, 28-year-old Igor Merino was banned for four years after testing positive for growth hormone during a doping control carried out in June.
The UCI referred Burgos to its Disciplinary Commission after the first two doping positives, in accordance with its anti-doping rule violations.
In November, team bosses announced Burgos would be voluntarily suspending themselves from racing for three weeks in January and February to focus on anti-doping.
Team manager Julio Andrés Izquierdo said: "We have decided to voluntarily suspend our competitive activities for three weeks.
"It is essential for us that all riders and employees understand that clean sport is paramount and that there is no room for cheaters."
Izquierdo said riders and staff will talk with doping experts and anti-doping campaigners in response to the suspensions.
Burgos-BH is a member of the Movement for Credible Cycling (MPCC), an organisation made up of professional cycling teams that aims to clean up cycling's image.
Thank you for reading 5 articles this month* Join now for unlimited access
Enjoy your first month for just £1 / $1 / €1
*Read 5 free articles per month without a subscription
Join now for unlimited access
Try first month for just £1 / $1 / €1