Team Sky DS Nicolas Portal slams cuts to team sizes for 2018
French director believes the move will be counter-productive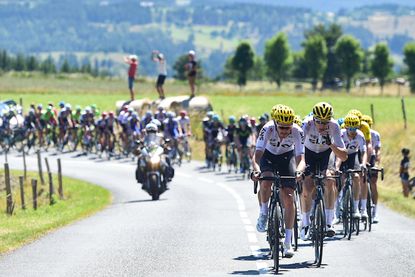 (Image credit: ASO/Pauline Ballet)
Over several months spent researching a book on tactics within pro racing, one issue that has come up again and again when discussing this subject has been the UCI's decision to cut the teams next season from nine riders to eight in the Grand Tours and from eight to seven in the Classics.
Having spoken to dozens of riders and team managers, I've yet to come across one in favour of this move, which the UCI and the organisers of these races insist is designed to increase safety for riders and reduce the control that any one team can have on a race.
>>> Aqua Blue Sport's new team bike unveiled for 2018, and it's only got one chainring
Most directors and riders insist that the move won't make much difference on security and will have none at all with regard to lessening the grip of, for instance, Team Sky on the Tour de France or Quick-Step on the northern Classics.
Many also warned that the initiative would result in some riders losing their jobs as teams would cut their rosters, a move that has already been apparent at several WorldTour teams.
Team Sky sporting director Nicolas Portal voiced the concern and scepticism of many on the competitive rather than the administrative/organisational side of the sport, suggesting, "You need to have some facts to back up a decision like that [to cut teams to eight riders].
A lot of the big thinkers in cycling have talked about doing this but have no evidence to back up what they're saying.
"I think the fact that the race organisers are saying that it will make racing more exciting only underlines the fact that they don't understand racing and highlights the gap between them and the teams," said the Frenchman.
Portal highlighted the fact that Sky's recent domination of the Tour de France hasn't depended on them having nine riders. "In 2013, Sky finished the race with six-and-a-half bike riders.
"Geraint Thomas crashed right near the start of the race and rode the Tour with a fractured pelvis, and wasn't able to do much until the last week.
"We lost Vasili Kiryienka halfway through and Edvald Boasson Hagen at the end of the second week, but we still won the race despite a really strong Quintana and Valverde, and I should add that David López wasn't in his best shape at that Tour either.
The year before we lost Kanstantsin Siutsou on the third stage and won the race with eight. So you can win the Tour with eight guys or even less, and despite other teams having nine."
Watch: Tour de France 2018 route guide
Indeed, Portal believes that the initiative could be counter-productive.
"Riding with eight will, I think, reduce the spectacle, because lots of riders are going to get more fatigued and teams are likely to race more conservatively with fewer cards to play.
With one card less, you control more and attack less. You try to keep things tight. You need to be absolutely sure about playing your cards, about having your riders commit to attacks," said Portal.
The Sky DS believes that a better way to encourage more open racing is to continue the move towards having some shorter stages in the major races. "It doesn't matter if they're flat or in the mountains, those stages are so hard to control, and having nine guys to put on the front doesn't make any difference," said Portal.
"You're talking about a stage that's three hours long if it's a tough one through the mountains or perhaps two-and-a-half if it's on the flat, and on stages of that length all bike riders can maintain their highest level for three hours. They're all really good over that kind of distance.
"Consequently, those stages will be full gas all day. Even a flat stage of that length is very difficult to control, and I don't think it would end up in a bunch sprint. I know the sprinters' teams would want to control things, but I don't think they would be able to."
Portal pointed to the Foix stage of this year's Tour and the final day of the Critérium du Dauphiné six weeks earlier as offering a template for the kind of racing everyone would like to see. Both were short at around 100km.
"We knew that day at the Dauphiné that we wouldn't be able to use the strength of the full team, that we would have to rely on just three or four guys in terms of implementing a strategy," Portal emphasised.
"I think they need to find a nice balance between stages of around 100k and the rest that are a bit longer."
In a final dig at the cuts, Portal questioned whether they would be economically good for the sport.
"What's going to happen to the extra rider who'd dropped from those races? Will teams drop them completely and cut back their rosters?" he asked. It already appears that the answer to that is yes.
Yet, with new UCI president David Lappartient recently suggesting that he would consider reducing teams to just six riders at these races, this issue looks set to run for some time yet.
Thank you for reading 10 articles this month* Join now for unlimited access
Enjoy your first month for just £1 / $1 / €1
*Read 5 free articles per month without a subscription
Join now for unlimited access
Try first month for just £1 / $1 / €1
Peter Cossins has been writing about professional cycling since 1993, with his reporting appearing in numerous publications and websites including Cycling Weekly, Cycle Sport and Procycling - which he edited from 2006 to 2009. Peter is the author of several books on cycling - The Monuments, his history of cycling's five greatest one-day Classic races, was published in 2014, followed in 2015 by Alpe d'Huez, an appraisal of cycling's greatest climb. Yellow Jersey - his celebration of the iconic Tour de France winner's jersey won the 2020 Telegraph Sports Book Awards Cycling Book of the Year Award.