Chris Froome relishing prospect of well-rounded 2016 Tour route
The defending champion says the all-round 2016 route of the Tour de France could suits him well, but admits it will still be a tough one to win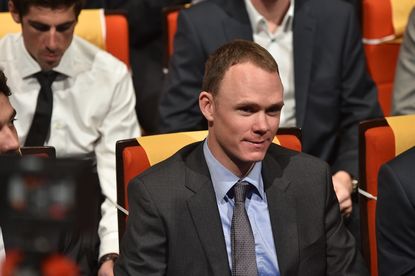 (Image credit: ASO/P.Ballet)
Chris Froome says that the route of the 2016 Tour de France suits him better than in 2015 as the 21 stages that will make up next year's biggest bike race were unveiled in Paris.
Defending champion Froome, 30, praised the well-rounded nature of the course, which features technically challenging downhill finishes and two hilly time trials.
"I think it's a very complete Tour de France, it really does challenge every aspect of the cyclist," the Sky rider said at the Palais des Congrès in Paris.
"It has some time trialling, some really tough mountains, potentially some crosswind sections and also some tricky finishes at the bottom of descents. It's going to be a tough one to win."
Kicking off at Mont Saint Michel and spending three days in the La Manche region of Normandy, the 2016 Tour heads south to the Massif Central and Pyrenees before an alpine extravaganza rounds out the race either side of the second rest day.
Watch: Highlights of the 2015 Tour de France
With nine potential sprint stages and two hilly time trials on stages 13 and 18, there's the added factor of a summit finish on Mont Ventoux on Bastille Day, stage 12. Froome cemented his debut Tour win with solo victory on Ventoux the last time it featured in the race in 2013.
"I've won two Tour titles already. But I still feel as if I've got more left in me," Froome reiterated.
"There are no guarantees in this sport whatsoever, there's nothing to say I'm going to win even more titles, but I'm certainly going to go back next year and give it my best. I think the route is certainly a route that suits me well."
Froome admitted that racing such a hard Tour could impact on his ability to succeed at the Olympic Games road race and time trial in Rio de Janeiro, which take place just 13 and 17 days respectively after the end of the Tour in Paris.
"It's going to be tough," Froome said. "For sure the Tour is going to be the main focus to start off with, but there's no reason why, if the condition is good coming out of the Tour, that we wouldn't be able to go on and focus on the Olympics.
"It's going to be a really tough Olympic route, it's going to suit the climbers, so let's see. I've still to do well in a one-day race, but maybe that's something I can try and work on for next season."
Thank you for reading 10 articles this month* Join now for unlimited access
Enjoy your first month for just £1 / $1 / €1
*Read 5 free articles per month without a subscription
Join now for unlimited access
Try first month for just £1 / $1 / €1
Richard Abraham is an award-winning writer, based in New Zealand. He has reported from major sporting events including the Tour de France and Olympic Games, and is also a part-time travel guide who has delivered luxury cycle tours and events across Europe. In 2019 he was awarded Writer of the Year at the PPA Awards.