Geraint Thomas, Chris Froome and Mark Cavendish give their verdicts on Tour de France 2019 route
2019's Tour route without gimmicks gets the thumbs-up from Thomas, Froome and Cavendish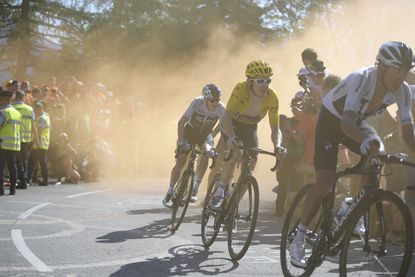 (Image credit: Yuzuru SUNADA)
After a 2018 Tour de France that featured cobbles, the shortest road stage for decades and an F1-style start grid, the 2019 route unveiled by race director Christian Prudhomme in Paris's Palais des Congrès has a more classical look, with the emphasis very much on high-altitude climbs.
Among five summit finishes, two more than last year, no fewer than three will be above 2,000 metres, while there are another four ascents above that mark, including the 2,770-metre Col de l'Iseran, the highest paved pass in the Alps.
>>> Tour de France 2019: Race director Christian Prudhomme wants to ban power meters
Defending champion Geraint Thomas and his predecessor and team-mate Chris Froome both said they were pleased with their first look at the route.
"The Tour's always hard, but there's a lot of climbing, a lot of altitude," said Thomas. "There are lots of climbs over 2,000 metres. Generally, I really like them, so I'll look forward to that."
The Welshman also picked out the time trial in Pau as another critical point and highlighted the difficulty of stages in the Vosges and Massif Central.
"There are a lot of medium mountain stages, so it will need a well-rounded rider and team to win it," said Thomas.
"I wouldn't say that any of the summit finishes worry me, but stages like the one to the summit of the Tourmalet and to Val Thorens will be exciting stages. That second one comes after 33 kilometres of climbing and follows what is another really challenging day. There's certainly some big, big days where a lot can happen."
Thomas said it was still too early for him and Sky's management to decide whether the Tour will be on his programme next year, but even before next week's unveiling of the 2019 Giro d'Italia route he made it clear he would like to get the chance to defend his Tour crown.
"Having won this year, I'd love to go back, and there's no point in going back at anything less than 100 per cent, so I'm looking forward to it," he said.
With five summit finishes, the race appears to suit Chis Froome, and he admitted he is looking forward to preparing for it. "It's a very different parcours. It's very heavily weighted towards climbing and the mountains, and especially those over 2,000 metres, which will be a big factor," said the four-time champion.
"There's comparatively fewer time trial kilometres compared to recent editions, so that's quite different too. It would be the dream for me to go for the fifth Tour de France win."
Asked about the switch in focus to some of France's highest passes, Froome said, "Every year I've had to adapt and this year is no different. I'll do all I can to adapt to it and make sure I'm at my best in the mountains. In terms of the stages I like, I've always enjoyed racing up La Planche des Belles Filles, the first summit finish, and with an added kick at the end of over 20 per cent it will certainly be interesting and sort out the men from the boys."
He added that the route should suit riders born or living at altitude, picking out Movistar's Nairo Quintana as one who should thrive.
"Some riders deal with altitude better than others, especially those who were born and live at altitude like Nairo Quintana. Those climbs should really suit him. I think that spending a lot of time at altitude will be one of the main parts of preparing for this Tour," said Froome, who looks set to spend even more time at Sky's high-altitude training base on Mount Teide in Tenerife.
Mark Cavendish wasn't unhappy with the Tour's lofty aspect either. "There's more climbing and probably a greater combined altitude gain, but the 2018 race was near-on impossible for most sprinters to reach Paris – just with the position of the climbs and the lay-out of the stages," said the Dimension Data sprinter.
"Whereas on this route, although there's more climbing, if we work hard we get to Paris. This year it didn't matter how hard you worked physiologically, we'd never get to Paris. I was sick again but I don't think I'd have reached it even if I was well. It's quite nice next year, I'm looking forward to it."
Cavendish reckoned there were six or seven sprint opportunities, and hopes to be back to his best when they come around having spent the last year and more struggling with the debilitating Epstein-Barr virus.
"I'm just back on my bike. I just have to monitor my health and hope that I stay OK really, and that's it. I'm looking forward to next year, that's for sure," he said.
Thank you for reading 10 articles this month* Join now for unlimited access
Enjoy your first month for just £1 / $1 / €1
*Read 5 free articles per month without a subscription
Join now for unlimited access
Try first month for just £1 / $1 / €1
Peter Cossins has been writing about professional cycling since 1993, with his reporting appearing in numerous publications and websites including Cycling Weekly, Cycle Sport and Procycling - which he edited from 2006 to 2009. Peter is the author of several books on cycling - The Monuments, his history of cycling's five greatest one-day Classic races, was published in 2014, followed in 2015 by Alpe d'Huez, an appraisal of cycling's greatest climb. Yellow Jersey - his celebration of the iconic Tour de France winner's jersey won the 2020 Telegraph Sports Book Awards Cycling Book of the Year Award.