Hincapie focused on Tour amidst controversy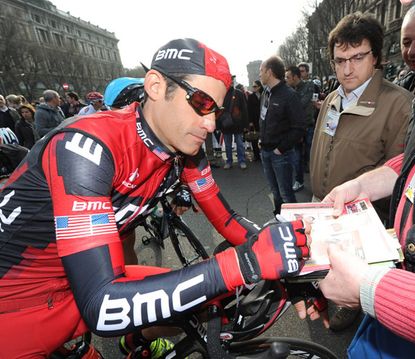 AMERICAN veteran George Hincapie has expressed his disappointment but not denied reports linking him to a fresh United States Anti-Doping Agency (USADA) investigation involving Lance Armstrong.
Dutch newspaper De Telegraaf has reported that former teammates of Armstrong's including Hincapie, Levi Leipheimer, Christian Vande Velde and David Zabriskie have given evidence against the seven-time Tour winner. According to the report they will be issued with six month suspended bans from late September.
Garmin-Sharp manager Jonathan Vaughters was also referenced in the article. Vaughters this morning, via Twitter, denied any member of Slipstream Sports, which would include him, Zabriskie and Vande Velde, had been issued with a six-month ban.
All are at the Tour de France, which continues with a flat fifth stage to Saint-Quentin today.
Hincapie has been part of nine winning Tour teams, seven with Armstrong (1999-2005), one with Alberto Contador (2007) and again last year at BMC Racing with Cadel Evans. The 39-year-old is again riding alongside the Australian Evans who is hoping to defend his overall title.
"I'm just disappointed this has been brought up once again," Hincapie told journalists before the start of the fifth stage. "I feel like I've always done the right thing for the sport.
"Right now I'm here to do my job and I'm just going to try and focus on that. BMC has got nothing to do with this. Cadel obviously is focused on wining the Tour and I'm here to try and help him do that. I'm going to continue to do that and try not to let anything get in my mind besides that."
Hincapie, who is making a record 17th Tour appearance and is set to retire at the end of this season, said he hadn't spoken to Armstrong "in a while".
"I feel bad that he's going through all this. Lance has done so many things for the sport, his accomplishments are incredible, what he's achieved in the sport of cycling, potentially brought to the sport of cycling, what he's done for the cancer society is honourable," he said.
USA Cycling last month confirmed Hincapie, Leipheimer, Vande Velde and Zabriskie had removed themselves from selection for the national London 2012 Olympic Games road team.
USADA charged Armstrong in mid-June with doping offences, which came after a US federal government investigation ended in February. Armstrong as well as RadioShack-Nissan manager Johan Bruyneel, Dr. Pedro Celaye, Dr. Luis Garcia del Moral, Dr. Michele Ferrari and Mr. Pepe Marti were named in a 15-page letter that detailed the charges.
Related links
Vaughters denies that Garmin riders will be suspended by USADA
Thank you for reading 20 articles this month* Join now for unlimited access
Enjoy your first month for just £1 / $1 / €1
*Read 5 free articles per month without a subscription
Join now for unlimited access
Try first month for just £1 / $1 / €1