Lars Boom cortisol case: what you need to know
Lars Boom (Astana) returned low cortisol levels in an anti-doping test before the 2015 Tour de France. We explain everything you need to know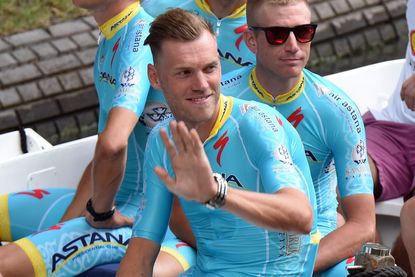 (Image credit: Watson)
Has Lars Boom failed a dope test?
No. Astana's Dutch rider was shown to have low cortisol levels in a anti-doping blood test taken on July 2, ahead of the first stage of the 2015 Tour de France. However, according to the rules of the UCI and the World Anti-Doping Agency (WADA), he has not committed an anti-doping rule violation.
So why all the fuss?
Boom's Astana team is a member of the Movement for Credible Cycling (MPCC), a voluntary membership organisation composed of a number of WorldTour and Professional Continental level teams. According to the MPCC, when a rider returns a test showing low cortisol levels, that rider should not compete for a period of eight days on the grounds that doing so would endanger his or her health.
Could Boom's health be at risk?
Cortisol is a stress hormone, naturally produced by the body, which reduces inflammation. Low cortisol levels could negatively affect a rider's ability to recover from injury. Naturally low cortisol levels could indicate that the rider is suffering from a severe illness, hence the MPCC ruling.
That's not all…
Low cortisol levels could also be achieved by the use of cortisone, a steroid which does have performance enhancing benefits. However at this stage there is no direct evidence that Boom has committed any anti-doping violation. Nevertheless, doping is predictably part of the dialogue surrounding this case. Astana were awarded a WorldTour licence for 2015 by the skin of their teeth after a series of anti-doping infringements last year.
What's Boom's explanation?
Astana said in a statement on Saturday that Boom's low cortisol level 'is the consequence of a long-standing and well-known application of anti-asthma therapy by the rider' and that there is no risk to Boom's health.
What could stop Boom from riding?
With membership voluntary, the MPCC has no power to stop Boom from riding. Astana boss Alexandre Vinokourov expressed his desire for Boom to start the Tour, insisting that the team's doctors have declared Boom fit to race. He added that the consequences for the team's membership of the MPCC would be up to the head of the organisation, former Credit Agricole team boss Roger Legeay.
Couldn't Astana just call up a reserve rider?
Here's where it gets complicated. According to UCI rules, Tour teams are permitted to replace riders on their Tour line-up only before the team manager's meeting, which took place on Friday afternoon. However the team insists they received notification of Boom's cortisol levels after that meeting. Alessandro Vanotti, Astana's back up rider, has flown out to Utrecht to be with the team. The team requested special dispensation from the UCI for him to replace Boom, however at this stage it has not been granted. The team have stated that the UCI told them they do not perceive low cortisol levels to present a threat to the rider's health, hence there are no valid grounds for a substitution. This UCI stance is at odds with that of the MPCC.
Why don't Astana just start with eight riders?
Boom is a key rider for Astana. Not only is he Dutch, he won the cobbled stage of last year's Tour and was picked for his skills in a difficult opening week. Dropping Boom would be the best option from a PR point of view, but would deal a significant blow to defending champion Vincenzo Nibali's Tour hopes before the race even started. Vinkourov has said that embarking on the Tour without a full complement of nine is simply not an option.
What is the impact on Nibali?
Nibali is in no way implicated in this case, other than by his position as leader of the Astana team. However the negative publicity surrounding his team – a crowd of journalists camped out at the Astana team hotel on Friday night and Saturday morning – and the additional stress within the team won't do him any favours. That said, Nibali is a notoriously laid back rider.
How long will this drag on for?
This issue is unlikely to go away during the Tour; the spotlight is once again on Astana and for all the wrong reasons. Although they have so upheld their rules, the UCI could receive some flak for not allowing Vanotti to replace Boom.
What about the MPCC?
The MPCC are likely to kick Astana out of the organisation if Boom rides the Tour. Astana would be the fourth team to leave the group this year; most recently, LottoNL-Jumbo quit the MPCC after their rider George Bennett did not start the 2015 Giro d'Italia following low cortisol levels.
Thank you for reading 20 articles this month* Join now for unlimited access
Enjoy your first month for just £1 / $1 / €1
*Read 5 free articles per month without a subscription
Join now for unlimited access
Try first month for just £1 / $1 / €1