Live! Tour de France 2010 presentation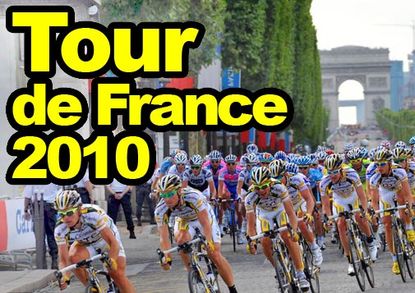 Cycling Weekly will be covering the official presentation of the 2010 Tour de France route on Wednesday, October 14.
Throughout the morning we will be posting live updates from the presentation in Paris, giving you the lowdown on the stages as they are revealed.
You can join in the reaction by adding your comments at the bottom of the 'Cover It Live' panel below.
LIVE COVERAGE IS NOW CLOSED
Below is the text of the coverage.
Tour de France 2010 presentation, Paris(10/14/2009)
9:17
Good morning cycling fans!
Welcome to the presentation of the route of the 2010 Tour de France. Cycling Weekly is at the presentation in the Palais des Congrés in Paris and will be bringing you all the news, gossip and analysis from the presentation.
9:22
The build up to the Tour presentation is always full of speculation, it's part of the fun, but there's a couple of things we do know.
* The race starts in Rotterdam on Saturday July 3rd with a prologue TT
* Stage one heads out in to Zeeland across a series of wind swept islands before heading south in to Belgium
9:26
The rest is all speculation at this stage, but we've heard a few rumours:
* Stage one looks likely to finish in Brussells after a long day of around 230km
* Race organisers want to cut down on the number of bunch sprints and a stage two finish in Spa is a possibility. There may only be one sure-fire sprinters' stage in the first week
* The Alps will come before the Pyrenees
* The race is set to mark the 100th anniversary of the first mountain stage that went from Luchon to Pau in the Pyrenees.
* The Tourmalet is to feature twice in the parcours, although an individual TT up the 2114m mountain pass is now considered unlikely.
9:29
Take a look at our 2009 Tour de France coverage
9:29
[Comment From Sean]
Will the lack of out and out sprinters stages hamper Cav's chances of winning green?
9:31
Morning Sean. Yes, the lack of flat stages could prevent Mark Cavendish from winning green again. Although if he really wants to win it he may chose that as his project for 2010, slim down a bit and work on his climbing - as he did for this year's Milan San Remo.
9:32
Of course the green jersey isn't strictly a sprinters competition. It's designed to reward consistent finishers. That is obviously weighted towards a sprinter but Hushovd showed this year that there was another way to win green.
9:32
[Comment From Harry]
Well if he couldn't take green after winning six stages, I would say so!
9:33
This year's winner Alberto Contador will be in Paris, as will Lance Armstrong. What's the betting that the organisers sit them next to each other - right on the front row!
9:34
[Comment From Roland]
Armstrong and Contador in Paris but let's salute the likes of Evans and Wiggins who are still racing.
9:35
[Comment From Andy]
Are Team Sky in attendance?
9:36
Morning Andy. Yes Dave Brailsford is in Paris for the presentation. Not sure if any of Sky's bigwigs are there but they've got to be on ASO's case from now until April if they want to make sure of their invite.
9:36
[Comment From Roland]
Will RadioShack get a ride? Their pro tour licence looks uncertain, especially since Bruyneel is trying to apply for it yet is still under contract with Astana for 2010.
9:38
Hi Roland. We'd be amazed if RadioShack (now rebranded as Team The Shack of course) weren't in the 2010 race. Our sources tell us that while ASO aren't the biggest fans of Armstrong, they know he draws in the crowds. And therefore the money.
9:38
[Comment From jamie]
cav is a born winner, he will want to win whatever the parcours
9:38
[Comment From Diarmuid]
It seems the Etape du Tour is tipped for the Pau to Tourmalet stage. Second time in three years! I hope this is not the case.
9:40
Hi Diarmuid. The organisers certainly like using the Pyrenees. It's easier to close the roads as it's a quieter part of the country. We've heard the Etape will feature the Aspin, Aubisque, Tourmalet and one other. That's one hell of a day in the saddle!
9:40
[Comment From Ibby]
Roland, i suspect RadioShack will get it all sorted. Love him or hate him, LA brings in the crowds and that = money and ASO know that
9:41
Just as a little reminder, here's the top ten from the 2009 Tour de France:
Final overall classification
1. Alberto Contador (Spa) Astana in 85-48-35
2. Andy Schleck (Lux) Saxo Bank at 4-11
3. Lance Armstrong (USA) Astana at 5-24
4. Bradley Wiggins (GB) Garmin-Slipstream at 6-01
5. Frank Schleck (Lux) Saxo Bank at 6-04
6. Andreas Kloden (Ger) Astana at 6-42
7. Vincenzo Nibali (Ita) Liquigas at 7-35
8. Christian Vande Velde (USA) Garmin-Slipstream at 12-04
9. Roman Kreuziger (Cze) Liquigas at 14-16
10. Christophe Le Mevel (Fra) Francaise des Jeux at 14-25
9:46
[Comment From johnnyh]
2010 a year for the Brit's? Cav, Wiggo?
9:46
We certainly hope so Johnnyh! Don't forget the Sky team as well...
9:47
Who will win the 2010 Tour de France
Alberto Contador
( 55% )
Andy Schleck
( 13% )
Bradley Wiggins
( 6% )
Lance Armstrong
( 18% )
Frank Schleck
( 2% )
Someone else
( 6% )
9:48
[Comment From Roland]
Yes, money usually comes before rules, contracts and sporting values :-(
9:48
Expand
9:49
[Comment From Ibby]
How much info does ASO release at this event in terms of stage detail?
9:50
Ibby, ASO will release start and finish details for all the stages and some of the major climbs, for the exact route they keep us waiting in suspense!
9:52
Lance Armstrong is likely to face a few questions over l'Equipe's latest story when he's in Paris today.
9:57
[Comment From johnnyh]
i am sure the team sky riders will have a great tour, be great to see geriant thomas
9:57
Our man Ed Pickering is in the lobby at the Palais des Congrés and has just seen Richard Virenque go and shake Lance Armstrong's hand. Apparently Armstrong shook it then promptly walked away. Not friends?
9:57
[Comment From Will]
Het Nieuwsblad says arenberg on the 6th of july!!
9:58
Good bit of gossip there Will, let's hope it's true, eh? It would be carnage if they did go through the Arenberg.
10:00
[Comment From bloomers100]
whole summer holiday being planned around this announcement, lucky kids lol
10:00
Lucky kids indeed!
10:03
[Comment From johnnyh]
LA to face questions regarding doping.. something new for him eh. The French media will never give up...
10:05
Apparently the crush around Lance Armstrong is huge. Photographers and cameramen are having to climb up on to the stage to get a shot of him. He appears to be sitting next to Andy Schleck. Contador hasn't arrived yet.
10:07
Our man in Paris just asked Christian Prudhomme if there were any surprises to come today seeing as the route is all up on the internet. His response was; "I don't know what you've heard." He then walked off. Well, he is a busy man today.
10:11
More as it happens gossip from Paris. Contador has just arrived. He was edging his way down the row of seats to get to his alloted spot and Armstrong had to get up to let him past. They exchanged a hand shake whereas Contador and Andy Schleck hugged each other.
10:11
Apperently it's mayhem down there. Armstrong is getting more attention that Contador, about 50 photographers for the American and 30 for the Spaniard.
10:12
Now Cav has waded in - literally. He's sat down the front too and apparently got a bit pushy with the photographers in his way. Well, he is a sprinter after all!
10:14
[Comment From johnnyh]
Go Cav go... push em Cav.
10:14
[Comment From Roland]
Great story that the race organiser sent a colleague, Alphonse Steinès, to recce the route in 1910. Steinès got trapped on the mountain by snow, fell into a river and was rescued by shepherds. Upon his return to civilisation, he sent a telegram back to Paris: "road very good, perfectly feasible" !
10:15
Great story Roland, says it all about the Tour in those days!
10:19
[Comment From Gert Schepers]
Will the route of the ''l'etape du tour' also be announced in this live coverage?
10:19
The stage designated for the Etape will not be released until later, but we can have a pretty good guess at where it's going to be...
10:20
[Comment From sparky]
Scott Sunderland also there alongside Dave Brailsford representing Team Sky.
10:23
Today marks a bit of an anniversary for Sunderland. It was at last year's Tour presentation that the Aussie announced he was leaving the Cervelo team. There was some internal politics going on there and we got the feeling Brailsford had already approached him about the Sky project.
10:25
Hi Gert, yes we'll know which stage is to be the Etape, they'll say so during the presentation of the route.
10:25
[Comment From dev, SE9]
I rewatched the end of the Paris stage last night. Hinchape, Renshaw and Cav were like an express train. Renshaw was essential for Cav throughout.
10:26
Good job Renshaw is staying at Columbia next year.
10:27
[Comment From dev, se9]
I think its vital for Cav that he does!
10:28
It's all gone a bit quiet from our man in Paris. The preliminaries do tend to go on a bit. A little earlier he was trying to look over the shoulder of Daniel Mangeas to see if he had the route in his notes. He didn't, but it was a good try.
10:28
[Comment From Andy]
Could Columbia change their focus if there aren't as many Cav-esque stages? Maybe support Tony Martin more.
10:30
Hi Andy, yes they could. Bob Stapleton told us in a recent interview that Tony Martin would have a free reign in next year's Tour. Columbia think he can finish in the top ten next year and improve on that in years to come.
10:32
Part one of that interview with Stapleton can be read here
Part two is here
10:33
[Comment From Dev, SE9]
Are Sky going to pick up the TdF coverage. I have Eurosport on again but they didnt show Cadel on the podium at WC's. Sky would do a far better job imho. Keep the commentators though as they make it for me.
10:34
No plans for any Tour coverage from Sky yet Dev, but you never know.
10:36
[Comment From ozindav]
Hope Etape is Luchon -Pau, that would be a great, historic ride and not to similar to last year.
10:37
That would be great ozindav, what is certain is that it won't be Mont Ventoux again for a while.
10:38
[Comment From Dev, SE9]
Tony Martin will be in the Top 5 next year, I'm very interested to see how Andy Schleck rides. He was a powerhouse on the Ventoux.
10:39
Martin definitely has the potential to be in the top five if he can build on what he learned this year. Andy Schleck and Contador will take some beating in the years to come, though.
10:40
[Comment From Guy Collier]
What's your guess on the Etape route then?
10:41
Hello Guy, as we said earlier in the coverage the Etape should feature the Aspin, Aubisque, Tourmalet and one other with a route somewhere between Luchon and Pau.
10:41
[Comment From Jim Jack McSweeney Pipe]
What time does this thing start as I have work to do?
10:42
The presentation has already started but they're still wading through all the preliminaries at the moment. Yawn.
10:42
[Comment From Gert Schepers]
Dont forget our Dutch hope, Robert Gesink. He will be there the next few years also. Wasnt the etape in 2008 also in the same area as pau? Personally i hope the alps.
10:43
[Comment From Jim Jack McSweeney Pipe]
Don't rule out Cancellara!
10:43
Gert, a rider in the Rabobank team (I'll spare his identity) told us recently that they are building their team around Dutch riders in the coming years, with Gesink seen as the long-term leader. When asked about Menchov, he shrugged.
10:44
[Comment From James]
After the Ventoux Etape this year I said I'd miss next year out but I'd be tempted with that one as it's similar to my first Etape in 2001.
10:45
So, Alberto Contador (1st), Andy Schleck (2nd) and Lance Armstrong (3rd) are all in Paris for the presentation. Fourth-placed Bradley Wiggins is racing at the Sun Tour in Australia, currently lying third overall.
10:46
They're currenly playing a video of last year's race at the presentation......
10:47
[Comment From Gert Schepers]
Glad to hear that. It where a few hard years, as 'in my opinion' all the dutch riders do their job for Menchov (and Rasmussen) with not much prices in the tour. They have to change strategy for cycling in Holland. A lot of young riders are knocking on the door. They earn a chance
10:47
We heard from a very good source that Contador wants to humiliate Armstrong at next year's race. Will Lance and Bruyneel's treatment of Contador in this year's race come back to bite them?
10:49
This from Paris: 'ASO slather on the Camembert with a speech by a schoolchild about the Tour.'
10:50
Nobody has voted for Frank Schleck to win next year's Tour, his chances at the Tour are numbered thanks to his brother!
10:50
Rotterdam will be the fifth Dutch town to host the start of the Tour. Amsterdam was the first foreign city to host the Tour start (1954). Scheveningen (1973), Leiden (1978) and s'Hertogenbosch (1996) are the other Dutch grand depart hosts.
10:54
Once the route is revealed, keep an eye on www.cyclingweekly.com later today for reaction and the sharpest analysis around.
10:58
Some retro video on the Pyrenees is being shown at the moment, they're obviously building up to something big happening in that region in 2010.
11:01
[Comment From Gert Schepers]
Will there be a time trial on the last saturday?
11:01
Stay tuned and you'll find out Gert!
11:02
The suspense is killing us!
11:04
Andy Schleck is sitting between Contador and Lance, probably for the best...
11:05
Here we go!
11:05
[Comment From Ibby]
Patience young luke, feel the tour :)
11:05
The Tour is set to celebrate 100 years of the Pyrenees this year. The logo is a mountain in the shape of France with a road leading up to it.
11:07
[Comment From Richard]
Do they announce all the stages in one go or are they all revealed one by one?
11:07
One by one Richard, be patient!
11:07
[Comment From Gert Schepers]
I want sleepless nights!! Mountains mountains and mountains!
11:07
They'll do a fly through of the route if it's anything like last year. It's quite quick, so there'll be smoke coming off our keyboards!
11:08
We're having a croissant for elevenses in the office in Croydon to give the day a French feel.
11:09
Lance Armstrong chewing gum and looking a little uninterested in the speach now being made by the Mayor of Rotterdam. But at least he's wearing a tie this year.
11:10
[Comment From Dev, SE9]
Croydon, like Bedoin but without the sunshine. . .
11:10
Or the charm...
11:10
[Comment From Gert Schepers]
But with also a lot of wind i guess :)
11:11
But Croydon does have a very good Cassoulet restaurant.
11:11
[Comment From Dev, SE9]
The Mayor of Rottendam is no Boris
11:13
Check out the next issue of Cycle Sport for a feature on Rotterdam, why they wanted the Tour, how they went about getting it and what the course is like...
11:13
Video of people cycling around Rotterdam now playing. Obviously being a Dutch city it's a big cycling city. They're mayor may be no Boris but he runs a more cycling friendly city!
11:13
[Comment From Dev, SE9]
Can't see Le Tour starting at Ikea, Croydon. . . .
11:14
The current Rotterdam mayor took office in January. The idea to bring the Tour to the city was actually the dream of his predecessor, Ivo Opstelten.
11:14
It'd make it easier for us though, Dev.
11:14
The music's a bit naff on this video. No where near as good as the London video with Bloc Party's anthemic tunes. "you and I belong here, lah lah lah."
11:14
[Comment From Gert Schepers]
Ivo van Opstelte, our main man!
11:14
Is he your favourite Dutch mayor, Gert?
11:15
Right, just polished off the croissant (with some French strawberry jam), now for the route!
11:16
[Comment From Sean]
This is very cringe worthy! Is it wrong that I loved it?
11:16
Here's Daniel Mangeas, the official speaker of the Tour de France - a man who has ruined more post-race interviews with riders by shouting loudly - with Dutch legend Joop Zoetemelk.
11:16
Good to hear you're getting into the spirit, Sean.
11:17
Joop Zoetemelk now on the stage. Winner in 1980 and rode 16 Tours in total, which is a record. Jan Jansen also there.
11:17
The people who showed us round Rotterdam for the Cycle Sport feature said that the 1968 champion Jan Janssen actually supported Utrecht's bid to host this grand depart initially.
11:17
[Comment From Howard]
My pal Al and I are planning to ride the tour next year so are both watching this with interest from our respective offices - I plan to win the final TT - but Al thinks we will get the overall - we'll see
11:17
Is it wrong to think that the Dutch lad stood next to Zoetemelk just then looked very much like Thomas Dekker?
11:18
Good luck with that one Howard!
11:18
Here comes the route
11:18
[Comment From Gert Schepers]
For a Dutchman it's a strange year. In august we watched the Vuelta passing our peacefull area. Next year it will be the Tour and also the Giro! I love it
11:18
Right...
11:21
So twice over the Tourmalet with a stage finish there on the second visit.
11:21
Cav's looking worried with all those climbs!
11:22
After Rotterdam it goes to Brussells, then over to Spa and down towards the Alps. The route is pretty much as the one that leaked out last week.
11:22
Morzine features as does Chambery and Gap.
11:23
[Comment From Iain]
Only the French could turn a cycling presentation into the Eurovision Song Contest...
11:23
[Comment From Gert Schepers]
Twice, ever happened before??
11:23
Second stage: Brussels-Spa
11:23
This stage features some of the climbs of Liege
11:24
Stage 1 to Brussels goes across the islands of Zeeland. It's going to be windy there. Very windy. Stage 2 is going to be hilly and difficult.
In 1985 the Tour used the Col d'Aubisque twice in the same Tour.
11:24
Stage three: Wanze-Arenberg. Yes, that's Arenberg from Paris-Roubaix.
11:25
Stage four: Cambrai-Reims. Undulating stage, one for the breaks perhaps.
11:26
Stage five: Pernay-Montgaris. Champagne region. chance for the escapees.
11:26
Stage six: Tournus-Station des Rousses
11:28
Stage eight: Station des Rousses-Morzine
11:29
Stage nine: Morzine
11:29
Stage 10- Chambery-Gap
11:30
Sorry for sketchy details at the moment, they're running through the details like there's no tomorrow.
11:31
Stage 12: Bourg Peage - Mende Stage 11: Sisteron-Bourg les Valence
11:33
Stage 13 Rodez - Revel
11:33
Stage 14: Revel-Ax 3 Domaines
11:34
Stage 15: Pamieres-Bagneres de Bouchon
11:36
Stage 16: Bagneres-Pau
11:36
Three big mountain stages in the Pyrenees before a rest day in Pau.
11:36
Stage 17: Pau-Tourmalet. Summit finish.
11:37
Bare with us, we'll confirm all the stages when they've finished the presentation.
11:37
Stage 18: Salies de Baren-Bordeaux
11:38
Stage 19: Pouillac-Bordeaux. TT
11:38
Stage 20: Longjumeau-Paris Champs Elysees
11:40
Stay with us for confirmation of all the stages.
11:41
[Comment From Sean]
Only 1 TT? Brad won't be pleased with that!
11:41
[Comment From Harry]
Cav had better stay home next July!
11:43
It has to be said that at first glance it does not look to be a great route for either Mark Cavendish or Bradley Wiggins. There are not many guaranteed sprint finishes, and there is a heck of a lot of climbing.
11:43
[Comment From Richard]
Sounds more of a conventional Tour route than the past couple of years
11:43
Sean, yes, that seems right, just the one individual time trial (and the prologue of course). That isn't good for Wiggins or Armstrong. Contador probably wont be too worried either way, he can win either.
11:46
[Comment From Sean]
Maybe a chance for the two Brits to focus on the Giro rather than the Tour - particularly for Brad as I can't see him reapeating this year's success - but then I couldn't see him coming 4th this time around.
11:47
Poor Andy Schleck looks a bit uncomfortable without a suit on the stage.
11:49
Armstrong: "I think the key thing is there's no TTT, but a very difficult first week in the north of Europe with the wind and the cobbles. It will be nerve-wracking and difficult".
11:49
[Comment From James Paterson]
Andy Schlek looks like he's there to clear the stage when everyone else has gone.
11:49
[Comment From Andy]
At least Wiggo will know where he needs to focus his training, he'll need to keep on the Big Guns wheels. But Schleck (x2) - Contador face off should be on the cards
11:51
Armstrong: "I'll be close to 39 years old next year...but the competition is good and the riders are strong, it's not like it was 10 years ago. I'm excited...and we'll give it our best".
11:53
Stay tuned for Etape confirmation, coming soon...
11:56
Certainly lots of climbing in next year's route, Contador looks like a happy chappy.
11:56
[Comment From Iain]
The Contador-Armstrong rivalry is leading towards the 2010 tour being a classic, and the route is perfect for that. Hopefully it'll spur them on to great performances, which in Contador's case, now approaching his peak, could be spectacular. Or in their stubbornness they'll allow Schelck 1 or Schleck 2 to disappear as they refuse to help eachother chase!
11:57
Absolutely, it's shaping up to be another epic battle, Iain.
11:57
Oops, Eurosport asked Contador about his preparation for the 2010 Tour and he started talking about the anti-doping effort in France. Think they got their wires crossed there! For the record, he said that the French were doing a lot of testing and that's the way it should be.
11:58
Now here's the underdressed Andy Schleck.....
11:59
Andy Schleck: "There is only one time trial but it's 50km so it's long enough. There's lots of climbing too, so I'll be checking out some of the climbs in the coming months. For me, last year I went to win the race. Of course Alberto is a big favourite, but don't forget Lance. I believe he can still lead, but there are five or six more guys as well."
12:01
Cav's priceless. he was just asked what he has to do to win the green jersey, he said; "hopefully not get a bent barrier in the road.'
12:01
Cavendish: "There are five definite sprint stages, possibly eight. Three in the first week, one in the second and one in the third. So it will be all about surviving the second and third weeks. Hopefully we've got a dominant squad and guys who are progressing massively on GC like Tony Martin, but every time there's a sprint we'll be going for the win".
12:03
Bruyneel: "It's always the strongest rider who wins the Tour, it doesn't matter if the Alps or Pyrenees come first."
12:04
[Comment From johnnyh]
andy schleck playing it down a bit.... contador the fav.. be hard to beat not sure if LA will have it in him, wiggo lots of training to do, could be a chance for tony martin to shine and not forgetting the others, evans, sastre
12:08
Hushovd: "There are breakaway stage where I can escape and get points, not just sprint stages. I had to do something different against Cavendish this year and that's where I won the green jersey, scoring points and staying focused every day. The day into Spa has an uphill finish so maybe I can get some points against Cavendish there".
12:09
Bruyneel on the route: "There's no surprises. It's not that important to study the route. Every year it's the same, no matter what the course is, it's always the strongest man who wins the Tour. It's a three week stage race and the strongest rider will always win. There's never been a Tour where the strongest rider hasn't won."
Bruyneel on Astana and The Shack: "I feel confident that everything will be sorted out, in the interest of both teams [Astana and Team Shack] so both can be competitive and race against each other. We're making progess and I hope in the next few days it will be decided."
Bruyneel on the French investigation in to the syringes: "I don't have any answers because I don't know anything about the case. I'm confident that our team has been racing clean. We just have to deal with it and get on with it."
12:12
The Etape stage is the one from Pau to the summit of the Tourmalet. Should be a cracker.
12:19
That's the coverage done and dusted. thanks for joining us. Keep an eye on the Cycling Weekly website for much more analysis and reaction.
12:21
Thank you for reading 20 articles this month* Join now for unlimited access
Enjoy your first month for just £1 / $1 / €1
*Read 5 free articles per month without a subscription
Join now for unlimited access
Try first month for just £1 / $1 / €1