Velon and GoPro join forces ahead of the Tour de France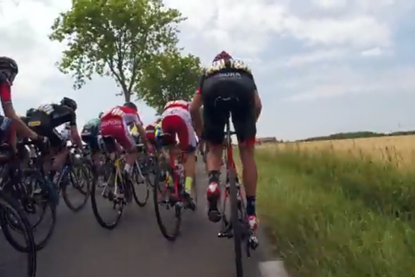 On-bike action at the Tour de France will be shot on GoPro cameras after a deal was signed between the manufacturer and Velon.
The cameras will be placed on the bikes of the 11 WorldTour teams who have signed up to Velon, with footage available to be shown on the teams' social media channels for the rest of 2015.
This season has seen a huge increase in on-board footage, with FDJ's Jeremy Roy memorably avoiding crashes at the Tour Down Under, and action coming from multiple stages of the Giro d'Italia.
Velon and GoPro hope the new deal will bring fans an even more immersive view of the sport, giving viewers access to things they will not normally see.
Velon CEO Graham Bartlett said: "The partnership will show fans a new side of cycling, with the fantastic moments that have never been captured before, I think this is a great deal for the sport.
"GoPro's YouTube channel is one of the world's highest ranked online sports channels, in the top 5 for both subscribers and video views, we want this partnership to excite the fans and open the sport up to new ones from around the world."
>>> On-bike footage of Peter Sagan's blistering win at the Tour of California (video)
Todd Ballard, Senior Director of Lifestyle Marketing for GoPro added: "Cycling is one of the ultimate team sports, but the best moments often happen away from the TV cameras.
"By partnering with Velon, we can get inside the action and show what it takes to win in one of the world's most demanding sports, bringing the sport alive for our millions of fans."
Why do you love the Tour de France?
Thank you for reading 20 articles this month* Join now for unlimited access
Enjoy your first month for just £1 / $1 / €1
*Read 5 free articles per month without a subscription
Join now for unlimited access
Try first month for just £1 / $1 / €1