Your chance to own a part of 1973 Tour de France history
A Citroen HY Van, used to film the Tour de France, is available to buy on Ebay - but hurry, bidding ends at 7.50pm tonight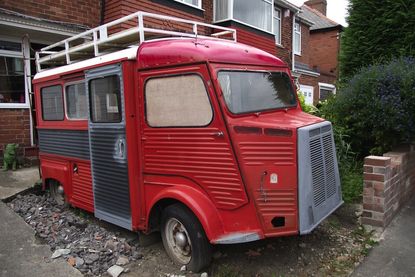 Cycling memorabilia is pretty common on auction website Ebay these days, but it's not often you find something dating back to the 1973 Tour de France.
If you search on YouTube for highlights of that edition of the Tour, you'll find a few grainy videos showing the action, with the race footage likely shot from the top of a van.
https://www.youtube.com/watch?v=HRKkxkQYS-A
And it's one of those vans that has found its way onto Ebay and it could be yours, if you've got a bit of spare cash lying about.
The Citroen HY Van is one which may have shot Spaniard Luis Ocaña racing to victory in Eddy Merckx's absence and comes complete with the original camera portholes.
The van may not have aged as well as some of the cyclists in that edition of the Tour - the engine is apparently in a position to be repaired, but doesn't actually work.
Additionally, the chasis may need some work, as will the interior, but it looks a perfect project for anyone who likes to tinker.
But hurry, though. If you want to buy the van you have until 7.50pm tonight (June 24) to place your bid, with the current highest bid standing at £2,660.
You will also have to collect the van from the Newcastle area if you are the successful bidder.
To see the Ebay listing, click here.
Thank you for reading 20 articles this month* Join now for unlimited access
Enjoy your first month for just £1 / $1 / €1
*Read 5 free articles per month without a subscription
Join now for unlimited access
Try first month for just £1 / $1 / €1