UAE Tour cancelled after 'two team members infected with coronavirus', authorities confirm
The Abu Dhabi Sports Council made the decision to abandon the race over health concerns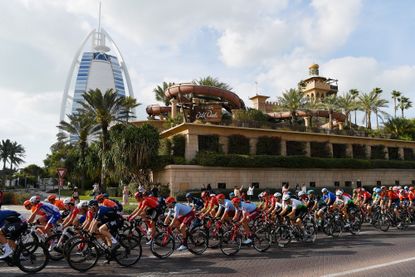 (Image credit: Getty Images)
The UAE Tour has been cancelled after two team members was believed to have been infected with coronavirus, authorities have confirmed.
Reports began to emerged on Thursday evening (February 27) that the race could be cancelled over health concerns because of coronavirus, with teams later confirming that the final two stages had been abandoned.
In a statement, the Abu Dhabi Sports Council said it had taken the decision to cancel the event after two cases of coronavirus were discovered.
The agency did not confirm which team, but said that all riders, staff and race organisers will be tested for the virus.
A statement said: "The Abu Dhabi Sports Council has cancelled the remaining rounds of the 2020 UAE Tour after two Italian participants had tested positive for the novel coronavirus, known as COVID-19.
"The decision has been taken to ensure protection of all the race's participants," said the council, adding that 'safety comes at the top of all priorities.'
"In the meantime, the Ministry of Health and Prevention said that all the Race's participants, administrative staff and organisers will be examined through the continuous periodic screening being conducted, and all needed procedures, including quarantine measures, will be taken to ensure viral suppression and curb the spread of its outbreak in coordination with all health and other authorities concerned in the country.
"The ministry added that all the necessary precautions to ensure highly efficient preventive measures are being taken, including check-ups and observation of people in contact with patients, to guarantee protection of the society and its safety and preserve public trust."
All riders racing in the United Arab Emirates will be tested for the virus, while we are awaiting further details from the race organiser RCS.
There were two suspected cases of the virus in the riders's hotel, according to the Israel Start-Up Nation WorldTour squad.
>>> Riders react as UAE Tour cancelled due to coronavirus
The team said: "We got an official word that two suspected coronavirus cases found in the the teams's hotel in Abu Dhabi. UAE Tour canceled. We are all going to be checked for the virus in the next few hours."
Earlier today, six new cases of the virus were reported in the UAE bringing the total number in the country to 19.
Meanwhile, questions have been asked over the continuation of the track cycling World Championships in Berlin due to the coronavirus.
Michael Mørkøv, who had been racing the UAE Tour up until Wednesday, was spotted in the velodrome in Berlin on Thursday with his Danish compatriots.
There is as yet no evidence that he has been infected but the British team was among those that said it was continuing to liaise with the UCI medical staff over the situation.
Thank you for reading 5 articles this month* Join now for unlimited access
Enjoy your first month for just £1 / $1 / €1
*Read 5 free articles per month without a subscription
Join now for unlimited access
Try first month for just £1 / $1 / €1