Peter Kennaugh: 'This is my chance to show what I can do'
British rider Peter Kennaugh has been testing his form during the opening week of the Vuelta a España, and sits in 15th place overall after stage nine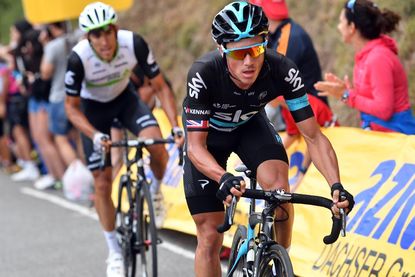 (Image credit: Graham Watson)
Sky's Peter Kennaugh is riding high in the Vuelta a España this month and showing, as he says, that he can climb with the best on a good day.
After helping Sky win the time trial and wearing the leader's red jersey, he sits 15th overall. On the Alto del Naranco climb above Oviedo today, he attacked from the leader's group to soften the legs of Chris Froome's rivals.
"It's given me confidence that I can climb with the front guys when I'm on a good day," Kennaugh told Cycling Weekly of the first week's racing through northern Spain.
"Also, it's the first time in a grand tour that I haven't lost time in the first eight days or so. In the Tour in the past, I've always been sitting up on sprint days or the mediocre days just making sure Froome is good and then losing time. It takes a lot more out of you to make sure you don't lose time. That's a learning experience for me."
Kennaugh took the race lead on day one when Sky beat Movistar by a fraction of a second in the time trial. Since then, he's been protecting Froome while showing his talents.
The Vuelta offered him the perfect chance after a crash in the Tour of California resulted in a broken collarbone and ruled him out of the Tour de France team. Now, in Spain's grand tour he plays a crucial role for Froome.
>>> Peter Kennaugh back in 'the form of his life' ahead of mountainous Vuelta a España
"I think that up into the rest day I will try to stay there [in the GC] and then after that we will reassess. For the moment, it's worked out perfectly having me and Leo König there. If Froome is in the jersey that may change things and we have to sacrifice more," Kennaugh said.
"If you just look at how the season finished last year for me it was not great. This year, you can sit down with a bit more of a clear head and with clear objectives because you know where you are a bit more. You can plan clearly, whether it's targeting other races or trying to get back into that Tour team again. That stuff to think about in November."
Kennaugh spun on his turbo trainer while Froome prepared for the stage behind him. This moment, he indicated, was crucial for the year to come with Sky.
"I think it can go two ways, you could think I'm happy with a helper role or you can think, I want to go get my own results. It's whatever motivates you as a rider," Kennaugh explained.
"I definitely want to see where I can go but that doesn't mean do you have to change teams either. Just look at the Geraint Thomas in the Tour, last year he was right up there until the last couple of days. And even here it in the Vuelta, we have set goals but you have a bit of freedom. If you're good enough as a bike rider then you can still have the opportunity to follow your own sort of goals."
Thank you for reading 20 articles this month* Join now for unlimited access
Enjoy your first month for just £1 / $1 / €1
*Read 5 free articles per month without a subscription
Join now for unlimited access
Try first month for just £1 / $1 / €1