Ricco to return to France after 2008 doping chaos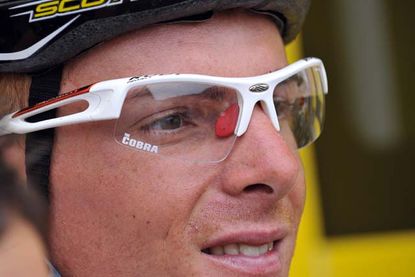 Riccardo Riccò will return to top-level racing in France in March at the Paris-Nice stage race. It will be the first time that he has attended one of France's big races since he doped and was ejected from the Tour de France in 2008.
His Dutch Vacansoleil team received one of the UCI's 18 first division, ProTeam licences last week.
"Now we have a ProTeam licence and we are 12th in the new UCI rankings for next season," Riccò told Italy's La Gazzetta dello Sport newspaper. "We can assume that we will be invited to the most important races, even if there are no certainties."
The 18 first division teams (ProTeams as they are now known) have the right and obligation to race in all of the UCI's WorldTour races. The WorldTour includes new tours like the Tour Down Under, all major classics and the three Grand Tours. However, the organisers of the three Grand Tours - Giro d'Italia, Tour de France and Vuelta a España - may decide to invite teams based on their own rules.
The Amaury Sport Organisation (ASO) organises the Tour de France, and Paris-Nice, and may prohibit Vacansoleil from racing because Riccò sullied its race in 2008. Team Astana and Alberto Contador were unable to race the Tour de France in 2008 for a similar reason. Astana's Alexandre Vinokourov tested positive for blood doping at the Tour de France in 2007, something ASO remembered when it sent invitations for 2008.
Riccò raced with team Saunier Duval from 2006 to 2008. He won three stages of the Giro d'Italia and in 2008, finished second behind Contador. At the Tour de France two months later, he tested positive for blood booster EPO-CERA. The test results became available on July 17, after he had won two stages (Super-Besse and Bagnères-de-Bigorre). He subsequently lost his stage wins and served a 20-month suspension.
He returned from his suspension this year. He raced with team Ceramica Flaminia and won a stage at Settimana Lombarda, a stage at Giro del Trentino, and two stages and the overall Tour of Austria. He agreed to pay the team €75,000 to end his contract one year early and joined Vacansoleil in August. He paid the team back immediately by winning Coppa Sabatini in October.
Vacansoleil also benefited from Riccò's UCI points to gain a first division licence. After reviewing other criteria, UCI awarded the first 15 teams in its sport criterion rankings a ProTeam licence. It calculated the rankings based off the results from 2009 and 2010 of the best 15 riders that the team had signed.
Riccò will start his season at the Tour Méditerranéen, 9 to 13 February. He will then race the Ruta del Sol, Paris-Nice, Milan-San Remo, the Tour of Catalonia and the Ardennes Classics. The Giro d'Italia will highlight his second phase of racing if RCS Sport issues the team an invitation.
"In the meantime I am working," said Riccò, "I am already more than 20 days into my training."
This year, RCS Sport refused Riccò's Ceramica Flaminia an invitation.
"Now, he seems to be on the right path, he's found Aldo Sassi," race director, Angelo Zomegnan told Gazzetta TV a month ago.
"In my opinion, he's not a bad person, a little different. He has the ability to give something to the Giro and to all the races he participates in. The question is, is he the same rider as before, or has he changed?"
Riccò started working with Sassi last month. Sassi is a respected trainer, who runs the Mapei training centre in Castellanza in northern Italy and works with Cadel Evans, Ivan Basso and Michael Rogers.
"I often talk with Sassi and his team," said Riccò. "I have changed my training methods a little bit, doing some specific training, but nothing out of the ordinary."
Related links
Ricco faces second doping investigation
Thank you for reading 20 articles this month* Join now for unlimited access
Enjoy your first month for just £1 / $1 / €1
*Read 5 free articles per month without a subscription
Join now for unlimited access
Try first month for just £1 / $1 / €1