Ricco's cycling career 'ended' with 12-year ban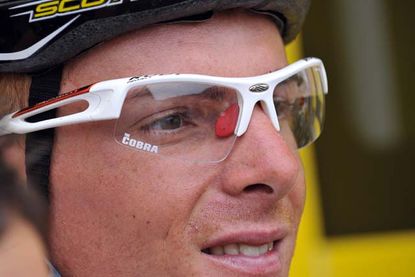 Riccardo Ricco's cycling career has effectively been ended after the Italian was served with a 12-year suspension from competition for a doping infringement - the second of his career.
The 28-year-old was found guilty of blood doping by an anti-doping tribunal, who also followed the Italian Olympic Committee's recommendation that he be banned for 12 years as it it his second doping offence.
Ricco was suspended for two years after testing positive for banned blood booster EPO during the 2008 Tour de France whilst riding with the Saunier Duval team.
The Italian came back from that suspension and rode for Ceramica Flaminia. He subsequently signed with the Vacansoleil-DCM team for 2011. However, by February he was in hospital after a botched blood transfusion had made him seriously ill.
Ricco tried to dismiss the illness as a result of an iron injection, but medical staff said that would not have produced the symptoms he was displaying.
On Thursday, the anti-doping tribunal found him guilty of doping and banned him accordingly. Ricco had also been linked to the Cobra Red organised doping ring investigation.
The 12-year ban means that Ricco would be 40 years old when the suspension expires, effectively ending his racing career.
Related links
Ricco suspended by Vacansoleil team
Ricco faces second doping investigation
Police examine Ricco's blood and telephone records
Ricco admits blood transfusion caused hospitalisation
Ricco remains hospitalised with likely kidney problems
Thank you for reading 5 articles this month* Join now for unlimited access
Enjoy your first month for just £1 / $1 / €1
*Read 5 free articles per month without a subscription
Join now for unlimited access
Try first month for just £1 / $1 / €1