Scrap road building to pay for fixing potholes, says Green Party
Party's transport spokesman tells Cycling Weekly that the big issue with potholes is vast sums of money stripped from local government budgets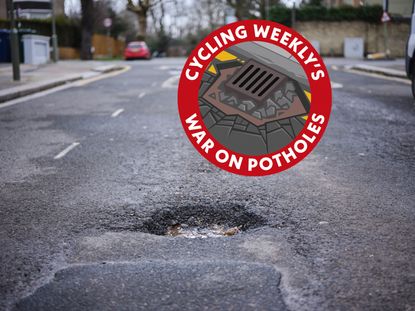 (Image credit: Getty Images)
The amount of money spent on road building by the government is "absurd" as road maintenance budgets suffer, the Green Party has said.
Speaking to Cycling Weekly this month, Councillor Matt Edwards, the party's transport spokesman, said cyclists are bearing the brunt of the UK's pothole problem.
"If there are problems on the side of the road, linked to potholes, it's usually the cyclists that are kind of getting the brunt of it," he said.
Cycling Weekly has launched its War on Potholes to raise awareness, and put pressure on local and national government for change.
The biggest issue, Edwards explained, was the amount of money stripped from council budgets over the last 13 years.
"When people pay their council tax, they're saying I'm paying for the roads or for bins to be collected," he said. "Actually, people are paying for a lot more, but not things most residents are going to receive. One of the things that's quite frustrating with the government's funding model is that the regular funds given to local government have taken brutal cuts, but now the government makes funding pots available.
"Most of that is for capital expenditure. So you get to this absurd situation where we are spending vast amounts of money on road building, but nothing to maintain the roads that exist."
"Large urban areas have seen the biggest percentage of budgets cut from them," Edwards said. "All councils have had to make brutal cuts. There have been political choices made over the 13 years or so those cuts were levied. So in some places, there have been cuts made to children's services, and other councils have made brutal cuts to road maintenance."
He said budget cuts had coincided with a rise in HGVs and other traffic on the roads. He continued. "Given the cuts that have already happened… it basically creates an exponential rise in the demand for maintenance, because roads that aren't being maintained routinely are needing emergency repairs."
"We need to have a sensible conversation about getting people out of their cars," Edwards argued. "Using their cars less, relying more on public transport. Getting around by active travel. Paying for that by scrapping road building, because the amount of money being spent on that is absurd."
A spokesperson for the Department of Transport said: "We're spending more than £5 billion from 2020 to 2025, with an extra £200 million announced at the Budget in March, to resurface roads up and down the country – enough to fix millions of potholes.
"We've also brought in new rules to clamp down on utility companies leaving potholes behind after carrying out street works."
Matt Edwards was speaking to Cycling Weekly as part of our War on Potholes, a campaign which seeks to highlight the huge issue of poor road surfaces for cyclists. If you have a story to tell about potholes and cycling, contact us: adam.becket@futurenet.com
Thank you for reading 20 articles this month* Join now for unlimited access
Enjoy your first month for just £1 / $1 / €1
*Read 5 free articles per month without a subscription
Join now for unlimited access
Try first month for just £1 / $1 / €1