Sky plans early start for Vuelta team time trial recon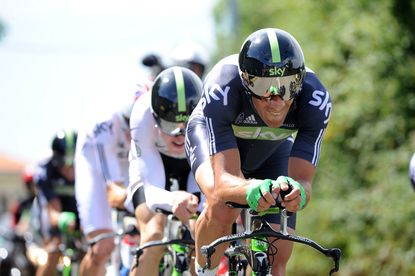 Team Sky say they could well have a fairly early start on Saturday morning to try and ride over as much of the Vuelta a Espana team time trial course as possible well with good time to rest up again before the event itself.
The Vuelta organisers say roads are not due to be closed fully until 3pm, when the teams can ride over the course. The race will get underway two hours later, around 5pm. The last team is due to finish at 6.45pm.
"We've already looked at the start yesterday [Thursday], but it's next to impossible to look at the rest of the course because it's one way traffic," Sky's race coach specialising in time trialling, Bobby Julich told Cycling Weekly on Friday morning.
"I'm going down there today [Friday] with Steven [De Jongh, sports director], if we have to ride on the sidewalk, we ride on the sidewalk."
"But we may go down there early on Saturday morning, maybe 8.30, 9 nothing too early because it's going to be a long, stressful day."
"But if you leave it any later, say 9.30 or 10, you risk running into Saturday morning tourist traffic, with everybody on vacation in August, and going to the beach. It's not the best time."
"Reconnaissance is very important in the first light of day, the guys have done that and got it under their belt, and if we can it'll be good to squeeze in that last section along the seafront."
There is always a higher-than-usual risk of crashes on urban roads, but as Julich points out, "It's the same for everybody, we just have to be more disciplined than them."
Sky ran third in the team time trial in the Tour de France, Julich says "You always want to think positive. Top five would be ballpark, top three is a goal and anything better would be a bonus."
"With the team we have here, we have to be a little bit realistic, although we have one guy [Wiggins] that's incredibly strong in this event, and though this isn't a Tour de France team, we have enough guys here to get a top result."
"We came up four seconds short in the Tour, but these guys train for their time trials in every training camp."
As for the overall structure of the TTT course, Julich says "Having a berg [hill] like that after 20 metres at the start of a team time trial, it's going to be a real test of discipline."
"Our team is really disciplined but you always have to factor in the excitement of a first day in a Grand Tour, you have to be totally controlled and keep the guys in check so nobody gets wiped out in those first two or three kilometres."
"Once you hit the coast road, though, then it's full gas, it's [time for] unleashing the forces."
Related links
Vuelta a Espana 2011 team time trial start order
Vuelta a Espana 2011: Cycling Weekly's coverage index
Vuelta a Espana 2011: Latest news
Wiggins looking to minimise losses in testing Vuelta TTT
Riders voice support for Hushovd over Vuelta exclusion
Cancellara late to Vuelta after being hospitalised by bee sting
Nibali back for victory again in 2011 Vuelta
Wiggins: "I'm in a great position going into the Vuelta"
Wiggins confirmed as Sky leader for the Vuelta
Freire: It'll be tough in the Vuelta with Cavendish
Hushovd left out of Vuelta; Dan Martin to lead Garmin-Cervelo
Cavendish and Wiggins on provisional Vuelta start list
Climbers set to dominate in 2011 Vuelta
Millar on 2011 Vuelta: 'Modern-looking and very challenging"
2011 Vuelta set to return to Angliru and Basque country
Angliru back in 2011 Tour of Spain
Hushovd left out of Vuelta; Martin to lead Garmin-Cervélo
Vuelta a Espana 2011: Teams, riders, start list
Vuelta a Espana 2011: Who's riding?
Vuelta a Espana 2011 team list
Thank you for reading 20 articles this month* Join now for unlimited access
Enjoy your first month for just £1 / $1 / €1
*Read 5 free articles per month without a subscription
Join now for unlimited access
Try first month for just £1 / $1 / €1