Is this the fastest cat in London? - Sigrid and Travis tackle hill climb competition
The American goes everywhere with his cat - that includes powering up London's toughest climb, Swain's Lane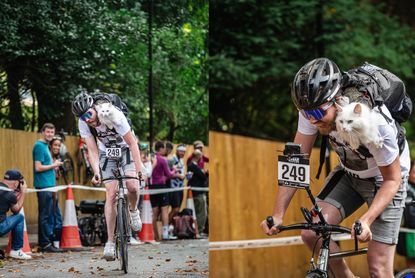 (Image credit: Bogdan Melnik)
Among some of the fastest climbers in London at the Urban Hill Climb on Saturday was one slightly unusual entrant: a cat.
The cat is Sigrid, one half of the social media sensation that is Travis and Sigrid. The former rides a fixed-gear bike, which is not too rare at the annual race up London's toughest climb, but the presence of a cat definitely is.
For the second year in a row, Travis Nelson and Sigrid, a deaf white Norwegian Forest cat, tackled the intimidating gradients of Swain's Lane in north London, and were well received by a rapturous crowd.
"I do a lot of stuff with the London Cycling Campaign, so any time they throw an event we try to be involved," Nelson told Cycling Weekly on Monday. "We did it last year, on my other bike with the basket on the front, but that bike is an aero bike, I have the discs and everything, so it's pretty heavy, not a climbing bike.
"This year I took my other fixie, which is much lighter and has an easier gear ratio. Combine that with the backpack, I was hoping it would be a little more manageable."
"It was much easier, except this year she tried to climb over my helmet and pushed it over my eyes, so I had to stop. Other than that it worked, that's how it goes."
Nelson did not know how he did in the Urban Hill Climb, but that was not really the point - the American and his cat took part in the event to help the London Cycling Campaign, and also just as part of him documenting his cycling all over the capital. He has over 150,000 followers on Instagram and over 800,000 on TikTok, such is the demand for videos of Sigrid out and about.
"The reaction was fantastic," Nelson said. "I think last year someone said we got the biggest cheer out of anyone, and this year didn't seem any different.
"I always ride fixed, so climbing isn't normally my thing. She seemed to enjoy it. The backpack is pretty new for us, I got it specifically for this, and she seemed to like being up high, I think she had a fun time."
Cats might not be known for their penchant for life on two wheels, but it seems that Sigrid has fun going on adventures with her owner.
"She seems to enjoy cycling, she certainly does," Nelson explained. "I've posted a few videos where she climbs around on my bike and goes to the door and yells, stuff like that. When she wants a ride, she lets me know."
The pair began on their cycling odyssey when Nelson lost his job during the pandemic and they would go out on rides during lockdown. The idea was a pretty simple one: "She liked going for walks, so I thought maybe she'd like going on the bike." Film the whole thing with a GoPro, and that's some top-quality content.
Sigrid wears a harness when on the bike in order to stop her from jumping out, but does not seem too fussed while Nelson pedals her - apart from the rare instances she sees something she wants to chase. The pair's videos have such reach that they often get stopped.
"With Sigrid I get recognised all the time, when I'm by myself it's once in a while," he said.
Travis Nelson's book, Sigrid Rides, came out this year, detailing the story of the unlikely bond between two-wheeled machine and feline.
Thank you for reading 20 articles this month* Join now for unlimited access
Enjoy your first month for just £1 / $1 / €1
*Read 5 free articles per month without a subscription
Join now for unlimited access
Try first month for just £1 / $1 / €1