Thousands of Sepp Kuss fans come out to welcome home their Vuelta hero
Durango celebrates first American Grand Tour winner in a decade with a massive parade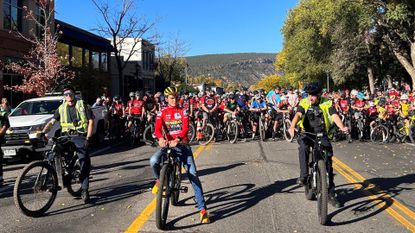 (Image credit: Henry Lord)
Coloradan Sepp Kuss (Jumbo-Visma) made history in September when he won the 2023 Vuelta a España, becoming the first American in a decade to win a Grand Tour.
An ocean away, Americans had woken up early week after week to cheer on their beloved yet unlikely winner, but it had been the Spanish fans who were on the receiving end of Kuss' celebratory champagne spray.
Today, it was America's turn as Durango welcomed home their hero in style.
While the 29-year-old lives in Andorra these days, Kuss' roots and humble beginnings lie in the small mountain town of Durango, Colorado.
Here, thousands crowded the downtown park to show their support of Kuss in person, with some people climbing trees for a better view the Vuelta winner.
The park was a sea of red "GC Kuss" shirts, yellow Jumbo-Visma jerseys and flags celebrating the "Eagle of Durango."
Legendary cycling announcer Dave Towle ran the stage, introducing several speakers, including the mayor of Durango as well as the leaders of Durango Devo, Kuss' first team, who spoke of Kuss' early wins, the joy of seeing Kuss succeed at the world's biggest stage and his embodiment of the program's biggest goal: for youngsters to find the joy in cycling.
"In the back of my mind, I didn't want to have the red jersey – that seems like a real chore," recounted Kuss to a laughing crowd.
Kuss earned the red jersey after winning stage eight, taking the lead from Lenny Martinez (Équipe Cycliste Groupama-FDJ). He was then tasked to hold on to it all the way to Madrid, 13 stages later.
Kuss, a super-domestique who's well-praised for helping his teammates win cycling's biggest events but never had the chance himself, shared how he slowly gained confidence in himself. The crowd was enthralled. With each story, the public would burst into yells of support and cheers.
"After being a part of the community for such a long time and over the past few years dragging [my wife] along after long flights, it's really fun to share Durango with her and the whole community," concluded Kuss.
At the end of Q&A session, Kuss exited the stage and, what else?, hopped on a bike, leading the downtown bike parade.
As they rolled through downtown Durango, the number of riders was simply immense. Followed closely by the Durango Devo team and hundreds of excited riders, Kuss led out the massive peloton, giving out waves and high-fives to everyone gathered on the street to watch and chanting "Kuss Kuss Kuss!"
Afterward, Kuss held a meet and greet for photos and autographs with a line close to a hundred people long, each hoping to get a poster or a jersey signed. Durango came out in force to show how much seeing their hometown hero succeed meant to the community.
Thank you for reading 20 articles this month* Join now for unlimited access
Enjoy your first month for just £1 / $1 / €1
*Read 5 free articles per month without a subscription
Join now for unlimited access
Try first month for just £1 / $1 / €1