Tinker Bottom on Quicksie Hill - the search for Britain's funniest road names is over
Here are the 27 funniest road names from across the UK. And not all of them are rude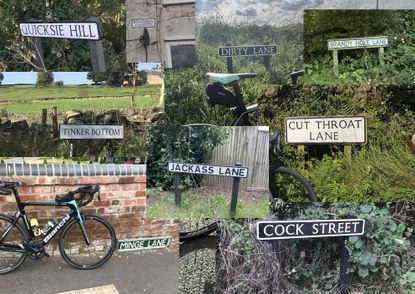 (Image credit: CW5000 riders)
The CW5000 is an annual challenge, in which Cycling Weekly readers set off on a quest to complete 5,000 miles over the course of the year. Each month, they're tasked with extra milestones or accomplishments - and in September - we asked our CW5000 riders to seek out the funniest, or most interesting, road names.
Inspired by Jackass Lane in Kent - which I regularly ride past - I felt there must be plenty of other amusing names out there. After all, this is the country of memorable town names such as Shitterton, Crapstone and Wetwang.
What I didn't expect was so many rude names. Not just slightly suggestive, but borderline offensive to those of a sensitive nature. Like something straight out of Viz.
But try not to be offended, and remember that every street name will have been signed off in some council meeting somewhere. Keep that in mind if you're looking for someone to send your complaints to, as well.
Some names however have genuinely interesting stories behind them, like Dumb Woman's Lane, just outside Cock Marling (double whammy there) in East Sussex. The back story isn't derogatory or about a 'stupid' woman, it's actually quite a sad and gory tale of an unfortunate woman whose house was on a smuggler's route to and from the coast.
If you want to find a road with a funny name, you could do a lot worse than head out for a ride near Cirencester. Several of the roads listed below come from the city's environs. Clearly a council road planning department with a sense of humour. We kind of like that. Perhaps they'd learned, like one of our contributors, that houses on roads with funny names sold for slightly higher prices.
So, in reverse order, and decided with all the scientific rigour of a Flat Earth protagonist, here are what I think are the best road names in the UK.
27. Ticklebelly Alley
As amusing as it is, this is an alleyway, and not a road, so it takes last spot in our list. Interestingly, the sign for this alley is bolted to the side of a house over ten feet high. We wonder if that's because it was regularly pinched off the wall.
26. Carter, and Little Carter Lane
While these aren't particularly amusing road names, imagine for a moment that your surname is Carter and you're riding LEJoG with your son when you come across these two roads right opposite each other. That's exactly what happened to Geoff Carter and his son Jack. Of course, they stopped to pose by their respective road signs.
25. Bullbeggers Lane
This little country lane in Godstone, Surrey has high banked sides and is almost always covered in various cuttings or detritus from the surrounding farm. A Bullbeggar is something that is used to produce terror, and it's true that I'm always terrified of getting a puncture when I ride down this road.
24. Barnslaps
In Dumfires, sent in by Kate Kerr.
23. Dirty Lane
Mark Pritchard found this one in South Norfolk. No doubt it's Absolutely Filthy Lane in the middle of winter.
22. Quicksie Hill
Steve Dickinson put in a bit of a dig up Quicksie Hill near Saffron Waldon on one of his rides. But who is the quicksiest up there? According to Strava, it's Max Bolton
21. Brandy Hole Lane
Near Chichester on the south coast. Lionel Martin Spooner sent this one in.
20. Jackass Lane
A quiet road just outside the small village of Tandridge in Kent on the Greensands way. There is no suggestion that this road gave the famous US show its name and Johnny Knoxville has never been seen here. Question is, did it derive its name from a stupid person or a donkey?
19. Pocket Handkerchief Lane
Found by Jason Hughes who said he'd never seen a hanky down here, and had no idea where the name comes from. What we want to know is: who sneezed that hard to knock the sign over?
18. Cake Street
Not rude, and not even that funny, but as cyclists love a coffee or tea and cake, I have to rule that it's a great name for a road. I do hope there's a cafe or bakery somewhere nearby in South Norfolk. Sent in by Mark Pritchard.
17. Awkward Hill
Just outside of Cirencester in the picturesque little town of Arlington. The slightly awkward thing being the Google Street View car has never been down this dead end road. Thanks to Martin Kilb for sending a picture in. As we searched for the Strava segment we found a second Awkward hill in the delightfully named town of Nempnett Thrubwell on the edge of the Mendips.
16. Potlickers lane
Spotted by Caroline Mackay, Potlickers Lane near Cirencester is not only a funny name, but it has the best sign. The cut out allows the greenery behind to shine through, giving it a marbled, almost back-lit look. More of these please, town councils!
15. Tilly Whim lane
We can't find any reason for this road name in Dorchester, but it put a smile on our face.
14. Snatchup alley
Sent in by Jason Taylor. No sniggering at the back.
13. Tinker Bottom
Quite innocent but it would definitely make me giggle every time I rode past. Sent in by Carolyn Taylor.
12. Clattyland Land
Just south of Coventry. Clatty means dirty, untidy or unpleasant. We wonder if the residents live up to this billing. Either way, it's a pleasing word to say. And what's more, the hamlet it leads to is called Haseley Knob. Found by Ian Miller who admits to giggling every time he rides past. "More evidence," he says "that little girls grow up, but little boys just get bigger."
11. Happy Land
A regular on the club runs of CW5000 doyen Lew Lawton, and another one near Cirencester. But does riding down it make you happy?
10. Cock Street
Well, what can you say? A quick web search shows that it's not an uncommon name for a road. This one found by Robert Dalzell.
9. Cutthroat Lane
Two suitably gruesome stories gave this road in Norfolk its name. First, it's said a lady was murdered here many hundreds of years ago, but more details are given of a robbery and its outcome in 1785. Robber James Clifton was said to have been hung from a gibbet on a tree after robbing two brothers, one of whom died after the incident. Clifton was executed at Norwich castle, then taken to Cutthroat Lane and put on display in a gibbet to act as a deterrent. According to the Norwich Mercury 'hundreds of people came to see the ghastly spectacle and on Sundays booths were erected for the sale of drinks.' Jane Jones found this one, and we're happy to report that she made it home safely to send us the proof.
8. Dumb Woman's Lane
Near the south coast by the town of Rye, this is no insulting name, but it is quite gory. Apparently, it comes from a time when smuggling in the area was rife. The dumb woman in question lived on this road, and to stop her from informing the authorities of what was going on, the smugglers cut out her tongue. Local press reports attempts to rename it, but those who know the history, and live on the road or nearby are fiercely defensive of it.
7. Bellenden Gardens
A street in Edinburgh. If you really want to know why it was given this name simply do a quick Google Maps search. Very much a case of say what you see.
6. Ha-Ha Road
When we asked for a funny road name, we didn't think anyone would find anything so literal. For those of you who don't know, there is nothing funny about a Ha-Ha. Essentially a border dug into the ground so that animals (or the approaching enemy) can't get past, while those behind the Ha Ha have an uninterrupted view.
5. Burnt Dick Hill
Near Colchester in Essex. Strava KOM currently held by Jamie Hazelton who's Strava pic shows him flying through the air on a BMX. This belies his impressive 2:05 minute effort at 469w up the 2.5% gradient. But it is a genuine hill as it hits 9% in the middle. And it is Essex after all. A county not known for its hills.
4. Whip-ma-Whop-ma-Gate
Yes, there really is a road with this name. It's in York and it has its own Wikipedia page which explains that the name has changed a few times since 1505 but seems to mean 'neither one thing nor the other'. Posted in the CW5000 Facebook group by Mark Chappell.
3. Letsby Avenue
Three guesses as to whose HQ is situated on this road. Yep, it's the South Yorkshire Police. According to The Star 'Senior officers in the force gave the nod to the name after Sheffield Council sent them a straight-faced consultation form for their comments.'
2. Minge Lane
Ahem. Yes. Well, what can you say. We wouldn't blame you for not believing us on this one, so the picture below proves it. In Upton-Upon-Seven in Worcestershire. A bit of research by Stephe Fletcher found that this was claimed to be a part of the red light district, frequented by sailors. He also found that house prices are higher on a road with a rude name. We'll have to take his word on both of those.
1. Nickey Nackey Lane
In Selby, North Yorkshire a local has gone to the trouble of posting the story of the roads name, but then admits that having just been told the story by another local, it could be completely made up. Either way, it's a great name, tripping off the tongue, and as it's not rude we gave it the number one spot. Found by CW5000 rider Steve Milner.
And a couple of international ones....
Broken Yolk
Sent over from the US, no doubt once home to a clumsy chicken farmer.
East Knob Lick Hill
Top CW5000 US contributor Jan Darnell sent this one over, with the disclaimer that across the pond, 'knob' does not mean what all British readers know it to mean. A knob is in fact a steep hill. So absolutely nothing funny about this whatsoever. No siree.
Fanny's Väg
In Stockholm. Jonathan Moss admits to sniggering like a teenage boy whenever he rides past. Let's be honest, we all would.
Thank you for reading 20 articles this month* Join now for unlimited access
Enjoy your first month for just £1 / $1 / €1
*Read 5 free articles per month without a subscription
Join now for unlimited access
Try first month for just £1 / $1 / €1