Tweets of the week: Chris Froome on a pump track, Tom Pidcock goes off road, and Uno-X go Star Wars
The tweet wheel keeps on turning, on a simple line, day by day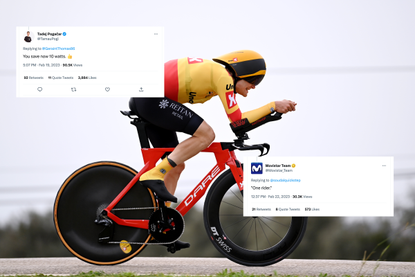 (Image credit: Getty Images)
When he's not being the best bike rider in the world, Tadej Pogačar is actually quite funny on social media. The Slovenian might have already won five races this year, but he has also taken time out of his surely reasonably busy schedule to tweet, this time joking around with a man 12 years his senior, Geraint Thomas, about the watts that can be gained from hair tufts.
It is always interesting to note how these sporting superstars, these people that seem to operate on another plane, are just ordinary at the end of the day. One of the great things about cycling is how its athletes are famous, but not too famous to be out of touch, or media managed beyond interest.
Imagine if Lionel Messi or Beth Mead, Lewis Hamilton or Serena Williams were as candid as some of cycling's biggest names on social media. It makes sense why these people don't, their lives are interrogated enough already, but it's always welcoming to see a bit of personality, to know who someone is beyond their sporting life.
Basically, all of this is me saying cheers to Pogačar and riders like that who can still be a bit open online, just like the rest of us. When they're doing something fun, or something to say, they post, and posting is often good.
Anyway, this week's Tweets of the Week features UAE Team Emirates' wunderkind, along with Tom Pidcock, Chris Froome, and Victor Campernaerts all being various levels of themselves. Buckle in.
1. Chris Froome has the habit of looking ungainly on a bike his own size, so imagine how odd he looked on a fixie on a pump track. Still, not bad for a first attempt. He was definitely having fun
Testing out the pump track at the Field of Dreams in Bugesera Rwanda 🇷🇼 Thank you so much to everyone who contributed to this project during our Tour de France campaign. It's amazing to see this project coming to life 🫶 #racingforchange pic.twitter.com/83UJE4cysuFebruary 17, 2023
See more
2. Tadej Pogačar, not just a serial bike race winner, but a nice guy too. I don't think Remco Evenepoel will need any encouraging, though
3. The Slovenian also took time out of his day to chat to Geraint Thomas about his hair tufts, which really do give extra watts, apparently
4. I'm not saying Anna van der Breggen is putting it on, but I don't think anyone has ever been this excited about Zwift, come on
5. Full marks to the EF/Cannondale graphic designer, who consistently pulls it out the bag. I want this bike, just to look at
petition for EF to be the only ones allowed to design anything ever again pic.twitter.com/rjTMLd649nFebruary 19, 2023
See more
6. Watch this and tell me that there is a rider apart from Tom Pidcock who could manage this on a time trial bike. The man is a ridiculous cyclist
Couldn't watch the Cyclocross today so made my own course 😎 https://t.co/1Wolt3hQS2February 19, 2023
See more
7. If you are going to wear a weird helmet, you have to own it. Fortunately, the social media admins behind the Uno-X team were ready for the response to their new TT lids
8. John Cena: wrestler, actor, and apparently a fan of British Cycling. I mean I would not think this was possible, but here is the proof. Oh also, successful writer, and my friend, Dan Hancox also follows BC, so that's nice
👋 Nice to have you with us @JohnCena 😎 pic.twitter.com/hFRj5TqsMuFebruary 21, 2023
See more
9. Get someone who loves you as much as Floortje Mackaij loves her dog
10. I want to see more intra-team beef on social media!! Ramp it up
11. When Mark Donovan took this picture, do you reckon he was thinking that the first stage of the race would be called off thanks to snow?
12. Finally, Victor Campenaerts and his army of Victor Campernaertses wants you to know about his big chainring
Thank you for reading 20 articles this month* Join now for unlimited access
Enjoy your first month for just £1 / $1 / €1
*Read 5 free articles per month without a subscription
Join now for unlimited access
Try first month for just £1 / $1 / €1