Tweets of the Week: Love letters to a bike, and a special Valentine's Day jersey
Charlotte Kool is the modern day Jane Austen in this week's social media round-up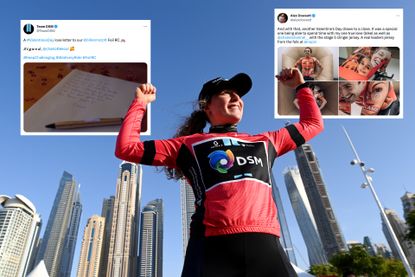 (Image credit: Getty)
In case you missed the billboards, TV adverts and general consumer frenzy, this past Tuesday was Valentine's Day. It's a time for celebrating love and recognising those dearest to you - mostly through exchanging heart-shaped tat - and the cycling world dived into it headfirst.
It makes sense, really. Professional cycling teams are intrinsically bound to their sponsors. The relationships may be commercial at their core, but they're married with love, passion and a joint ambition for success.
It shouldn't have come as a surprise, then, when earlier this week, Team DSM's Charlotte Kool penned a gushy love letter to her Scott Foil RC aero bike - the same one that carried her to two sprint victories at the UAE Tour Women.
"Dear Scott," the Dutchwoman wrote. "I'm addicted to you. I will never tire of you. Through the ups and the downs, my heart is chained to yours, and nothing can foil our love."
Who knew the sprinter was as quick with word play as she is on the bike?
Let's hope there's more romantic prose to come, a series of love letters addressed to a different cycling item. Keep an eye out for future works, including Ode to the Chamois and I Love You, Clipless Shoe.
Elsewhere on social media this week, Alex Dowsett pulled on a special new jersey, Josie Knight lost a hand and Soudal Quick-Step's Ilan van Wilder joined the premature celebration club.
1. Shall I compare thee, my road bike, to a summer's day?
A #ValentinesDay love letter to our @bikeonscott Foil RC 🚲𝓢𝓲𝓰𝓷𝓮𝓭, @charlottekool 🥰 #KeepChallenging #WinEveryRide #FoilRC pic.twitter.com/hRuXSOaZWyFebruary 14, 2023
See more
2. Long sleeves in the desert is a brave idea, but a necessary one when you leave your skinsuit at the hotel
Du vent, du sable et à l'avant dans les bordures ! 💨 🤭 Oups, le maillot manches longues et le cuissard de @M_ColesLyster parce que j'ai oublié ma combinaison à l'hôtel. Mais l'habit ne fait pas le moine, on peut quand même être devant 😜#UAETourWomen l @ZaafCyclingTeam pic.twitter.com/avDS89oeu8February 10, 2023
See more
3. There was a flying Dutchman at the European Track Championships
4. Josie Knight added to her medal tally, but sadly lost a hand in the process
5. Ever wondered which biblical figure Mark Cavendish would be? The answer, it turns out, is Elijah
Should be working. But instead... pic.twitter.com/k1JfN2XevvFebruary 12, 2023
See more
6. That smile. That damned smile
7. Jumbo-Visma Women went the whole hug with their Valentine's Day post
In good times and in bad times, in wins and in setbacks, inside and outside cycling: LOVE IS ALL! 💕Happy Valentine's Day! pic.twitter.com/SC2DDYWYr1February 14, 2023
See more
8. Introducing the leader of the romance classification...
And with that, another Valentine's Day draws to a close. It was a special one being able to spend time with my one true love (bike) as well as @chanelchannel__ with the stage 5 clinger jersey. A real leaders jersey from the folk at @nopin pic.twitter.com/PTzfONOuTyFebruary 14, 2023
See more
9. There's a club for everything these days, including one for those who have celebrated second across the line
I'll pass the baton to another Belgian 😇 Welcome to the club @IlanWilder. Your day will come soon 🤜 https://t.co/jrZzgR0R31February 16, 2023
See more
Thank you for reading 10 articles this month* Join now for unlimited access
Enjoy your first month for just £1 / $1 / €1
*Read 5 free articles per month without a subscription
Join now for unlimited access
Try first month for just £1 / $1 / €1
Tom is one of Cycling Weekly's news and features writers. In 2020, he started The TT Podcast, covering both the men's and women's pelotons and featuring a number of British riders.
An enthusiastic cyclist himself, Tom likes it most when the road goes uphill and actively seeks out double-figure gradients on his rides.
He's also fluent in French and Spanish and holds a master's degree in International Journalism.