UCI introduces approved equipment scheme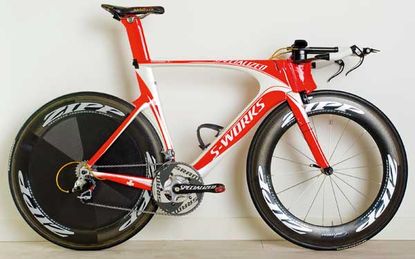 The Union Cycliste Internationale (UCI), cycle sport's governing body, will introduce a scheme from January 1 2011 giving approval to bicycle frames and forks that comply with its technical regulations.
Components that comply with the UCI's stringent regulations regarding race worthy equipment will bear an 'Approved by UCI' label in an attempt to help manufacturers, teams and consumers select equipment that will not break racing regulations. A list of approved items will appear on the UCI's website in the scheme that we first reported in May.
During the past few seasons, several teams were found to be in breach of UCI regulations on their bicycle frames and/or equipment, leading to hasty last-minute kit changes on the start line. It will also help prevent manufacturers from spending time and money on developing new products that subsequently do not meet UCI regulations.
In Feburary 2010, Alberto Contador was prevented from starting the Tour of Algarve time trial on his Specialized Shiv as commissaires deemed it did not conform to UCI specification just minutes before his start. The Spaniard was forced to ride on an old model.
Initially, the approval scheme will run for frames and forks, but will later be extended to wheels, handlebars, saddles and clothing.
The UCI lists the benefits from the scheme as follows:
· The manufacturers will be assured of the conformity of their products before they go into production phase; they will therefore be able to take maximum advantage of the most recent technologies, notably concerning composite materials, without running the risk of investing resources in equipment that may then be declared non-conform with the regulations;
· The collaboration between the UCI and the manufacturers, in particular concerning the exchange of information, will be easier, within a context of strict confidentiality;
· The controversies over the conformity or otherwise of a particular piece of equipment as well as the banning of equipment at the start of races will once and for all be in the past;
· The work of Commissaires who inspect equipment at the start of event will be made much easier;
· The riders - from the professional athlete to amateur sportsmen and sportswomen - will be assured that they have acquired a model that conforms to the UCI regulation in force at the time of purchase;
· In addition, the label will provide added value to frames and forks which have obtained it, benefitting the concerned manufacturers.
Manufacturers can also submit equipment produced in the past two years (2009-10) for restrospective approval.
Back in May, 1987 Tour de France winner and ProTour Council member Stephen Roche told Cycling Weekly that the approval scheme was already being discussed. "It was brought up at our last meeting in Brussels [on April 23]," Roche told us.
"It's the kind of thing that's needed so as to avoid confusion, such as when a rider gets his bike checked five minutes before a time trial only to be told that it's illegal. It would avoid hassle for the riders, and hassle for the manufacturers who'd know for certain well in advance that the bike they were supplying teams was completely in line with UCI rules."
Related links
UCI technical regulations enforced on bikes at the Giro
Comment: UCI's new technical regulations as clear as mud
Subscribe to Cycling Weekly: The perfect Christmas gift>> (opens in new tab)
Thank you for reading 5 articles this month* Join now for unlimited access
Enjoy your first month for just £1 / $1 / €1
*Read 5 free articles per month without a subscription
Join now for unlimited access
Try first month for just £1 / $1 / €1