Could Zwift subscription prices be set to rise?
Co-founder and CEO Eric Min has said the company is not currently profitable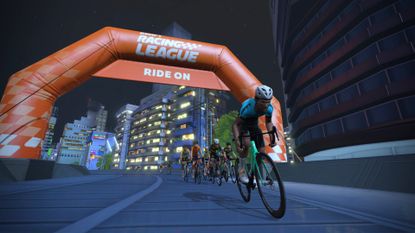 (Image credit: Zwift)
Zwift co-founder and CEO Eric Min has hinted that monthly subscription rates on the online cycling platform may soon rise, citing supply chain issues and the increased cost of running the business.
In a video interview with Bloomberg (opens in new tab)'s Tim Stenovec, carried out over Zwift, Min said that the last few years have been "really tough" for the company.
"Let's be honest, the cost of running our business has gotten more expensive," he said in response to a question about price rises. "The supply chain issues are real. We are trying to run a business that is profitable at some point. It's not at the moment.
Within the article accompanying the video (opens in new tab), Stenovec quotes Min as saying that Zwift's current subscription charge is "not sustainable" and that the company was also considering introducing annual memberships.
"We're really focused on trying to onboard as many customers as possible, and trying to make the pricing accessible."
Currently, a Zwift subscription costs £12.99 per month in the UK and $14.99 per month in the US.
The company has not changed its pricing structure since November 2017, when the monthly subscription rate increased from $9.99 to $14.99. In an email shared with subscribers at the time, Min said that those already using the platform would not have their rate changed for one year, "as a way of saying thank you".
"It's a virtual space where people come together."Join @timsteno as he takes a ride through the metaverse with the co-founder and co-CEO of @GoZwift and learns more about the company that's bringing competitive cycling indoors pic.twitter.com/MiX720ljfaFebruary 3, 2023
See more
In 2020, five years after its launch, Zwift announced that it had received $450 million of funding from global investment firm KKR, in return for a minority stake in the company.
Speaking to Bloomberg, Min outlined that he hopes to float the company in the future. "I think we all have aspirations of taking this company public," he said. "There's no doubt about it, our investors have invested in this business because they think we will be the category leader and we believe we can do that through product."
Should Zwift decide to increase its subscription rates, it would follow in the footsteps of exercise tracking platform Strava, which recently unveiled a new pricing structure. For UK users of the application, this brought a 28% price hike, with other users paying differently depending on where they live in the world.
Strava added that it would "periodically assess" its new rates, with further potential rises in the future so as to "better reflect the work" it carries out.
At this time, Zwift has not officially announced any planned price rises.
Thank you for reading 10 articles this month* Join now for unlimited access
Enjoy your first month for just £1 / $1 / €1
*Read 5 free articles per month without a subscription
Join now for unlimited access
Try first month for just £1 / $1 / €1
Tom is one of Cycling Weekly's news and features writers. In 2020, he started The TT Podcast, covering both the men's and women's pelotons and featuring a number of British riders.
An enthusiastic cyclist himself, Tom likes it most when the road goes uphill and actively seeks out double-figure gradients on his rides.
He's also fluent in French and Spanish and holds a master's degree in International Journalism.