3T adds Classified Powershift options to its Strada and Exploro bikes
Italian brand offers its Strada and Exploro bikes with Powershift technology as standard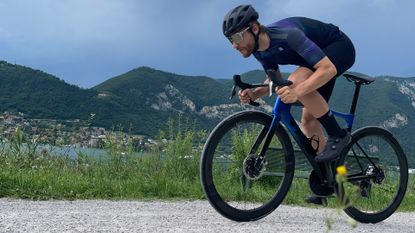 (Image credit: 3T)
3T has teamed up with Classified to offer the pioneering Powershift technology on its new Strada and Exploro RaceMax bikes, with more models to follow.
While the revolutionary wireless drivechain system - which uses an internally geared rear hub to do away with the need for double chainring - is already available as standard on a number of bikes, this Italian-Belgian partnership comes as no surprise.
3T launched its 1x only Strada frame six years ago - which was raced by the ill-fated Aqua Blue pro team - with aero benefits and a reduction in weight the stated reason for embracing a single chainring on the road. Teaming up with another industry outlier that's created a unique rear hub system that eliminates the need for a front derailleur appears like product synergy at its best.
"At 3T, everything we do is tailored towards finding efficiency, aerodynamic, and comfort gains. That is why we are so excited to be partnering with Classified," says René Wiertz, CEO of 3T. "We believe that Powershift Technology is the next step in 1x drivetrain design. The unique benefits offered by the Classified system; the ability to Powershift, the greater gearing range and small steps and the increased durability combines perfectly with 3T's 1x optimized frame design."
Classified CEO Mathias Plouvier concurs.
"3T are pioneers when it comes to 1x innovation and are a company we followed very closely when developing Powershift Technology. Adding Powershift Technology to 3T's already impressive line-up makes perfect sense. We're excited to partner with them and take 1x dedicated design to the next level."
The Strada sees the Classified Powershift hub fitted to its R50 carbon wheelset and utlising SRAM's top-tier wireless groupset Red AXS. The result, 3T says, is "a super-fast and aggressive 1x bike with a hidden 2x transmission."
One of Powershift's biggest selling points is its wide gear range yet with close steps between each gear. It's a combination that makes it appealing to road cyclists (it's being ridden this year at the professional level by Victor Campenaerts) and a seemingly good fit with the road-focussed Strada. 3T says the Classified's technology allows it to equip the Strada with a larger single chainring and cassette, enhancing the bike's ability to perform not only on the flat but on the climbs, too.
Likewise the Exploro RaceMax, a gravel bike that's created to go fast, appears a good match for the Powershift technology. Here 3T has matched the Classified system with G30 wheels, that have a tubeless-friendly 23mm inner rim width, and SRAM's Force AXS groupset. Fitted with a Classified 11-34t cassette and Powershift hub the bike delivers an impressive 450% gear range that should make it a match for a range of off-road terrain. We reviewed the Powershift hub on the gravel and were suitably impressed.
Classified also adds the ability to 'Powershift' – a virtual gear change that is equivalent to two or three rear derailleur shifts. Riders can Powershift at any point on the ride, instantly and under full load, to always be able to find the right cadence without the inefficiencies caused by extreme cross chaining.
The Strada Red AXS bike retails at $6,999 / £6,599, while the RaceMax Force has a price tag of $5,999 / £5,799. Both models are available now from the 3T website.
For more information visit 3t.bike
Thank you for reading 20 articles this month* Join now for unlimited access
Enjoy your first month for just £1 / $1 / €1
*Read 5 free articles per month without a subscription
Join now for unlimited access
Try first month for just £1 / $1 / €1