Victor Campenaerts and Classified make it official; Belgian to ride the new-age shifting technology throughout the season
Classified Powershift officially enters the pro peloton with announcement of a new partnership with Victor Campenaerts, DT-Swiss & Ridley.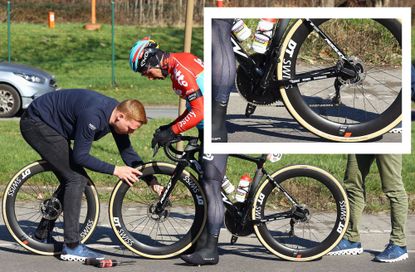 (Image credit: Getty Images, edited by Cycling Weekly)
After receiving UCI accreditation in 2021 and making a few covert WorldTour appearances during the 2022 season, Classified Powershift Technology is officially entering the pro peloton this season.
The new-age shifting company today announced its partnership with Lotto-Dstny rider Victor Campenaerts, DT-Swiss and Ridley, acknowledging that the Belgian will ride the Powershift system throughout the season.
The innovative shifting technology offers a wireless two-speed shifting system integrated in the rear hub, replacing the need for a second chainring in the front. Since making its debut at Eurobike in 2021, investors, bike and wheel manufacturers and athletes alike have been clamoring to be part of the revolution.
Campenaerts is the latest convert of Classified Powershift, which is already backed by big names such as Classic legends Philippe Gilbert and Tom Boonen, sprinting greats Andre Greipel and Marcel Kittel and multi-time world champion and Olympic gold medalist Anna van der Breggen.
Campenaerts has been thoroughly testing the Powershift hub for more than a year in training and is convinced of the performance gains and efficiency of the "front derailleur killer" system.
The former world hour record holder was seen racing with the Powershift hub at the season opener Omloop het Nieuwsblad, and at GP Le Samyn on Tuesday, where he made it into the decisive break away, driving the pace and setting up his teammate Milan Menten for the win.
A European and Belgian national time trial champion, Campenaerts is known for being a bit of an experimenter when it comes to larger chainring sizes. At Omloop het Nieuwsblad, he used the single chainring-setup of the Classified system to run a whopping 62-tooth single chainring at Omloop het Nieuwsblad, which he believed to be the most efficient —and therefore fastest— setup possible.
"I am riding Classified because it is by far the most efficient and fastest set up for the bike. It allows me to ditch the front derailleur, shift gears under full load and run a bigger chainring," he explained.
Classified is, in turn, grateful for Campenaerts' insights, feedback and WorldTour exposure.
"We at Classified have long believed that the traditional 2x drivetrain system, i.e. 2 chainrings and a front derailleur, is not efficient enough. Victor Campenaerts' use of the Classified system at a major UCI race proves our claims, that a larger single chainring used with larger sprockets in the rear, with the ultimate gear range of the Powershift hub, is the most efficient drivetrain system in the world," said Roëll van Druten, inventor of the Powershift hub
"Without a front derailleur it is possible to use bigger chainrings, gain aero efficiency and reduce forces through the chain and bearings."
The Powershift hub, integrated into the rear wheel, is internally geared and can switch between the two internal speeds with the push of a Bluetooth button on the handlebars. The 30 percent change in gearing acts much like a two-ring front crankset does. What you get is the aesthetics and benefits of a 1x system with the gear offering and straight chain lines of a 2x system.
Our editors have tested the Classified Powershift hub for both road and gravel riding purposes, and were impressed.
Thank you for reading 10 articles this month* Join now for unlimited access
Enjoy your first month for just £1 / $1 / €1
*Read 5 free articles per month without a subscription
Join now for unlimited access
Try first month for just £1 / $1 / €1
Cycling Weekly's North American Editor, Anne-Marije Rook is old school. She holds a degree in journalism and started out as a newspaper reporter — in print! She can even be seen bringing a pen and notepad to the press conference.
Originally from The Netherlands, she grew up a bike commuter and didn't find bike racing until her early twenties when living in Seattle, Washington. Strengthened by the many miles spent darting around Seattle's hilly streets on a steel single speed, Rook's progression in the sport was a quick one. As she competed at the elite level, her journalism career followed, and soon she became a full-time cycling journalist. She's now been a cycling journalist for 11 years.