All the bikes currently available with new Shimano Dura-Ace and Ultegra
Shimano's new groupset may have only just dropped, but here are all the bikes we've found with the new Dura-Ace and Ultegra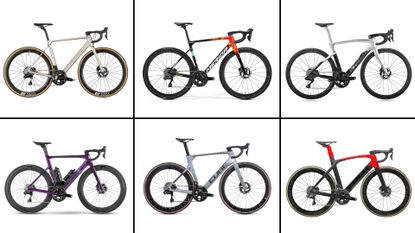 (Image credit: Shimano)
Get The Leadout Newsletter
The latest race content, interviews, features, reviews and expert buying guides, direct to your inbox!
Thank you for signing up to The Pick. You will receive a verification email shortly.
There was a problem. Please refresh the page and try again.
The release of Shimano's 12-speed groupsets has been hotly anticipated for a while now – both by customers and big bike brands alike.
Although the embargo only lifted on 31 August at 16:00 UTC, you can already find the new Dura-Ace and Ultegra specced across a wide range of models.
For a complete round-up of the new release, you can find our Dura-Ace and Ultegra launch story here – or continue reading for a round-up of all the bikes we've found with the new groupsets so far...
BMC
BMC's nomenclature for road bikes centres around "machines". There is the Teammachine, which balances aerodynamics with a lighter weight; the Roadmachine, which is the Swiss brand's endurance option; and the Timemachine Road, which is the out-and-out aero road bike.
Starting with the top-spec Teammachine, the SLR01 ONE, this bike features Shimano's Dura-Ace groupset, with 52/36t chainring, an 11–30t cassette and 160/140mm disc brake rotors. The wheels are the DT Swiss PRC 1100 Dicut Mon Chasseral, which at a depth of 24mm are a dedicated set of climbing hoops. In all, this build will set you back £12,500 / $12,999.
A step down to Ultegra sees a similar spec, but with deeper section 50mm DT Swiss ARC 1650 Carbon Disc wheels and costs £8,300.00 / $8,999.
Alternatively, you could go for the Teammachine SLR THREE which features a less expensive frame without complete cable integration and aluminium DT Swiss P1850 Spline wheels – but which still comes with the new 2x12 Ultegra Di2 groupset.
Offering a riding a little more relaxed than the Teammachine, the Roadmachine is designed for efficiently covering large distances. Of course, comfort is a part of that, but also, so is speed.
The top-end Roadmachine 01 ONE comes with Dura-Ace a compact chainset with 50/34t rings but still paired to the tightly spaced 11–30 cassette, which features two more single tooth jumps than a standard 11-speed 11–28t cassette. The wheels are DT Swiss ERC 1100 Dicut in a 45mm and bring the cost of the complete build to £11,900 / $12,699.
In contrast, the Roadmachine Three comes with a slightly cheaper frame that misses out on the complete internal cable routing and 25mm deep XRD-522 rims. It's still treated to the new 2x12 Ultegra Di2 though, with 50/34t chainrings and an accommodating 11–34t cassette and will set you back £5,000 / $5,299.
Stepping down to the Timemachine 01 ROAD TWO, the wheels are swapped out for some 50mm deep CRD-501 SL Carbon and the groupset is replaced with Ultegra Di2 – although the gearing and rotor sizes remain the same at 52/36 x 11–30 and 160/140mm. The cost takes a considerable drop, going down to £7,600 / $7,999.
Trek
Trek has three bikes at the core of its road range. The Madone has a complete focus on aero dynamics, while the Émonda has now morphed into something of an elision between a lightweight and aero bike. For long distance riding with comfort and efficiency, there's the Domane range.
We were very impressed by the Madone aero bike when we had it on test. With Trek's propriety IsoSpeed toptube, there's much more compliance than you would typically get from a bike with such a deep profile.
To get this frame with Bontrager Aeolus RSL 51mm deep wheel and the new Shimano Dura-Ace 2x12 groupset, you'll need to have £12,400.00 / $12,499.99 knocking around.
Otherwise, there is the Ultegra build for £9,190.00 / $8,799.99, which features the same components, finishing kit and 52/36 x 11–30t gearing.
For more information about the frame, you can read our full review of a SRAM eTap AXS build here or view the bikes on Trek's website here.
The Émonda started out as Trek's lightweight, climbing bike. But as it's gotten easier to hit the UCI weight limit of 6.8kg and our understanding of bike aerodynamics has developed, Trek found that there were even more gains to be tapped by making a few optimisations – such as full internal cable routing and redesigned tube profiles.
The range-topping Dura-Ace build comes with Bontrager Aeolus RSL wheels in a 37mm depth and pairs a 52/36t crankset with an 11–30t cassette. The price comes in at £11,020 / $12,499.99. Taking a step down to Ultegra – but with largely identical kit – the price drops to £7,810.00 / $8,799.99.
You can find our review of the more affordable SL6 Émonda here. Or else you can find the bikes on Trek's website just over here.
Trek's Domane endurance bike has become progressively more capable over the years. Featuring Trek's IsoSpeed decoupler and with clearance for up to 38mm tyres, you could ride this in comfort over some fairly serious gravel. Or else you could combine plump 35mm tyres with the protection afforded by a set of mudguards.
With the focus being tipped a little more in favour of distance and comfort, there's a reflection of that in the groupset spec. This bike comes with a compact 50/34t crankset and an 11–34t cassette, which provides a similar bottom gear to some gravel bikes, while still having the same number of single tooth jumps as an 11-speed 11–28t cassette.
The Dura-Ace build will set you back £11,000 / $12,199.99, while the Ultegra version costs £8,000.00 / $8,299.99. For our review of the more affordable Domane SL6 version, our review can be found just here or you can view the new builds on Trek's website over here.
Pinarello
With Pinarello and Shimano both being long time sponsors of Team Ineos, it shouldn't come as a surprise that the Italian frame manufacturer would be one of the first to unveil a build with the new Dura-Ace.
So far, we've only seen a disc brake version, but as Pinarello does still produce rim brake versions of its top-end race frames, hopefully it won't be long until we see that alternative build available.
Unlike most of the brands we've seen so far, the Pinarello Dogma F Dura Ace Di2 comes with Shimano's updated wheels, with the C50 being specced.
More information can be found on Pinarello's website here, we'll update with pricing once that is released. For an in depth look at the new Pinarello Dogma F bike, our review can be found here
Mason
Based in Sussex, close to the South Coast of England, Mason has a high reputation in the adventure cycling world.
The Definition (pictured above) is a four-season do-it-all bike, with a blend of speed, comfort and robustness that was ridden to victory by Josh Ibbett in the third edition of the Transcontinental Race, back in 2015.
Now available for £4,095 with Shimano's new Ultegra groupset, the blend of quick shifting and a wide range of gears with relatively small jumps is a fitting match.
If Dedacciai performance Aluminium isn't your cup of tea, the Mason's Resolution frame has a similar design brief but is made with Columbus Spirit/Life Resolution2 steel tubing instead – and is also available with new Ultegra.
More information can be found on Mason's website here.
Merida
Merida has just updated its Scultura climbing bike, with improvements to the aerodynamics, weight, and now also featuring fully integrated cable routing.
But it's not just the frame that's new – the Scultura Team is also Merida's first bike to be offered with Shimano's new Dura-Ace groupset.
Pricing is yet to be confirmed, but more information about the bike can be found on Merida's website here.
Canyon
Three bikes form the core of Canyon's road range. The lightweight Ultimate CFR Disc, the wind-cheating Aeroad CFR Disc, and the mile-munching Endurace CF SLX 9 Disc.
As you would expect, these flagship bikes are the first in line for Shimano's flagship groupset, all being available with the new Dura-Ace. Similar to the current CFR and SLX models, these will all be fitted with DT Swiss wheels and Canyon cockpits.
Looking closely at the above image of the Canyon Ultimate, it's possible to spot a fairly racey gearing selection, with 52/36t chainrings paired with an 11–30t cassette. Not only does this provide a bit of extra range over the previously standard 11–28 11-speed option, it also adds an additional two single tooth jumps – slotting a 16t sprocket between the 15 and 17.
Interestingly the pictures also show the endurance focused Endurace CF SLX 9 featuring the same gearing, rather than stepping down to the much more generous 50/34t chainrings and 11–34t cassette – which still features the same number of single tooth jumps as the 11-speed 11–28t cassette.
With a growing number of bikes coming with price tags that sore above £10,000 these days, pricing for these is relatively modest in comparison.
Ultimate CFR DISC Aero: £8,599
Endurace CF SLX 9 DISC Di2: £7,399
Aeroad CFR MvdP: £10,099
You can view the full range on Canyon's website here.
Cube
Cube's range-topping Litening C:68X aero road bike will be available in both Dura-Ace and Ultegra builds.
The Litening C:68X SLT (pictured above) comes with a claimed weight of 7.4kg, being fitted with Newmen Advanced SL R.50/65 Streem wheels and 28mm Schwalbe Pro One tyres. In all, it'll set you back £8,499
Featuring the same frame and wheels, but taking a step down to Ultegra, the Litening C:68X RACE comes in at £5,599 and has a claimed weight 200 grams higher, at 7.6kg.
The Agree C:62 endurance bike similarly will come in both Dura-Ace and Ultegra builds, costing £6,999 and £3,999.
Although Shimano GRX was designed specifically as an off-road, drop-bar groupset, it looks like new Ultegra still isn't being spared a bit of mud.
Whether it's for the improved lever throw, biting sooner into the travel and being more progressive in terms of power, or simply the presence of an extra gear on the cassette – Cube's Cross Race C:68X cyclocross bike looks like it will be available with a 2x12 Ultegra setup.
The chainrings are 50/34 which stands opposed to the traditional CX setup of 46/36 which allows you to stay in the big ring for longer and means there's less of a jump when shifting rings. Perhaps Shimano will update the range in future. The cassette is the more tightly spaced 11–30t option.
Although 1x drivetrains are becoming more common in 'cross, it does appear as though the front derailleur is going to be sticking around for quite a while longer. Weighing in at a claimed 7.3kg, it'll set you back £5,499
More information can be found on Cube's website here.
Fairlight
British brand Fairlight is maybe best known for its lovingly designed bikes, with the four-season, all-road Strael 3.0 being the flagship model.
And as such, it is being treated to the new Shimano road groupsets, with the Ultegra build costing a modest £3,949 and Dura-Ace still yet to be confirmed.
As an aside, if you fancy a delve into the design rationale – all with beautiful images and annotations – Fairlight's "Detailed Design Notes" of the Strael 3.0 are well worth a look.
More information can be found on Fairlight's website here.
That's all the bikes we've found so far, keep checking back for more updates!
Thank you for reading 20 articles this month* Join now for unlimited access
Enjoy your first month for just £1 / $1 / €1
*Read 5 free articles per month without a subscription
Join now for unlimited access
Try first month for just £1 / $1 / €1
Get The Leadout Newsletter
The latest race content, interviews, features, reviews and expert buying guides, direct to your inbox!