Can a 3D printed bottom bracket shell stop press-fits from creaking? This boutique Spanish bike brand seems to think so…
Adjustable length chainstays and 3D printed lugs also feature on the Heaven, a lightweight, tech-heavy, all-road bike from Angle Cycle Works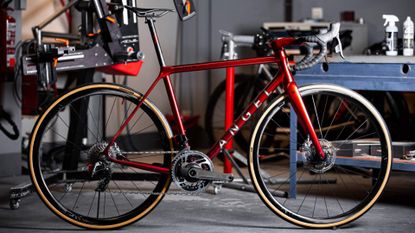 (Image credit: Angle Cycle Works)
Angle Cycle Works - a boutique Spanish bike manufacturer - has used a combination of titanium, 3D printing and fastidious attention to detail to produce the Heaven, a stunning all-road (or 'soft-gravel', as Angle Cycle Works calls it) machine. But dig a little deeper and the integrated tech is just as head turning as the colourway...
Now, 3D printed lugs aren't particularly novel, although they do mean that weight can be shed from the frame through the more targeted use of materials - plus it does result in an attractive more angular aesthetic, which is still relatively rare for titanium frames.
More interesting is the 3D printed bottom bracket, which is said to have been constructed to such tight tolerances that the chance of creaks is completely eliminated. A bold claim indeed.
Finally, although adjustable length chainstays do also have a precedent, they really aren't so common - Trek, for instance has rowed back from the tech in its latest refresh of the Checkpoint gravel platform. For an all-road bike, it's a feature that's nice to see.
You have the option for a more stable ride when utilising the full extension of 425mm - a good match for when maxing out the clearances with 38mm tyres - whilst also being able to go much tighter and snappier when running a set of 28's. Although the minimum length of 400mm is shorter than most - if not all - World Tour and Pro Conti team bikes, so make of that what you will.
How much will this all set you back? Apparently between €9,600 to €17,300, depending on the build spec. You can find out more at angelcycleworks.com
Thank you for reading 20 articles this month* Join now for unlimited access
Enjoy your first month for just £1 / $1 / €1
*Read 5 free articles per month without a subscription
Join now for unlimited access
Try first month for just £1 / $1 / €1