Canyon's limited edition Grizl CF SL 7 Throwback pays homage to classic mountain bikes and we approve
The retro gravel bike combines iconic 90s MTB looks with a modern gravel bike design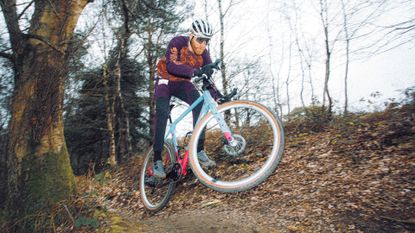 (Image credit: Canyon)
Canyon has today launched the Grizl CF SL 7 Throwback, which is an unashamed nod to mountain bikes of the 1990s and a cheeky riposte to critics of the less flamboyant iteration of the brand's gravel bike.
When the Canyon Grizl CF SL 7 was first launched last year, some critics stated that it was wasn't actually one of the best gravel bikes with it's wide tyre clearance and low bottom bracket. Surely it was just a mountain bike from thirty years ago?
According to the brand, on hearing this criticism, rather than causing offence, the team behind the bike were inspired. Swept away in their reminiscing of 'back in the day' dreams, they channeled the old MTB era, and the Throwback was born.
Canyon say the Grizl CF SL 7 Throwback is "a gravel bike that combines that iconic 90s MTB look with modern gravel bike design to give riders their old school kicks, 90s style".
For anyone who grew up repeatedly watching 1994's John Tomac, Tread: The Movie - the first ever feature length mountain bike movie - on VHS tape, and the same decade's Grundig World Cups, the bike's clashing paint job and shiny chrome bars, paired with a classic black stem will evoke memories of their (mis-spent?) youth.
Canyon has done its homework and really embraced the styling.
It could arguably have gone further and chucked everything in the anodising tank, but it pays homage to the era without outright copying anyone's signature style.
The black cranks have a whiff of Cookbrothers about them, while the brushed rims are a nod to the maddeningly light (and fragile) Campagnolo rims that accompanied many a weight weenie wheelset. Likewise, the amber wall tyres are right on the money.
Even the black finishing kit gives what could be a disparate collection of 'bits' some continuity. You can tell someone has spent some time 'curating' the package.
To suggest it's 'just' an MTB from 30 years ago is, of course, a disservice to the bike.
Bikes back then broke. A lot. Envelopes were being pushed and innovation was abundant. 'How light can we make it?' was often quickly answered by 'oops, not that light'.
When we reviewed the Canyon Grizl we found it a lot of fun to ride on technical trails, and just as happy loaded up for bikepacking.
You'll find the Grizl is slightly more forgiving than a retro MTB, thanks to it's full carbon frameset, which thankfully still comes with similar sized tubing to the aluminium ones of old, providing plentiful real estate for the mad paint job.
The inclusion of the Canyon's catchily named S15 VCLS 2.0 CF suspension seatpost on the Grizl will also go a long way to a more forgiving ride.
The Canyon Grizl CF SL 7 Throwback will also stop. Powerful SRAM Rival hydraulic disc brakes are without a doubt revolutionary compared to the cantilever ones of old. Same goes for the wireless SRAM Rival AXS XPLR shifting.
The DT Swiss' GR 1600 gravel wheels are wrapped in grippy 45 mm Schwalbe G-One Bite gravel tyres with a tubeless set up that will help mitigate, if not eliminate, punctures; there was certainly none of that 'back in the day', where countless days could be accounted for sanding tubes ready for a patch at the side of the trail.
With a run of just 250, it's a retro bike of the future that will put you in a pretty exclusive club should you get your hands on one.
The Canyon Grizl CF SL 7 Throwback is available direct from Canyon from March 14th and costs €3799.
For more information visit canyon.com
Thank you for reading 20 articles this month* Join now for unlimited access
Enjoy your first month for just £1 / $1 / €1
*Read 5 free articles per month without a subscription
Join now for unlimited access
Try first month for just £1 / $1 / €1