Crazy Cannondale, gold wheels and, erm, cigarettes: Jaw dropping bike builds at the London Cycle Show
Fifteen custom bikes are vying for the Jaw Dropper title at the 2023 Cycle Show and these are our favourites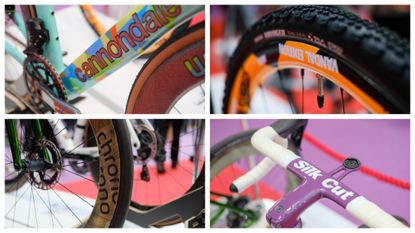 (Image credit: Future)
As it looks like this weekend is going to be a wet one in the UK, cyclists looking for a respite from the rain could do worse than heading to Alexandra Palace in north London for the 2023 Cycle Show. If you do, one of the first things you'll see as you enter is the Jaw Droppers 2.0 gallery - 15 custom built bikes vying to take home the 'best in show' Jaw Dropper prize.
Fans of bespoke bike bling won't be disappointed as the line up includes some absolute stunners from some of the UK's most creative bike builders and customizers. All of the bikes on display are lovely and if I was an oligarch I'd be on the phone to at least two of the brands showing. Here are the bikes that left me excited and, in one case, ever so slightly conflicted.
Does this need a health warning?
As a middle-aged man, born in the 1970s I don't don't mind admitting that I didn't have to look at the description of Irish builder FiftyOne's entry to the Jaw Dropper competition to know that it was an homage to a legendary race car - the Jaguar XJR-9 that won the 24 Hours of Le Mans in 1988.
Back in the (bad old) day tobacco companies could sponsor sport so the Jag was liveried in the purple and white of British cigarette brand Silk Cut. And so is the FiftyOne. Perhaps there's a beautiful irony that you can give your lungs a great workout while staring down at the brand name of product that causes them damage. Oh, and 'big oil' is represented by the Castrol logo on the chainstays. Like I say, I feel conflicted (well, only a little).
Creative solutions
Last year's winner of the Jaw Dropper prize, custom painter, Fatcreations is hoping to do the double with this Cannondale SystemSix. The team at Fatcreations claim that they left this to the last minute and eventually simply based the bike on the feature wall at its Sussex studio. Good job they've got more interesting decor than my kitchen. They didn't just paint the frame - the saddle, hubs and bars all got the treatment too.
Gold slinger
The biggest talking point on the Handsling A1R0Evo has got to be those wheels. They're Parcours Chronos developed by the British brand in partnership with Hypetex and feature a paint-free gold carbon finish. The harsh lights at Alexandra Palace probably don't do them justice, but the man who was standing next to me as I took the pictures says they pop in daylight. Good job I was nice about the bike as it turned out that chap was Miles, Handsling's operations manager. And the proud owner of this in-house designed, Shimano Dura-Ace Di2 equipped machine. (The wheels are going back to Parcours though...)
Brighton Rocks
And the prize for longest name goes to... Reilly Gradient T47, Vandal Edition Streets Want Blood Series by Aroe, Heavy Artillery Crew. (Have I reached my wordcount?) Brighton-based Reilly commissioned celebrated local graffiti artist Aroe to 'vandalise' one of its Gradient T47 titanium gravel bikes. The nomenclature is a mouthful but, personally, I think the resulting bike is delicious.
You can see eleven more Jaw Droppers, and plenty more bike goodness, at the Cycle Show which runs until Sunday April 23. For tickets and information head to the Cycle Show website.
Thank you for reading 10 articles this month* Join now for unlimited access
Enjoy your first month for just £1 / $1 / €1
*Read 5 free articles per month without a subscription
Join now for unlimited access
Try first month for just £1 / $1 / €1
Rob has been Content Director of Cycling Weekly - and stablemates Bikeperfect, Cyclingnews.com and MBR - since May 2021. Before that he spent two years in similar role at Bikeradar, which followed 12-years as Editor-in-chief of Cycling Plus magazine and eight years at Runner's World. In his time as a cycling journalist he's ridden from London to Paris at least twice, London to Bristol once, completed the Fred Whitton Challenge, L'Etape du Tour and Maratona dles Dolomites. He's also jumped into the broom-wagon at La Marmotte and Oetzaler Radmarathon.