Made from scraps: EF Education-EasyPost to wear special Giro d'Italia kit from Rapha's Excess Collection
Made of excess fabric that would usually go to waste, Rapha's Excess Collection is a step toward more sustainable manufacturing processes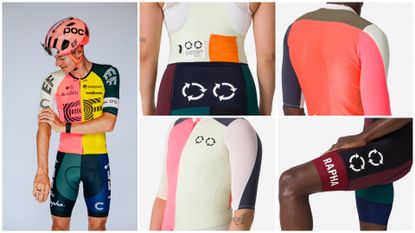 (Image credit: Rapha)
EF Education-EasyPost are to wear a special multicolored kit for the Giro d'Italia, using fabric from the Rapha Excess program.
From the Abruzzo start on Saturday, EF's riders will wear a kit consisting of yellow, green, blue, orange and black, instead of their usual pink, due to their regular outfit clashing with the Giro's pink leaders jersey.
The women's team, EF Educations-TIBCO-SVB, will also wear the kit at the Giro d'Italia Donne this summer. And both teams will also be riding Cannondale SuperSix race bikes hand-painted with leftover paint.
This year, these switch-out kits will be made from 72% excess materials. Rapha was unable to make these kits entirely out of excess material due to UCI rules around team kit consistency and garment requirements.
In previous years, EF has worn a number of radically different jerseys at the Giro, including a 2020 effort in collaboration with skate brand Palace which saw the American team fined by cycling's governing body, the UCI.
The announcement from Rapha on Wednesday also introduced its Rapha Excess program, designed to reduce waste in the manufacturing of its products, with two new initiatives.
The British company launched a limited-edition capsule, Excess Collection. A teaser for what's to come, this collection is entirely made from excess fabric, resulting in high-performance garments with a conscious and colorful patchwork design.
"As a clothing brand, it's apparent that our business will never be a totally sustainable one. But that's never stopped us from recognizing the importance of being responsible and questioning what we can do to ensure our impact on the world is as small as it can be," the brand states. "From our product repair kits to incorporating recycled materials, we've always led from the front in terms of sustainability within the cycling world."
Giving new life to otherwise discarded surplus materials can make a real difference.
Rapha says the Excess capsule collection was made of approximately 2303 meters of excess fabric and 24 kilograms of yarn — material that otherwise would have been wasted.
Excess zips, elastics, and size labels were also used where possible.
"Utilizing tried-and-tested Pro Team technology with our new Excess program, we created our most consciously constructed team issue for one of the biggest races in the season," the brand states.
"The launch of Rapha Excess marks one of the steps in Rapha's journey towards minimizing our environmental impact."
Working toward greener practices, Rapha released an Impact Report in 2022, highlighting the progress made and the steps yet to take. Highlights include complete, carbon-neutral shipping, its repair program that keeps garments in use and out of landfill, and the use of organic cotton. Goals include transitioning the Rapha storefronts and offices to 100% renewable energy sources and making 90% of all its products with environmentally preferred materials by 2025.
The Excess Collection, it seems, is just the start.
The Giro team kits will not be commercially available, but the Excess Collection will be available from the Rapha website and its storefront starting May 3.
Thank you for reading 10 articles this month* Join now for unlimited access
Enjoy your first month for just £1 / $1 / €1
*Read 5 free articles per month without a subscription
Join now for unlimited access
Try first month for just £1 / $1 / €1
Cycling Weekly's North American Editor, Anne-Marije Rook is old school. She holds a degree in journalism and started out as a newspaper reporter — in print! She can even be seen bringing a pen and notepad to the press conference.
Originally from The Netherlands, she grew up a bike commuter and didn't find bike racing until her early twenties when living in Seattle, Washington. Strengthened by the many miles spent darting around Seattle's hilly streets on a steel single speed, Rook's progression in the sport was a quick one. As she competed at the elite level, her journalism career followed, and soon she became a full-time cycling journalist. She's now been a cycling journalist for 11 years.