I tried to reinvent myself as a cargo bike mum - here's how the first week went
Cargo curious editor Michelle reports back after the first week of child ferrying by bike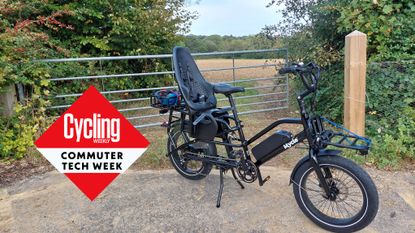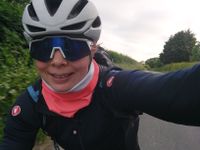 (Image credit: Future)
I - and my daughter - have spent far too much time in the car over the past year. I've never been the most prolific of commuter cyclists, but my A to B miles have been further diminished due to my hesitancy to get our daughter on a bike before the age of one.
The primary reason for waiting until our sprog was over one before gearing her up for a bike ride was that guidance suggests that children under this age are too young to wear a cycling helmet, owing to their weak neck structures and disproportionately heavy heads. It is absolutely not a legal requirement for a child - or anyone - to wear a helmet when cycling in the UK, but we felt more comfortable with our sprog wearing a lid.
However, with the arrival of her first birthday, came some very exciting new presents for our toddler - an electric blue Giro Scamp helmet, and a new set of wheels from electric bike brand Mycle.
"But you don't need an electric bike!" a friend of mine retorted when I showed off our new machine. So, in case you're wondering why this former road, track, crit and time trial racer opted for some added pedal power, the answer is simple: not every ride is about training
The objective behind testing out a cargo bike was to try to replace as many car miles with bike miles as possible - and if I've already ticked my 'training' box for the day, an extra pedal date - with an added ~11kg - could become a barrier to riding. So, I removed that barrier, with a battery.
I'll be living the cargo bike life for the next few months, but, here's a look at the first week of cargo-mum-life...
Sunday
The bike is here! The bike is here! There was much excitement in our house as we (waited until nap time in order to get a decent window of time and - ) prepared to lift the 37kg rear-wheel-heavy machine out of the box.
The Mycle is a budget friendly choice for riders keen to adopt the cargo bike life, coming in at £2,299 as standard - we added the weather shield, Thule Yepp child seat and caboose luggage carrier to take it to £2,808. As such, it's not the lightest and doesn't come with the highest of spec. However, the 210kg haulage total, 65 Nm torque, integrated lights and 3" tyres tick most of our boxes.
Building required some time on the tools. But, finally, it was time for a couple of tentative laps around our estate. The first few pedal strokes were always going to feel nervous, as we got used to the long wheelbase, wide turning circle, and alien weight distribution. However - we were away - with smiles and the sweetest of giggles!
Monday
Today is the day to trial a first trip 'off base'. Solo - because I want to be confident in the way the bike handles the roads, imperfections in it, turning into junctions, and so on - before heading out with a passanger.
Whizzing up inclines that are usually a slog is grin inducing. The position is comfortable and all seems well, albeit, three issues strike me when it comes to our long term relationship with the bike:
1) As noted in my colleague Hannah's review, the rear hub motor on this more entry-level machine is not as smooth as the kit you'd get if you spent upwards of £5k. This is no surprise, but practice will be required to ensure we don't scare our small passenger as we knock into the highest mode of support.
2) The 7-speed cassette and single chainring are set up, I assume, to cater towards beginners. The resistance is so small that my husband and I are setting off from junctions in the highest gear. This will work as our passenger increases in weight, but on the flat and downhill, we're both spinning out madly and lacking the resistance to keep moving at what - for us - feels like a reasonable rate. We're already seeking a chainring swap.
3) The 1350mm wheelbase is long - we had planned to use pavements for sections of our regular commute, but this is out. Crisscrossing between road and pavement would absolutely feel more disconcerting than just sticking to a relatively straight line.
Tuesday
A momentous occasion: our first trip to and from the nursery on the cargo bike!
I do encounter one problem. Our sproglet does not like to be told to sit down. Be it a pram, car seat or bike seat, she quite often 'bananas' in a way that only a toddler can do, making her entire body rigid and absolutely impossible to pin down.
In all cases, she's happy as soon as we're moving. However, for reasons of 'car culture', it's apparently completely socially acceptable to clip a crying child into a car seat, whilst trying to funnel a screaming toddler onto the back of a bike leaves me red-faced and feeling like a candidate for social services.
Once we're moving, she's all smiles. The journey trundles by with giggles in abundance, particularly as she pulls on the back of my shorts in an apparently hilarious attempt to share the laughs with passing traffic.
Wednesday
Today we conquered the bike seat squirm! Well, for now. Giving the small one a sippy cup or toy to play with - Puppy being the favourite - as a form of distraction appeared to appease her as the straps went on. Removing said distraction was not a popular decision, but leaving it in her grasp could very easily result in a dangerous situation for everyone involved (particularly Puppy). Enter: minature clippy puppy toy!
Today was also the first day we added a farm shop stop-off en route home, complete with a stop-off on the grass outside and a shared lump of fruit cake: idyllic.
My other half has encountered a 'one size fits all' gripe with the bike; being just over 6ft, the seatpost is too short for him. So, we add 'new seatpost' to the shopping list alongside a new chainring.
Thursday
Proof that you don't have to go all-in to cut your car miles - today had to be a day off the bike, as my pick-up duty was tagged onto the end of a 150-mile round trip to Cycling Weekly's workshop and office.
Friday
Triathlon day!
Friday is mummy-daughter day, as I'm working a four day week. So, we take the bike down to the swimming pool for our much loved baby swimming class, then stop off at the park where the little one proceeds to run circles around myself and another mum. In effect, she has completed her first triathlon.
The journey home, with a tired-out bubba on board is a bit awkward as I attempt to placate the 'sleepy cries' with a round of 'Five Little Ducks'; we pedal up the hill out of town in a very public manner. I probably look like and sound like a crazy person, but - well - welcome to motherhood. Quiet falls as she surrenders to the lunchtime nap, ready for a very cautious but successful transfer once we're home.
Saturday
As the weekend rolls around, so too does our little's longest trip out on the bike: a full 18-mile excursion around the lanes with her dad. The three of us - me on my Aethos road bike - set off together, and enjoy a race to the crest of the first hill. Then, we split off, giving me a chance to tackle some local climbs solo, safe in the knowledge that the cargo duo are enjoying a sunny ride with a pub stop en-route.
A wet nappy means she comes back wearing a new outfit, but full of smiles. And, she overtook her first roadie, which has got to be a memory worth cherishing.
Thank you for reading 20 articles this month* Join now for unlimited access
Enjoy your first month for just £1 / $1 / €1
*Read 5 free articles per month without a subscription
Join now for unlimited access
Try first month for just £1 / $1 / €1