Officina Battaglin brings custom steel to gravel with the Portofino G
New gravel bike uses the same lugged steel construction as the road-going Portofino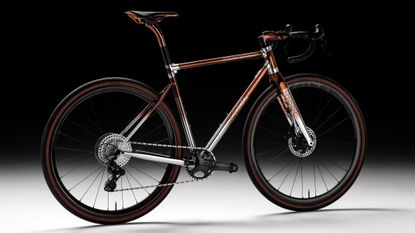 (Image credit: Officina Battaglin)
Officina Battaglin has a new variant of its flagship lugged steel Portofino, tuned for gravel riders.
The Battaglin Portofino G looks to bring the road-going Portofino's ride comfort to gravel and backroads. To do so, Battaglin has looked to its heritage in designing steel bikes for pro riders racing Paris-Roubaix in the late 1980s and early 1990s, using the bike geometries developed then for the new Portofino G.
Battaglin understands steel racing bikes. Giovanni Battaglin, father of current company CEO Alex Battaglin, was one of the top racers of his day and achieved the Giro-Vuelta double on his Pinarello Tre Cime in 1981 before founding his own bike brand, which specialises in small run steel bikes. He's still active in the business.
The Portofino G has been modified from the bikes used in Paris-Roubaix, with more clearance for wider tyres and other tweaks. Battaglin hasn't gone too wide though, with the new bike designed to provide a maximum of 40mm tyre clearance, so it's more towards the rough road end of the gravel spectrum rather than being an out-and-out bikepacking bike.
The Portofino G has a new downtube developed alongside bike tube maker Columbus. The head tube shape is also new and is designed to accept the bike's straight 1½ inch all-carbon fork. There's a custom dropout design as well.
"We didn't want a bike that resembled a drop-bar mountain bike, or a relaxed geometry for bike packing," says Alex Battaglin. "We wanted a gravel bike with the reactive handling of a road bike."
The new Portofino G shares its chromed lugged construction with the Portofino R road bike, with a top tube-seat tube lug that incorporates a hidden seat post clamp, that Battaglin says gives more clamping pressure with less torque. It has similar dropped seatstays and tube profiles to the Portofino R too along with a T47 bottom bracket shell.
The bike is designed for fully internal cable routing through the frame even with a mechanical single ring groupset - ideal for a fully Italian configuration with Campagnolo Ekar.
The Battaglin Portofino G has a custom paint scheme that fades from polished chrome to a cromovelato coloured chrome finish and buyers will be able to choose the colour scheme for the upper section of the frame.
If you order a Battaglin Portofino G, you'll be in rarified company, as Battaglin says that it only has 70 build slots available in 2023, with a high degree of personalisation and each frame custom built for its owner after a consultation with Giovanni and Alex Battaglin. You'll get regular updates on progress.
Prices for the Portofino G frameset start at €5,000 and full builds are available too.
Thank you for reading 20 articles this month* Join now for unlimited access
Enjoy your first month for just £1 / $1 / €1
*Read 5 free articles per month without a subscription
Join now for unlimited access
Try first month for just £1 / $1 / €1