Outdoor clothing brand Jack Wolfskin doubles down on bikepacking apparel and luggage
The outdoor brand rolls deeper into the adventure cycling market with a more refined collection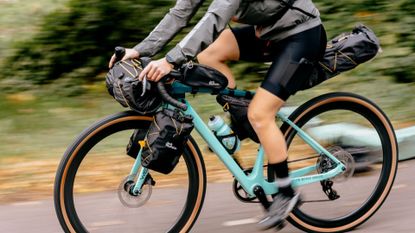 (Image credit: Jack Wolfskin)
German outdoor adventure brand Jack Wolfskin has launched its latest range of bikepacking gear, significantly adding to its initial selection of cycling products.
The move comes amidst the continuing growth of gravel bikes and bikepacking and sits neatly alongside to the brand's existing hiking, trekking, ski touring and lifestyle ranges. It also comes hot on the heels of the launch of the Cinder gravel range from rival outdoor brand Rab.
While Jack Wolfskin has dabbled in cycling gear before, this new collection of male and female apparel and bikepacking luggage, sees the it focus on refining the range specifically for a more demanding style of riding.
Jack Wolfskin bikepacking carry systems
It's the latest drop of bags and carriers from the Jack Wolfskin bikepacking range that's caught our eyes the most.
The development of the collection since the brand's first foray into the sector is impressive, with the latest bags looking significantly more up to the job than the previous iteration.
The Morobbia range consists of seven models which are, according to Jack Wolfskin 'designed to complement each other in order to optimize carrying capacity of a bike's limited space'.
The new models use a claimed PFC-free 100 percent recycled polyamide fabric in construction and a brand new mounting system, which use TPU-Powerstraps, a thermoplastic polyurethane that is known for its rubbery characteristics making it durable as well as flexible.
The larger bike bags combine this with the Fidlock magnetic-mechanical WInch system, which is similar to twist fastening systems from brands like Boa that you find on the best cycling shoes. The system allows the bags to be clipped and unclipped from the mounting straps quickly, and, according to the brand, compressed at the same time.
Jack Wolfskin says the smaller zippered bags are also all water highly water repellent and made from abrasion resistant and use 100 percent recycled polyamide fabric.
Prices start from £28 (US prices TBC) for the smallest Morobbia Snacky, which has a capacity of one litre and weighs just a claimed 70g .
The Morobbia Bar Roll, as seen above, has an impressive capacity of up to 15 litres, weighs 570g (claimed), when not stuffed with your gear obviously, and tops the range price bracket of £115
The rest of the luggage system ranges between £36, for a tube bag, and £110 for a seat bag, with the fork bag, triangle and a neat two-in-one bar or back pack ranging between £45 and £90.
Jack Wolfskin bikepacking clothing
Jack Wolfskin says that its "innovative new bike wear collection is specifically tailored to cycling combining both lightness and comfort"
The range of female and male clothing caters for both warm and cold days on the bike, for single or multiple day tours, and features an expected mix of waterproof jackets, vests, long and short sleeved jerseys, as well as gender specific bibshorts.
Considered as a generalist rather than specialist adventure brand, it's unsurprising to see a lot of repurposing of items from other collections lined up next to the cycling specific attire. And expect to see a fair amount of fleece jumpers too.
All of the cycling wear in the bikepacking range includes sensible features such as drop-tail backs of jerseys with shorter fronts and easy-access pockets.
Bibshorts, that will be worn under your bike jersey (just ignore the website marketing imagery), come with the all important a side pocket found on many of the best gravel cycling shorts (anyone else worked out what that's for yet?), as well as over-shorts and trousers.
According to the brand several of the designs feature brrr° technology, which is a fully integrated construction of the fabric designed to always feel cool to the touch and aid moisture wicking.
The bikepacking collection also uses Microban® technology which the brand says should reduces odours and delivers long-lasting freshness - a must have feature for any item of adventure focused clothing.
The loose fitting range will have more appeal to riders looking for a less aero approach to their bike wear.
The top of the range Morobbia 3l Jkt is priced at £260 and is made from 100% recycled Polyester, weighs 400g and it's highlighted by Jack Wolfskin as the ultimate breathable wind- and waterproof activity jacket.
Technical rain jackets, such as the one shown in the image above, feature Texashield Ecosphere Pro fabrics, which aim to keep you dry inside and out, as well as keeping odours to a minimum, will cost you around £100, come in a few colour ways.
The Morobbia wind vest and FZ fleece both feature the above mentioned brrr technology and are priced at between £85 and £90.
At the other end of the spectrum, basic generic kit will set you back as little as £11 for headgear, such headbands or nearer £20 for the multi-use 'loops' (aka its own version of Buffs). Cycling-specific gear starts at the £70 mark for the current season's collection, but you will get a (claimed) 100 per cent recycled Texadri Ecosphere breathable fabric, fast drying and odour preventing short sleeved jersey.
Thank you for reading 20 articles this month* Join now for unlimited access
Enjoy your first month for just £1 / $1 / €1
*Read 5 free articles per month without a subscription
Join now for unlimited access
Try first month for just £1 / $1 / €1