Top 10 things I saw among the 900 brands on display at the Sea Otter Classic
A Lamborghini-inspired gravel racer, NASA engineered airless tires, a cargo helmet, and more.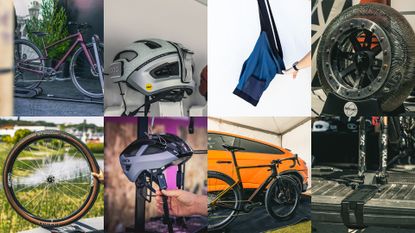 (Image credit: Daniel Palma)
Another year, another Sea Otter Classic for the books. Back in full, post-COVID, swing, there were some 900 brands vying for our attention while the California sun wore us down over at Leguna Seca Raceway venue.
It was far too much for one person to take in, so while our North American Editor, Anne-Marije Rook, provided us with round-ups of the latest and greatest she saw, I also put together a top 10 list of unique things that caught my attention.
Some new brands, some small brands, some big brands, and some futuristic brands, you get the gist. Enjoy!
3T Exploro RaceMax Italia Gravel bike
Available to the public now is this limited edition the Lamborghini Huracán Sterrato- inspired 3T Exploro RaceMax Italia Gravel bike for anyone looking to match their Lamborghini.
Lamborghini selected Italian bike brand 3T for this collaboration to celebrate the release of its new super sports car, the Huracan Sterrato. 3T makes its high-end carbon frames in Presezzo, Italy, while Lamborghini produces its high end cars some 235km away in Sant'Agata Bolognese, Italy.
If the $15,000 price tag for this limited edition bike makes you run out the showroom, you'll be happy to know there is an entry level Explore RaceMax build for $5,299 Euros. Labeled as their all-out speed machine, you can fit 35-to-42mm 700c tires as well as up to 61mm wide 650b tires to tackle just about any dirt road.
Meant to be aero, you don't get a round seatpost, thus the frame is not dropper-post compatible. No place for fenders or racks either, but you can fit two large water bottle. In person, one can really appreciate the craftsmanship and details, especially when it's next to this bright orange Lamborghini Urus Performante that retails for $260,676. Geez…
Price: $15,000
Altangle Hanger Connect
Labeled as the "world's smallest and versatile bike stand," the altangle stand can be attached securely to many support structures that are round, rectangular and some flat surfaces as long as the 3" jaw fits.
The stand measures 14"x6"x2" and weighs just three pounds.
Once clamped, there are 4 points of rotation that the user can engage by quick-release pull pins.
Clamp your gravel or road bike anywhere you go. We were also told this stand can hold an e-bike as long as it weighs less than 55lbs. Just make sure the structure you clamped your bike onto can hold the weight.
Seems like an excellent repair stand idea for those living in small homes or living the van life.
Price: $225.00
BERD Wheel Spokes
BERD spokes showcased its 'Ultra High Molecular Weight Polyethylene' spokes. Yep, no metal except for the 14-gauge threads at the end.
BERD states these spokes have 12 times the strength-to-weight ratio of steel and can reduce wheel vibration resulting in a more comfortable and smoother ride.
To experience the smooth ride, consumers can buy either a ready-to-ride road or gravel wheelset from BERD, or a package of spokes to build their own wheelset. Be aware that there is a learning curve when building wheels with BERD spokes, so it's a good idea to give them a call with any questions.
BERD's lightest gravel carbon wheelset with the non-metal spokes comes in at 1,086g and 1,275g for their road version.
Price:
Alloy gravel wheelset $1,399
Carbon gravel wheelset $2,195
Carbon road wheelset $2,195
Ornot Droptail Cargo Bib
There were lots of apparel at Sea Otter 2023, but this Droptail Cargo Bib from Ornot stood out. The Bay Area-based brand created a cargo bib with women in mind.
The extra stretchy straps and back panel allow riders to conveniently "drop the tail" and have a bathroom break without removing the jersey.
There is a non-thermal short, thermal short (pictured), and thermal tight available. Various colors to choose from and all come with 2 cargo pockets, one on each side.
Prices range from $184.00-$208.00
Peak Design Out Front Bike Mount
Peak Design has created a phone mount system called the Out Front Bike Mount, which securely attaches your expensive phone to your bike.
What is great about this system is that everything is sold a la carte, allowing you to buy what you need and expand from there on. First, you'll need to buy their phone case that is available for iPhone, Samsung, and Pixel phones. If you don't have any of these phones, or you don't want to buy the case, they sell a single universal adapter that adheres to the back of any phone.
You can then buy the out-front bike mount and have quick access to your phone, whether it's for Strava, music, calls or you just want to have your phone handy for a quick photo. The magnetic and latching system will even allow you to place your phone horizontally to record video of your ride.
There is a plethora of accessories to choose from so it's best if you check out their site.
Prices range from $24.95-$99.95.
Specialized Sirrus X 5.0 bike
Specialized had me do a head turn with their new Sirrus X 5.0 bike.
This new pavement and dirt bike has a frame design they call "Compliance Junction" that provides the right amount of vertical compliance for a smooth ride without sacrificing performance and efficiency.
The bike has a Future shock 1.5 up at the headtube to soften the ride when things get bumpy. A set of 38c Pathfinder tires will come with the bike along with SRAM NX Eagle 1x drivetrain and Tektro Hydraulic brakes on 160mm rotors.
There is only one carbon build available but two colors to choose from.
Price: $2,250
Railias Bike Mounting System
I found something for folks hauling road, gravel, and mountain bikes on their pick up truck.
Railias showcased their new pickup truck bike mounting system. This system attaches to the tail gate of the truck and allows you to securely clamp down your bike whether you have a thru skewer axle or thru-axle. Interchangeable axle sleeves and a modular bracket brick make it a breeze to set up whichever bike you feel like riding that day. You can open and close the tailgate with the bike on.
Now if you thought that was neat, they sell a repair stand attachment and an umbrella attachment. If you are all about van life, there is also a bundle for vans.
Prices Range: $149.99-399.99
The METL™ Bike Tire
The Smart Tire Company was showcasing the future of tires with The METL™ bike tire, an airless tire that will never flat, is elastic like rubber yet strong like titanium.
This airless tire features technology that has been used by NASA for driving on the Moon and Mars.
The brand calls it Shape Memory Alloy Radial Technology. The tire is made of using a NiTinol+ (nickel titanium) memory alloy that can expand, contract, bend or unbend at a very rapid rate while retaining its shape during fast transitions at a molecular level.
This bicycle tire has already won two CES 2023 innovation awards, and the company want tires to become a permanent part of bicycles without needing regular maintenance.
The brand is very confident in their product which has been set a price point of $100-$150 and will launch in the fall.
POC Omne Ultra cargo helmet
Gravel-inspired or gravel-specific gear was everywhere at the 2023 Sea Otter Classic. This POC Omne Ultra caught our attention for its looks and for its cargo-carrying capability. The Omne Ultra is said to provide enhanced personalization and inspiration on extended adventures on your bike where every bit of retail space is in use.
The Omne Ultra is based on the Omne Air platform but with various attachment points, straps and velcro. You can throw some gels up top, sunglasses, ID patch, maybe even an uber-light jacket? The options are limitless.
The helmet, of course, will also protect your head in case of a crash with the lightweight EPS liner and PC shell. An adjustable 360 ratchet fit system locks you in while the MIPs helps with those rotational forces in the event of a crash. There is a RECCO reflector on the helmet as well so rescue services can easily locate you.
Available in 4 colors and 3 size ranges. We were told they are slowly showing up at bike shops and retailers here in the U.S.
Price $200.00
Aleck Punks Audio
The german company Aleck is bringing near-ear audio communication to cyclists. They have been in the skiing and snowboarding scene for some time and noticed cyclists were interested in this technology as well.
We got a chance to try them out. The pair of Punks provide clear audio thru the small speakers strategically placed near the ear canal. This way, cyclists can listen to their music or friends(via comms mode) while still being able to hear their environment.
They attach to helmet straps, though they may look bulky, they stay out of way and have a claimed weight of 16g each. We were told the rechargeable battery can last up to 7 hours.
Beside being able to listen to your favorite jams during your ride, the neat feature is the open comms mode or walkie-talkie style communication options, where you can chat with as many friends as you have. Of course, all riders must have the phone application installed on their phone and be using Punks for this feature to work. It uses your phone's cellular network to achieve this type of communication.
Gravel, road, and mountain bikers can all use Punks to stay connected during rides. They have currently passed their Kickstarter goal and are set to retail for 149.90 Euros but on sale for 99 Euros now on Kickstarter.
Thank you for reading 10 articles this month* Join now for unlimited access
Enjoy your first month for just £1 / $1 / €1
*Read 5 free articles per month without a subscription
Join now for unlimited access
Try first month for just £1 / $1 / €1
Daniel Palma spends most of his time working with cardiac patients in the hospital but has been growing his freelance photography and writing career over the past 6 years. Originally from Oaxaca Mexico, he and his family migrated to California to follow their career goals. He needed a method of transportation to get him places to photograph. So he found his way into cycling. Over the years, he competed in some local bike races were he made podium. You can find him photographing his mountain and gravel adventures, testing bike gear and editing photos for hours at a coffee shop. He wants to see more BIPOC in the sport of cycling and grow this amazing community.