24 riders disqualified from under 23 Giro d'Italia for holding onto vehicles
Video footage shows large groups of riders holding onto cars and motorbikes on Wednesday's ascent of the Stelvio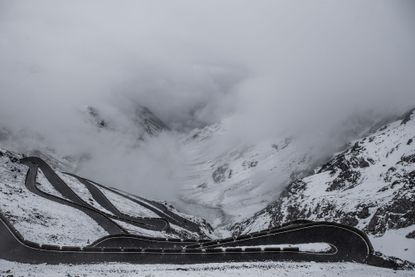 (Image credit: Getty)
24 riders have been disqualified from the under 23 Giro d'Italia after being filmed holding onto cars and other vehicles on wednesday's stage four during the ascent of the Stelvio pass.

Stage four, won by Johannes Staune-Mittet of the Jumbo-Visma development team, concluded with a summit finish on top of the famous mountain.

Although unfortunately for Staune-Mittet, the main talking point of the day was the 24 riders who brazenly held onto cars and motorbikes on the final climb, not the Norwegian who also took over both the maglia rosa and maglia azurra at the end of the day.

Video footage published by Italian outlet Tuttobiciweb clearly showed one car assisting eight riders on the ascent of the Stelvio, with two more holding onto a motorbike.

Riders from 15 of the 35 teams in the race were involved and the car seen allowing riders to hold onto it was the team car of Italian squad ASD GC Sissio. The team lost four riders from their squad through disqualification, leaving them with just a single rider still in the race.
Two other Italian teams, Ciclista Rostese and Techniques #inEmiliaRomagna saw three riders each removed from the race.
Other teams involved in the incident included the development squads of Groupama-FDJ, Lotto-Dstny, DSM and Q36.5. Each of the four saw one of their riders disqualified.

All 24 riders involved finished between 23:56 and 29:01 down on Staune-Mittet, well inside the time cut on the stage of 37:13.
😱SCANDAL AT THE NEXTGEN GIRO: 24 RIDERS DISQUALIFIED FOR HOLDING ONTO VEHICLES ON THE STELVIO. (Source TuttobiciWeb) pic.twitter.com/dXVedmVcjBJune 15, 2023
See more
The behaviour of the riders and teams involved attracted criticism across social media.

In a post on Twitter, Great Britain academy coach Matt Brammeier said he hoped the people involved were "suitably embarrassed this morning".
Under 23 Paris-Roubaix winner Tijl De Decker of Lotto-Dstny was one of the riders kicked out of the race.

De Decker's team said: "Tijl De Decker won't start today. Well, due to a youthful sin he won't be committing again."

Full list of riders disqualified:

MASONI Stefano - Team Techniques #InEmiliaRomagna
FRANZOSI Luca - GS SIssio Team
FERRARI Pietro - Ciclista Rostese
MANENTI Marco Hoppla - Petroli Firenze - Don Camilo
GUDNITZ Joshua - ColoQuick
MONTEFIORI Matteo - Team Techniques #InEmiliaRomagna
ROSSI Nicola Beltrami - Beltrami TSA - Tre Colli
PEZZO ROSALA Kevin - General Store - Essegibi
VENTURINI Alessandro - Mastromarco Sensi Nibali
PERANI Riccardo - Team Interregionale
PERSICO Davide - Colpack Ballan
PESCHI Lorenzo - General Store - Essegibi
GAZZOLA Giovani - GS Sissio Team
GHIRARDI Lorenzo - Ciclista Rosteze
DE DECKER Tijl - Lotto Dstny
UMBRI Gidas - Team Techniques
AGOSTINACCHIO Filippo - Beltrami TSA - Tre Colli
BREGOLI Riccardo - GS Sissio Team
DI SILVESTRIO Jacopo - Ciclista Rostese
HOBBS Noah - Groupama -FDJ
PORTELLO Alessio - Q36.5
COLLINELLI Luca - Team techniques #InEmiliaRomagna
SCHMIDT Artem - Hagens Berman - Axeon
MIKUTIS Aivaras - Tudor Pro Cycling U23
MARROCHI Tommaso - GS Sissio
RAGILO Frank Aron - DSM Development
MAGNI Lorenzo - Mastromarco Senso Nibali
NIELSEN Magnus Lorents - ColoQuick
EVERTSEN- HEGREBERG Simen - Tirrol KTM Cycling

Thank you for reading 20 articles this month* Join now for unlimited access
Enjoy your first month for just £1 / $1 / €1
*Read 5 free articles per month without a subscription
Join now for unlimited access
Try first month for just £1 / $1 / €1