Andrei Kivilev remembered 20 years on from his death at Paris-Nice
Kazakh rider's death during 2003 edition led to helmets being made obligatory in racing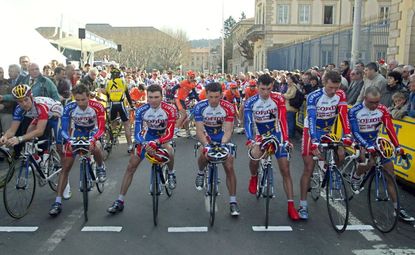 (Image credit: Franck Fife/AFP/Getty Images)
Get The Leadout Newsletter
The latest race content, interviews, features, reviews and expert buying guides, direct to your inbox!
Thank you for signing up to The Pick. You will receive a verification email shortly.
There was a problem. Please refresh the page and try again.
On the 20th anniversary of his death during the 2003 edition of Paris-Nice, an emotional tribute was paid to Andrei Kivilev on the start podium prior to the final stage of 'the race to the sun'. In the presence of Kivilev's wife, Natalia, and Tour de France director Christian Prudhomme, Astana-Qazaqstan team boss Alexandre Vinokourov, the Kazakh's compatriot, close friend and winner of that 2003 race, recalled how this year's race had passed close to the place where Kivilev crashed on a stage into Saint-Étienne two decades ago and described the sport as "hard, complicated and dangerous".
Kivilev crashed when the rider in front of him suffered a mechanical problem just as the Kazakh had taken his hands from his bars to adjust his earpiece. Transported to hospital in Saint-Étienne, which was his adopted home in France and where his wife and six-month-old son had been waiting for him at the finish line, Kivilev died during that night.
His teammates and the rest of the riders were told of his fate the following morning, when a decision was taken to neutralise the stage. "We weren't going to cry in a car. We were going to ride. For Andrei. Like him," his former Cofidis team-mate Nico Mattan told L'Équipe earlier this week.
The UCI had previously attempted to make the use of helmets compulsory, but riders had rebuffed this measure. Although some of them continued to rail against their use, complaining that they weren't ugly, weren't aerodynamic and even it was said led to premature hair loss, Kivilev's death led to the UCI introducing a rule making the use of helmets obligatory prior to the start of the 2004 season.
Speaking to LaCourseEnTete.com, Jayco-AlUla team director Tristan Hoffman, then riding for Team CSC, recalled passing Kivilev as he received treatment on the road that day and reflected on the change that the Kazakh rider's death precipitated. "I have a photo of me racing Paris-Roubaix without a helmet. I can't imagine what I was thinking then," he said.
"One of the things that I also heard is that when you put a helmet on and then glasses, the fans cannot see you anymore, but these were stupid reasons. Some guys were saying that you lost your hair."
According to Hoffman, "It was 100% the right decision. No doubt. OK, when you want to change something in cycling, everybody is going protest, but in the end it was a good decision. Like I said, I have photos of me at Paris-Roubaix without a helmet, and that's stupid… It takes time to change the mentality in a peloton. But I think it's the right way. It's still a dangerous sport. But the helmet, of course, helps to protect your head."
With Natalia Kivilev standing alongside him in Nice where he took a highly-emotional victory in 2003, holding a picture of his friend aloft as he stood on the podium, Vinokourov concluded the tribute by saying: " I was here when Andrei left us and I was happy to win that race for him. It's a good memory in the end."
Thank you for reading 20 articles this month* Join now for unlimited access
Enjoy your first month for just £1 / $1 / €1
*Read 5 free articles per month without a subscription
Join now for unlimited access
Try first month for just £1 / $1 / €1
Get The Leadout Newsletter
The latest race content, interviews, features, reviews and expert buying guides, direct to your inbox!
Peter Cossins has been writing about professional cycling since 1993, with his reporting appearing in numerous publications and websites including Cycling Weekly, Cycle Sport and Procycling - which he edited from 2006 to 2009. Peter is the author of several books on cycling - The Monuments, his history of cycling's five greatest one-day Classic races, was published in 2014, followed in 2015 by Alpe d'Huez, an appraisal of cycling's greatest climb. Yellow Jersey - his celebration of the iconic Tour de France winner's jersey won the 2020 Telegraph Sports Book Awards Cycling Book of the Year Award.