Caleb Ewan leaves Lotto Dstny early to return to Jayco-AlUla
Australian sprinter leaves Belgian team after "difficult year", returns to team he turned professional with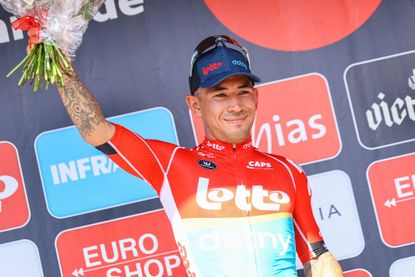 (Image credit: Getty Images)
Caleb Ewan will ride for Jayco-AlUla in 2024 after leaving Lotto-Dsnty a year early. The Australian sprinter has had a troubled season with the Belgian team, with both sides making it clear they would like a separation.
This has come to pass, with announcements from first Lotto Dstny making clear that Ewan was to leave, and then from Jayco-AlUla confirming them as Ewan's destination, coming out on Wednesday morning.
It means a return to the beginning for the 29-year-old, as Jayco-AlUla - then Orica GreenEDGE - was where he started his career, before he moved to what was then Lotto Soudal in 2019. After five years with the Belgian team, Ewan is heading back to his original home.
2023 has proved a difficult year for Ewan, and for his relationship with the team. Near misses have been the theme, with eight podium finishes to just one win, which included a second and third place at the Tour de France.
The Australian sprinter then departed midway through stage 13 of the Tour. bringing to an end his time at the race after almost a fortnight.
Stéphane Heulot, the CEO of Lotto Dstny, was scathing of Ewan's performances at the Tour, claiming to Sporza that "his Tour de France is a reflection of what he showed this season and last year".
"The first two sprints were satisfactory," he said at the time. "The other three sprints were not at all to his liking. He took umbrage at it… it's a disappointment. The whole team, the staff, the partners, have invested a lot in him. A rider has duties and not only rights. We are entitled to ask for another commitment from him."
Ewan's agent Jason Bakker then hit back strongly at the accusations, saying that it was a "humiliation" and "quite disgusting".
"The team has made it clear that they would prefer me to leave, but I still have a contract," Ewan said in September.
"We are happy that Caleb can continue his career elsewhere", Heulot on Wednesday, announcing his former charge's departure.
"Caleb has won a lot for the team and we are thankful for that and just like in a relationship or marriage you have good and bad days together. 2023 was a difficult year for Caleb. We all know he has a lot of talent, but right now he is not showing that in our team and then it's better to part ways. We don't want to hold Caleb back in this new opportunity that he has, so we have decided to allow him to continue his career elsewhere."
Ewan has 60 professional career wins, including five Tour de France stages, and five stages of the Giro d'Italia. His return to Jayco AlUla will mean he is now a teammate of fellow sprinter Dylan Groenewegen, an old rival; the pair will surely battle for a place at the biggest races. The pair have finished first and second on Tour sprint stages on three occassions.
Ewan's new contract will see him stay with Jayco until at least the end of 2025.
"For us to have another Australian rider which such calibre joining us, it is very special, and he will provide us with another fantastic option to challenge for sprint finishes," Brent Copeland, Jayco's general manager, said.
"We have been working hard to add depth to our men's team and with the addition of another top-level sprinter into our ranks, we are certainly going to be looking for wins in all races that we see Caleb and Dylan line-up in."
"I'm definitely coming back to the team as a more experienced rider, in the last few years I've won the biggest race of my career and I think I've developed a lot as a rider and also as a leader," Ewan said in the statement from Jayco. "When I joined the team initially, I was only 19 or 20, so I was very young. I learnt a lot from the experienced guys that were already there and used that going forward in my career.
"I have developed as a person and as a rider and I look forward to coming back in more of a leadership role. It will be great to be able to help the younger Australians riders too, to reach their potential and in that way also give back to the team.
"The main thing for me will be getting back to winning ways and I hope to bring a lot of success to the team."
Thank you for reading 20 articles this month* Join now for unlimited access
Enjoy your first month for just £1 / $1 / €1
*Read 5 free articles per month without a subscription
Join now for unlimited access
Try first month for just £1 / $1 / €1