Fem van Empel claims World Cup title with thrilling victory over Puck Pieterse
Dutch riders fill the podium with Shirin van Anrooij in third place, while British champion Zoe Backstedt was an impressive seventh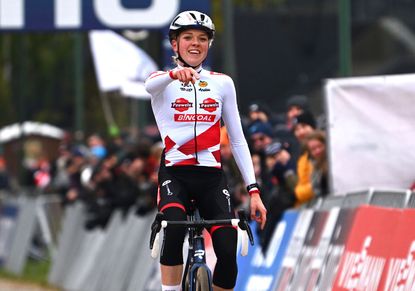 (Image credit: Luc Claessen / Getty Images)
The 18,000-strong sell-out crowd in the Spanish resort of Benidorm for the penultimate round of the Cyclo-Cross World Cup were treated to a thrilling contest between the two riders who have dominated this season's competition, which ended with series leader Fem van Empel edging out Dutch compatriot Puck Pieterse for victory. The success meant that van Empel clinched the overall World Cup title with one event remaining in Besançon, France, next weekend.
The pair broke clear of rivals Shirin van Anrooij and Silvia Persico on the seventh and final lap, when van Empel made a big effort up a draggy road climb, where Pieterse was the only other member of the quartet to match her. Pieterse briefly took the lead when she found a chink to slip through on a tight left-hand corner, and the pair were elbow to elbow coming out of planks soon after. Here, van Empel pressed again and this final big effort was enough to decide the verdict, with van Anrooij coming through in third place to maintain the Dutch record of filling the podium in every World Cup event this season. Persico was fourth, while 18-year-old British champion Zoe Backstedt finished an impressive seventh, 1-18 down on the winner.
How it unfolded
On the very fast and dusty Spanish course, Luxembourg's Marie Schreiber and van Empel were the fastest away from the startline, with the latter sneaking by just before the sandpit, which was one of several sections that forced the riders to take to their feet. Van Anrooij was in third and she sprinted through on the road leading into the final straight to take the lead at the end of lap one, ahead of van Empel and Pieterse. These three started to go clear, with Persico and then a fourth Dutch rider, Lucinda Brand, joining them.
Brand was set back by a crash on lap two, where the four leaders began to edge away. Pieterse and van Empel kept swapping the lead between them, with van Anrooij and Persico happy to track this pair. Going through the finish at the end of lap two, this quartet had established a 12-second lead on Anne-Marie Worst, with Backstedt 11th at that point.
The duel for control between van Empel and Pieterse resulted in this pair edging ahead late in lap three, but they were gradually closed down again by the other two going into lap four, where Worst was 23 seconds back and Backstedt had moved up sixth at 42 seconds. A blanket could have thrown over the four leaders at the end of that lap four, with van Anrooij the leader.
Each of them went to the front on lap five to try to test their rivals, but none of them were able to shake the other three. Pieterse and van Empel were again just ahead of Persico and van Anrooij at the end of lap five, and the consistent pressure this pair applied enabled them to edge clear briefly, as Persico started to rock and lose ground. Yet, first van Anrooij and then Persico managed to bridge back up to the two leaders by the lap end.
Going up the long road drag early in the lap for final time, van Empel attacked, tracked inevitably by Pieterse, with van Anrooij on her own in third and Persico's race finally done. Pieterse then found a chink to slip through on a tight left-hand corner, and the Dutch compatriots were elbow to elbow coming out of planks, not far from the finish. Here, van Empel pressed again and that was enough to decide the verdict, Pieterse settling for second, with van Anrooij third and Persico fourth. British teenager Backstedt finished seventh at 1-18.
Thank you for reading 20 articles this month* Join now for unlimited access
Enjoy your first month for just £1 / $1 / €1
*Read 5 free articles per month without a subscription
Join now for unlimited access
Try first month for just £1 / $1 / €1