Ineos Grenadiers bet on three leaders for 2023 Tour de France GC push
Form and condition rests will ultimately decide, but at the moment the British team are favouring the two Colombians and the young Spaniard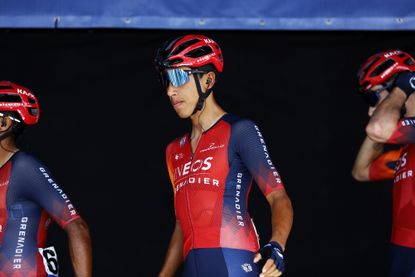 (Image credit: Getty)
Ineos Grenadiers are once again planning a three-pronged attack at this summer's Tour de France, with Carlos Rodríguez in line for shared leadership on his debut in the race.
The British team have failed to win yellow since Egan Bernal did so in 2019, and they are hoping that the Colombian will be fully recovered from his horror crash a year ago to lead them once again.
Question marks remain around his recuperation, but the team look almost certain to give Bernal's fellow countryman Dani Martínez the chance to fight for overall honours, as he was afforded last year, only for illness to thwart him.
In what would be only the second time since their 2010 inception, it looks probable that the British team will not have a homegrown rider as leader, with young Spanish prodigy Rodríguez, 22 in February, the current favourite to be nominated for the third and final shared leadership role.
"It'll be Dani, potentially Egan, and Carlos [as the leaders] in the Tour. After that we don't know [the rest of the team]," the team's sports director Steve Cummings told Cycling Weekly, before stressing that a lot can change between now and the startline in Bilbao on July 1.
It's also understood that other proven Tour performers Tom Pidcock and Geraint Thomas could be in the frame for leadership.
"The season's long, lots of things can happen, [and] January's too early to be so specific about it but that's our current plan. In May we will have a much clearer idea of specifics, how we'll approach it, and how many riders we'll protect."
2018 winner Geraint Thomas rode to an impressive third last summer in what was likely his last ever appearance in the Tour, and that podium place was Ineos' best return from a system of protecting more than two riders.
"We're not insisting on a three-person attack," Cummings said. "It's quite difficult to decide. We have so many riders at a high level that it's difficult to pick between them. The data we have, the performances they do, the feedback we get from them, it's not clear [who should be leader]. It's tricky.
"It [also] depends on Egan. He is still in rehab, and if he comes back then maybe that'll all change. If he doesn't [return to previous form], if it takes him longer to get back, then you have to decide whether you take him.
"He still has his medical appointments and he's still in the rehab phase. We need patience and to let him go through the process."
Rodríguez only made his GrandTour debut at last season's Vuelta a España, and he was in contention for a podium spot until a heavy crash on stage 18 affected him badly in the remaining stages. He valiantly held on for seventh overall, but ascension to joint leader at the Tour would be an indicator of just how highly Ineos rate the Andalucian.
"I wouldn't say that he is definitely going, but he's on the longlist - just like he was last year," Cummings clarified. "He was on the longlist because of his rate of development and how mature he is as a rider, and it's the same this year."
Geoghegan Hart's time to shine
Meanwhile, Rodríguez's teammate at the Vuelta, Tao Geoghegan Hart, is entering the final year of his contract with the team he has been part of since turning pro in 2017. The winner of the 2020 Giro d'Italia has failed to kick on since that win, owing to a mixture of illness, injuries and bad luck.
"He's won a Grand Tour and there's not many riders who've done that out there," Cummings said. "History has told him what he is capable of.
"His condition will define the objective. It's not for me to put parameters or limitations on what he's capable of. We'll support him 100% to feeling good and being consistent, as he was previously.
"It's difficult to quantify what he is capable of. First things first, let's get him back to some consistency. The level is so high and when you're sick, injured, not quite 100%, someone's snapping to take your place, there are fine margins. You miss out on one race and it affects your whole season. He's just not had the best luck in terms of sickness - hopefully he'll have better luck."
Thank you for reading 20 articles this month* Join now for unlimited access
Enjoy your first month for just £1 / $1 / €1
*Read 5 free articles per month without a subscription
Join now for unlimited access
Try first month for just £1 / $1 / €1