Merger between Jumbo-Visma and Soudal Quick-Step is off, reports
The new super-team is apparently now not happening, according to the Belgian press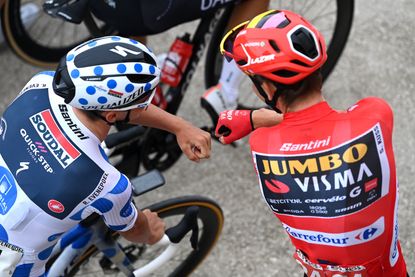 (Image credit: Getty Images)
The proposed merger between Jumbo-Visma and Soudal Quick-Step is off, according to reports in Belgium. It is not known what caused the deal to collapse, or what will happen to the two teams in the future.
On Friday afternoon, Sporza, Het Nieuwsblad and Het Laatse Nieuws all published pieces that said that the planned merge between Quick-Step and Jumbo was no longer, and that the former would continue under the stewardship of Patrick Lefevere and his financial backer Zdenek Bakala until 2025.
In an interview published earlier on Friday by HLN, Quick-Step's star rider, Remco Evenepoel, said: "We just don't know anything,"
"I only know what you know, what you write," he said. "At the moment there are only question marks, for everyone. All we can do is wait. And hope it turns out well. We cannot estimate what will come our way in the next ten days or two weeks."
Reports emerged last week that two of the top teams in cycling, the Dutch Jumbo-Visma, and the Belgian Soudal Quick-Step, were to merge, posing questions not just about the future of the team's riders and staff, but about cycling's sustainability as a sport.
However, those proposals now seem to be over. This is despite Lefevere revealing last week that a "letter of intent to merge" was signed earlier this year, and that plans for Jumbo to absorb some of the existing Quick-Step team. There had also been reports that a phoenix Quick-Step squad would continue with the riders who did not make the jump across to the new team.
Jumbo-Visma had reportedly attracted sponsorship from Amazon, but it is not clear what the financial benefit of the deal actually is, with the €15 million figure touted last week including media value. Dutch newspaper AD said on Friday that this deal was off, too.
It has not been an easy fortnight for riders on Soudal Quick-Step. Following his win at Tre Valli Varesine this week, Ilan Van Wilder said that he does not want the merger to go ahead, he wants his team to continue.
"This victory is for our staff and my teammates, to show we don't agree with all this shit, and we want to continue Soudal-QuickStep," he said after soloing to victory in Varese. "We are strong enough and I hope it will be like this."
Wielerflits reported on Tuesday that just six riders would head across from Soudal Quick-Step to Jumbo-Visma, and it was thought to include Evenepoel. However, now the deal is off, the future team of the young Belgian is still up in the air.
In a statement on Tuesday afternoon, reacting to what were just reports, the Union Cycliste Internationale (UCI), said: "Any such operation must comply with the procedures and provisions set out in the UCI Regulations which, in particular, make it possible to ensure compliance with the contractual provisions for all personnel of the teams in question (riders, but also team management and other staff such as doctors, mechanics, sports assistants, drivers, etc.), which is of prime importance to the UCI."
Thank you for reading 20 articles this month* Join now for unlimited access
Enjoy your first month for just £1 / $1 / €1
*Read 5 free articles per month without a subscription
Join now for unlimited access
Try first month for just £1 / $1 / €1